If you're in a rush and want to find out what the best hinged door tent is, we recommend the Coleman Octagon 6 person festival tent.

Want to know the part about camping that frustrates me the most? Getting in and out of the tent!

Most tent doors are floppy and inefficient, forcing you to zip and unzip if you want to pass through without letting in bugs right away. Needless to say, going to the bathroom at night can be quite the challenge while you're still groggy and stumbling around.

Hinged door tents solve this problem by behaving just like the doors you have at home. So for a bit more luxury while you're out enjoying the wilderness, here are some of the best tents with a hinged door.
In this article, we'll be reviewing the following hinged door tents:
What is a Hinged Door Tent?
They aren't exactly common, so you may have never heard of a hinged door tent before. And that's okay – prior to last year, I hadn't either!

Like the name implies, hinged door tents have…well…a hinged door. They were designed to replicate the type of door you have at home, creating a more convenient form of entry and exit. The hinged portion of the door is connected to a vertical pole that acts as an axis, allowing it to swing easily and stay open or closed without issue. There's usually a second pole on the other side of the door that helps it maintain its shape.

While many do have zippers that can be used to seal them tightly, you don't necessarily need to use the zipper to keep the door shut. It's common to find velcro on the edges, which keeps the door secure until you give it a simple push.
Weight
As you might expect, a hinged door tent is more of a luxury than anything. Weight starts to become an issue, simply because of the additional poles that are used to create the hinged door effect. If you're feeling motivated, there are some members of this tent family that could be brought on a backpacking trip. However, as a rule of thumb, I'd suggest limiting their use to car camping and glamping. There's no reason to pack on the extra ounces when backpacking simply to have a door that's a little more convenient.
Size
In general, a hinged door tent is going to be able to accommodate a larger number of people. Since this tent style was designed to imitate your own doors at home, it's only natural that the rest of the tent would be created to compliment this feature. A tall ceiling and plenty of sleeping room are par for the course, but there are a few on the smaller end as well.

Overall, though, you can expect a typical hinged door tent to be large enough to house 4-6 people. Along with that, the average peak height is roughly 6 feet, so many of you won't have any trouble standing up inside. This makes for a great space to stretch out and relax, as well as change clothes or perform other tasks without much discomfort.
Waterproofing
Like any other shelter, a hinged door tent still needs to do what it was meant to – namely, keep out the bugs and elements. At this point, you would think that camping technology would have advanced enough where you wouldn't even need to think about this topic anymore. But unfortunately, some tents fail miserably when it comes to repelling water.

Sometimes there's not much you can do to ensure your tent will keep you dry. It may come to you damaged, or you might receive a product that wasn't sealed or coated properly. If you're really unlucky, it's possible you picked a crappy shelter to begin with!

Circumstances like these can and will happen, which is why it's important to do your due diligence in researching different options. In the product reviews that we've laid out below, for example, you'll only find options that meet our water repelling standards. However, it never hurts to add a coating of waterproof spray on your tent anyway, as an extra layer of protection.
Durability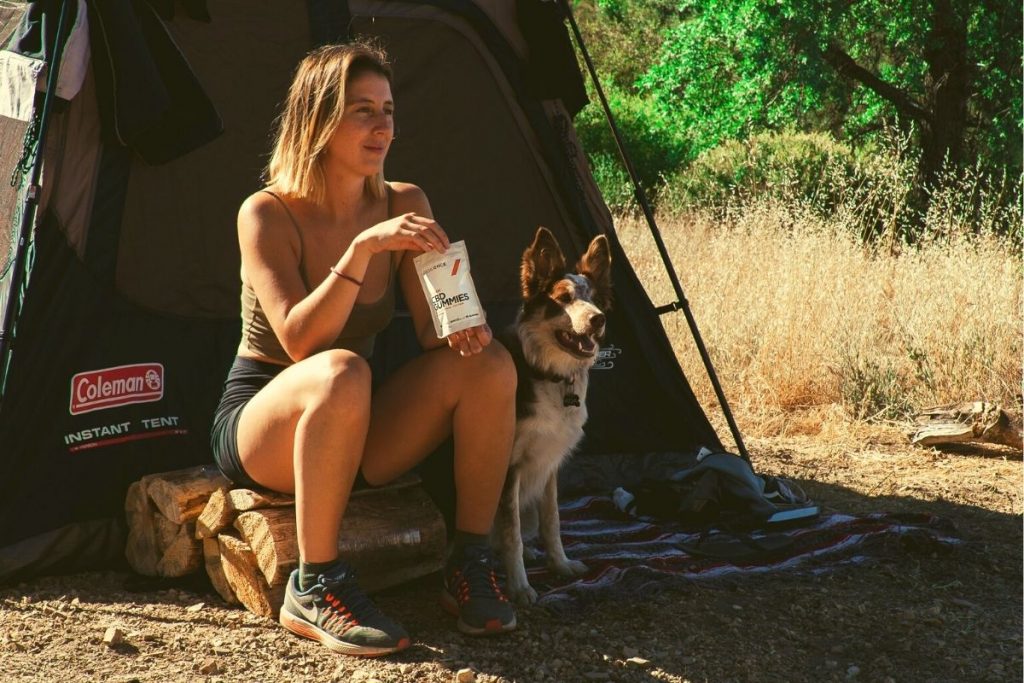 Durability is yet another quality that you should look for in any tent, regardless of how you plan to use it. If you plan on trusting a shelter to keep you protected from a variety of forces, it ought to be able to hold up under pressure.

Strong winds have a history of snapping tent poles and collapsing entire shelters altogether. But even beyond that, you want the material of your tent to withstand the abuse it will take as it's constantly being rubbed against sharp rocks and other jagged edges. A good tent will last you a few years before receiving any holes or tears, but even so, that's under the assumption that you take good care of it. As durable as a tent might be, you can still wear it out quickly if you don't make an effort to avoid damage causing factors.
Internal and External Storage
Whether you're housing two people or eight people, storage space is a crucial piece of the puzzle that's worth looking into. On the inside, check how many pockets and loops are available for use. These are usually found in the corners of the tent, as well as on the ceiling, often in the form of double layered mesh that can trap your items. Gear loops for hanging a lantern or tent fan are luxuries worth pursuing as well.

On the outside, storage is mainly found in the form of a vestibule. A vestibule is a space that falls outside the confines of your tent, while still remaining covered by the rainfly. They're handy for storing items like your shoes and backpack, which would only take up space and muck up the floor of your tent if brought inside.
Best Hinged Door Tent Reviews
Best For: Car Camping
Pole Material: Fiberglass
Tent Material: Polyester
Weight: 20 Pounds
Peak Height: 72 Inches
Number of Doors: 2
Comes with Footprint: No
Coleman is the king of hinged door tents, so you'll find that many of the products in this review were created by them. The Sundome is no different, providing enough space for a family to comfortably spread out inside, while enjoying the convenience of a hinged, D shaped door.

Though marketed as a 6 person tent, I would suggest keeping your maximum occupancy to 4 people for optimal comfort. There's just barely enough room to squeeze in two queen size air mattresses, and if you add in the gear of 6 people, it's just not going to work. Not to mention, there's not much in the way of vestibules to keep some items outside.

However, for a smaller party size, I have practically no complaints at all. There's a room divider for additional privacy, but the coolest part has to be the built-in lighting. With three different settings, you can customize the glow to suit your needs, whether you simply want a light to read by or something a little stronger. It runs off of batteries, so it doesn't need to be connected to an electrical outlet, making it more portable overall. However, there is an e-port that lets you bring in electricity if you have the equipment to do so.

In terms of waterproofing, it does well for a luxury tent. The bathtub floor keeps out water from the ground, and the rainfly does a great job of repelling rain as it pours down. Just make sure you properly stake the rainfly out, otherwise you may experience a bit of water leaking inside.

Pros:

– Easy setup
– Room divider
– Waterproof
– E-port
– Built-in LED lighting
– 6 foot center height

Cons:

– A little lacking in durability
Best For: Car Camping
Pole Material: Steel
Tent Material: Polyester
Weight: 32 Pounds
Peak Height: 80 Inches
Number of Doors: 2
Comes with Footprint: No
Looking to house a large number of people under one roof? The Coleman's WeatherMaster is a great option for this, mostly because of the cabin design and additional screen room. As opposed to dome tents, the vertical walls on the WeatherMaster hinged door tent really open up the interior. For example, camping cots can now be pushed all the way to the corner because there aren't any sloped walls that cut off headspace. In addition to that, the center height reaches almost 7 feet high, allowing you to stand straight and walk around comfortably. This is especially helpful if you need to change clothes or just want to stretch out a little.

Weather resistance is a critical feature for any tent, and that's especially true for cabin tents like this one. With such high walls, it makes a great wind catcher, which means the poles are more likely to snap compared to what you'd find in a more aerodynamic dome tent. With that in mind, Coleman made the right choice giving this shelter steel poles. Though it adds some weight, steel is significantly harder to break, giving this tent the durability it needs.

Pros:

– Very roomy
– Tall center height makes it easy to stand straight
– Welded seams
– Steel poles
– Separate floorless screen room

Cons:

– Doesn't protect against heavy rain very well
Best For: Car Camping
Pole Material: Aluminum
Tent Material: Oxford fabric
Weight: 64 Pounds
Peak Height: 75 Inches
Number of Doors: 2
Comes with Footprint: No
Before I say anything else about this tent, I just want to write a little disclaimer mentioning that this product is really expensive. Like, over $2,000. If that's a dealbreaker for you right off the bat, I won't be heartbroken if you decide to skip this section and move onto the next tent.

Now that we've got that out of the way, I do have to say that it's entirely worth the hefty price tag. Unlike some Russian Bear products, this tent doesn't come with its own stove, but it is compatible with one. It is called a hot tent for a reason, and when paired with the double layered insulation, the addition of a stove really heats the place up. If you want to go camping in the winter with a couple of friends, I'd strongly recommend this product.

Perfect for folks who enjoy outdoor recreation, the camo design works well for hunters, while the holes in the floor were specifically created for ice fishers. The pop-up design allows you to set this beast up in a matter of seconds, so you can get out of the cold in a moment's notice. Naturally, it also comes with a hinged door for easy access, as well as plenty of windows for ventilation.

Pros:

– Very durable
– Double layered insulation
– Camo coloring and holes for ice fishing
– Pop-up design
– Plenty of ventilation

Cons:

– Very expensive
Best For: Car Camping
Pole Material: Steel
Tent Material: Polyester
Weight: 46 Pounds
Peak Height: 84 Inches
Number of Doors: 2
Comes with Footprint: No
It might be called a festival tent, but don't let the name fool you – the Coleman Octagon holds up beautifully in a more rugged camp setting as well. The seams are well taped, the rainfly is waterproof (though a tad difficult to get onto the tent in the first place), and the floor does a great job of keeping moisture out.

On top of that, the vertical walls and octagonal shape really work to open up the interior. The moment you step inside this hinged door tent, you'll be amazed by the sheer amount of space you have to work with. It can easily hold two queen size mattresses, or any configuration of gear that takes up a similar amount of room. And with a 7 foot peak height, you can walk around comfortably no matter how tall you are.

As I've mentioned before, the problem with tents that have vertical walls is that they like to catch the wind. The same could be said about the Octagon, but due to its sturdy pole structure and rounded design, even strong gusts barely rock this shelter. I wish the same could be said about the hinged door, but unfortunately, it likes to rattle and open partially if the wind catches it. It works well otherwise, but in strong wind, you'll probably need to use the zipper instead of the velcro.

Pros:

– Spacious
– 7 foot peak height
– Structurally sound
– Waterproof
– Room divider
– 6 windows and mesh roof make for excellent ventilation

Cons:

– The velcro on the hinged door doesn't like to stay secure in high winds
Best For: Car Camping
Pole Material: Fiberglass
Tent Material: Fabric
Weight: 32 Pounds
Peak Height: 80 Inches
Number of Doors: 1
Comes with Footprint: No
Want to go camping, but don't like leaving the idea of leaving all your creature comforts back home? What if I said you didn't have to?

With the Coleman Tenaya Lake, you might just wake up and wonder if your camping trip was all a dream. Considering the closet with shelves and a hangar bar (no, I'm not joking), it's easy to see why this hinged door tent is a crowd favorite. You'll be able to store your clothes and gear, and pack in two queen size mattresses, all while staying inside the comfort of your portable shelter.

When you look at such a massive structure like this, it's easy to assume it'll be a pain to set up and take apart. It is an 8 person tent, after all, so you'd be right in thinking it'll take a little more effort to pitch than something smaller. But really, with the pre-attached, color coded poles, it's not too difficult for you to put it together by yourself in a handful of minutes. When you're ready to pack up, it's easy to store the tent back into its carry case as well – something you wouldn't expect from a shelter this size.

There is an overhead light too, which is similar to the one that's found in the Coleman Elite Sundome mentioned above. In addition to that, there are also plenty of internal pockets where you can store your phone, wallet, map, or other items.

Pros:

– Built in light
– Easy to set up
– Closet with shelves and hangar bar
– Large enough to fit two queen size mattresses
– Waterproof

Cons:

– Strong winds may bend the poles
Best For: Car Camping
Pole Material: Fiberglass
Tent Material: Polyester
Weight: 24.5 Pounds
Peak Height: 74 Inches
Number of Doors: 1
Comes with Footprint: No
If you value space, you'll be a fan of the Coleman Montana right off the bat. An 8 person tent by design, it actually lives up to the name by comfortably accommodating the marketed number of people. Whether you decide to toss in 3 queen size mattresses, some cots, sleeping bags, or a combination of all of those, you won't feel claustrophobic in the least.

The issue that I tend to have with large tents is that they lack outdoor storage space. Vestibules just don't exist on shelters this size, simply because the rainfly isn't big enough to create one. That means your muddy boots, dirty backpack, and other gear need to come inside the tent with you, which is hardly ideal. With that said, I really appreciate the extended door awning that Coleman added onto this shelter. While it won't provide as full of coverage as a traditional vestibule, it'll do the job well enough for you to keep some of your gear outside.

At a broader level, this tent is easy to put together and take down, considering its size. And at 25 pounds, most people won't have an issue carrying it a reasonable distance to the campsite. The carry bag is disappointing, and the tent itself is more prone to leaking than I like, but it's a very solid shelter in every other regard.

Pros:

– Extended door awning
– Lots of interior space
– Easy to set up
– Sturdy design
– Great ventilation

Cons:

– Subpar carry case
– May leak a little
Best For: Car Camping
Pole Material: Aluminum
Tent Material: Fabric
Weight: 42 Pounds
Peak Height: 79 Inches
Number of Doors: 1
Comes with Footprint: No
And finally, we have Coleman's instant cabin tent, which is large enough to hold 10 people with a modicum of comfort. Obviously, the instant setup is enough to make this tent stand out from the crowd, but I mostly see that as an additional bonus. In my opinion, the true benefit that's provided by this shelter is the dark room technology.

Dark room technology does what you might expect – it keeps the inside of the tent dark, even when the noonday sun is beating down on it. This is beneficial for a number of reasons, though it seems most people like it because it allows them to sleep in longer. Most tents don't do much to block out the morning rays of sunlight, and if you're sensitive to that sort of thing, it may wake you up prematurely. But in addition to that, the room darkening also serves as a way to keep the inside of the tent cooler. You won't have as much natural light inside, but why would you spend all day inside your tent anyway?

On the more technical side of things, this hinged door tent is able to accommodate 4 queen size mattresses. There's also a room divider so you can create some privacy, if needed. And because it's a cabin tent, it has more headroom, allowing just about anyone to walk freely inside without needing to hunch over. I do wish the waterproofing was better, but that's something that can always be fixed with a good waterproof spray.

Pros:

– Dark room technology
– Spacious interior
– Plenty of headroom
– Instant setup
– Vertical walls

Cons:

– Waterproofing could use some work
At Untamed Space, we're passionate about helping you have the best camping experience possible. Our team of experts have experience camping and backpacking all over the world, allowing them to provide insightful and relevant content to guide you in your outdoor pursuits.

All of our reviews are based on a combination of firsthand experience, extensive research, and an analysis of customer feedback. We are an independent website and do not receive payments or incentives from manufacturers to promote their products, and we continuously update our content to provide new information based on product availability. Wherever you are in your journey, whatever gear you're searching for, you can be sure to find unbiased and up-to-date reviews for all of your needs.
How Do Coleman Tents Have Hinged Doors?
In most cases, multiple fiberglass poles keep the door rigid. It's then attached to a vertical pole, allowing you to swing the door open and closed.
What is the Best Hinged Door Tent?
Looking at the overall stats, the Coleman Octagon is our favorite hinged door tent. The vertical walls provide plenty of interior space, the octagonal shape gives it some aerodynamics, and does a great job of keeping the water out.
Final Thoughts
Hinged door tents are a perfect way to find a happy middle ground between camping and glamping. Though they tend to be heavier and bulkier, a tent with a hinged door is worth it for the added convenience. Exiting at night to use the bathroom, or just passing through the entryway in general, becomes so much easier than it would be otherwise.

However, that doesn't mean you can ignore all of the other components you should look for in a shelter. Waterproofing, durability, and space are just a few of the features that should also be considered, and with that in mind, we liked the Coleman Octagon the best. Out of the tents reviewed, it did the best at holding up under rough weather, without breaking the bank. The octagonal design allows it to remain somewhat aerodynamic, so strong wind gusts won't affect it as severely, while the vertical walls are still able to provide plenty of interior space and headroom.
---
Related Posts: