Tent, sleeping bag, cookware, clothing… You've probably got a whole backpacking checklist filled out with all the gear that you'll need for your next adventure. But wait, don't forget that you'll actually need a backpack to carry all of that gear too!

You'll probably be spending more time with your pack than with any of your other equipment. That's why it's so important to know how to choose a backpack, since an error in this department could spell trouble for your entire backpacking trip. To get you off on the right foot, here are some key points that you'll need to consider the next time you're in the market for a new backpack.
Know Your Route
There is no "one size fits all" backpack, both literally and figuratively. For a multiday hike in the desert, you'll need a different backpack than what you might use on a weekend trip through a forest. Where will you be going? How long will you be gone? What will the conditions be like?

For dry and arid locations, you'll want a higher capacity pack with a sturdy frame, so you can carry more water with you. For a quick summit bid, something small (like a daypack) will be more ideal for fast and technical routes. Knowing how to choose a backpack starts with knowing your route. Once you've got that part down, the rest of the process becomes much easier.
Try Packs Out in Person
More often than not, backpacks aren't the sort of thing that you want to buy without trying on first. Unless you're a seasoned adventurer who knows the sizing of a certain brand inside and out, I'd always recommend going to your local outfitter to get sized.

Find a store employee and give them the details of your upcoming backpacking trip. It might take some time, but they'll be able to help you find something that will check all the boxes on your "must have" list. I find that it's always better to go the extra mile to find something that you really love, instead of purchasing something that looks good on paper, but doesn't feel great in person.
Backpack Types
Once you've figured out your route, there are a few different types of backpacks that you can try on for size. Most of the differences come down to capacity, which is a measure of how many liters a pack can hold. Here are some guidelines that you can follow when you're in the process of choosing a backpack:
Extended Treks
An extended trip is usually anything in excess of 5 days. When you're gone for that long, you'll need a pack that's large enough to hold enough food, clothing, and other essential gear. We recommend something with a 70 liter capacity or larger, to ensure that you have enough room for your belongings.

They also work best for winter camping, even if you're only going to be gone for a night or two. Since 4 season tents and very warm sleeping bags take up more space, you'll appreciate having a larger pack to shove those things in, along with more layers of warmer clothing.
Multiday Treks
Multiday treks usually land between 3-5 days. It's one of the most common styles of backpacking, necessitating a backpack that falls within the 50-80 liter range. Unsurprisingly, these are also the most popular backpacks on the market, since they're usable for a wide variety of trips and trails.

Now, let me just say that 80 liters for a 4 day trip is pretty excessive. The only way I think it works is when you're traveling fewer miles in a day, and you want to have a more luxurious experience. For an average tent and sleeping bag, along with food, clothes, a kitchen setup, and water, something around the 65 liter mark would be suitable for most people. I've gone on 5 day backpacking trips with a 60 liter pack with no problems, but I also like to stay as light as possible.
Day Hike/Weekend Trek
Spending the weekend in the mountains, or heading out for a quick hike before the sun sets? You certainly won't need a 70 liter monstrosity for such a short jaunt into the backcountry, which is why we suggest looking at options between 20-50 liters. For reference, 20 liters is more suitable for an out and back hike that you accomplish in one day. Unless you're experienced and well-disciplined, I wouldn't try spending more than one night in the wild with such a small pack.

Personally, I find a 40 liter pack to be ideal for a weekend backpacking trip. If you know what you're doing, you could even go a little smaller with a 30-35 liter pack as well. It all comes down to personal preference, how much you plan on bringing, and how concerned you are about weight and comfort.
Features
Backpacks have a variety of features aside from capacity that are worth noting. Some of the ones that I value the most are the frame type, attachment points, and padding, but all of the ones listed below are important in their own right.
Pack Access
Pack access simply refers to the openings that lead to the main compartment of the backpack. You won't really find any backpacking backpacks that are front loading, as these are more ideal for traveling, which means that most of them are top loading. It's a more convenient style for packing gear in an orderly manner, though it does make it difficult to grab anything at the bottom on the pack.

To help solve this problem, a good number of backpacks are top loading with side access, which gives you two routes for entering the pack. Top loading is great for packing your gear, and the side access lets you grab something from the middle or bottom without taking out everything on top of it first.

Want to find a pack with both top and side access? The Arc'teryx Bora is a great place to start.
Frame Type
The frame is what supports you pack and helps to stabilize your load. All backpacks will fall into one of three categories:

External frame. Many backpacks used to be made with an external frame, but it's mostly gone out of style in recent generations. With this type of frame, you can see the structure that supports the pack, which is almost always aluminum hardware on the outside. Since the frame extends beyond the backpack, it's ideal for large and clunky loads, all while offering superior ventilation and gear organization. Have an oversized tent or inflatable kayak? This may be the type of backpack for you.

Internal frame. By far the most common, an internal frame backpack keeps the support structure hidden inside the pack. The hardware is all hidden inside the back panel, allowing the pack to hug your body better than an external frame pack. Their primary purpose is to keep the hiker stable, even on uneven terrain, while transferring much of the load to the wearer's hips.

Frameless. This style has no frame at all. That's usually because the backpack is small enough where it doesn't need one, since there won't be enough gear that needs to be stabilized. They're much more lightweight, but at the same time, they don't offer much in the way of comfort. Heavy loads will be tough to carry as a result, so make sure you choose wisely.
Pockets
The main compartment is one thing, but you'll want other pockets to help you store and organize your gear. For example, few people can live without their hipbelt pockets – small compartments on the belt that work great for holding a phone, snacks, lip balm, or other items that are nice to have easy access to.

The top lid (also called "the brain") is another area that's great for storage. I often put my headlamp up there, along with carabiners, and other items that are nice to be able to get at quickly. Then there's the kangaroo pouch, which is often a mesh pocket on the front of the pack. This is an ideal place to store rain gear, whether it's wet or dry, so you can carry it easily without risk of soaking any of your other belongings.
Ventilation
What's something that always goes hand in hand with a backpack?

…a sweaty back.

You know you love it (sarcasm), but if you want to stay as dry as possible, ventilation is going to be your new best friend. Generally speaking, I find that Osprey backpacks tend to have a leg up in this department. Their die-cut mesh back panels really get the job done well, but there are other ways to get air movement as well. Some packs will have ventilation chimneys to promote breathability, but the more common method is a suspended mesh back panel.

These back panels are like a trampoline, keeping the packbag a few inches away from your back. Since the frame will be sitting on highly breathable mesh, instead of directly against your back, it gives you the space needed to wick some of that sweat away.
Padding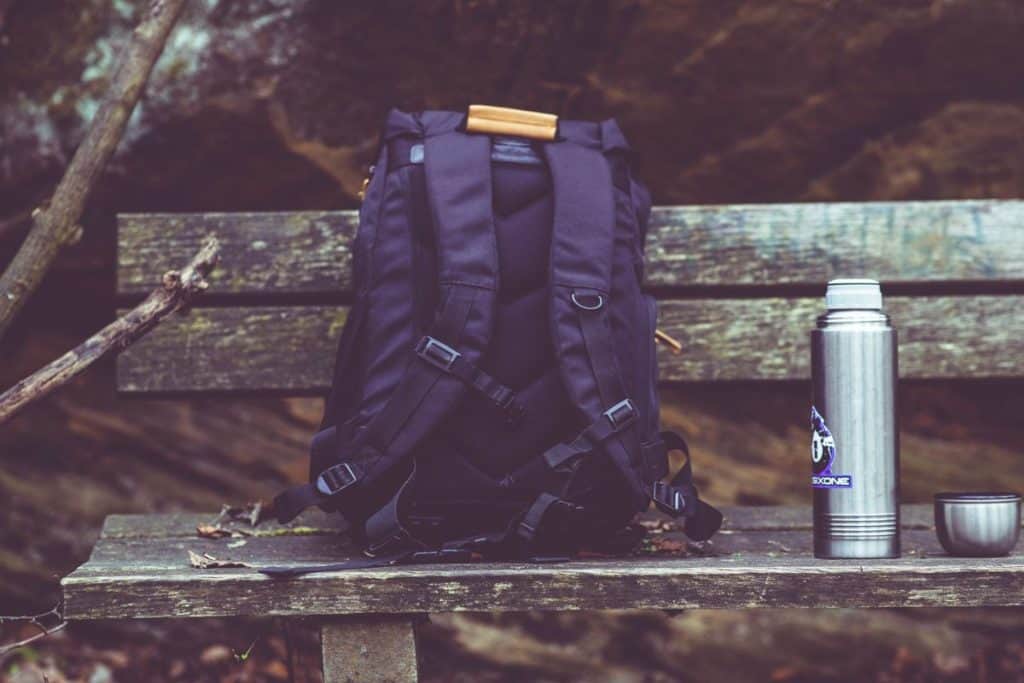 On smaller backpacks with lighter loads, perhaps you can get away with little to no padding. However, when you start packing for a multiday journey, all of that weight is going to dig into your shoulders, back, and hips quite a bit. Unless you have proper cushion on the shoulder straps, hipbelt, and lumbar section of the back panel, you're going to be in for a world of agony.
Sleeping Bag Compartment
Remember how we talked about pack access earlier? Well, when most people back their backpacks, they stick their sleeping bag at the bottom. It's the hardest place to access after you've shoved everything else on top of it, which means you may need to fully unpack all of your gear before you can settle down for the night.

That is, unless you have a backpack with a specialized sleeping bag compartment. They aren't super common, but I've been seeing them pop up more often in recent times. Essentially, the sleeping bag compartment is an extension of the main backpack with a divider separating the two areas. In most cases, this divider can be removed if you just want one large compartment, like you would normally find.

Of course, you don't have to use the sleeping bag compartment for a sleeping bag, if you don't want to. It's a handy space that can be used for a variety of purposes, but it's not a necessary feature by any means. The REI Co-op Traverse is a great pick for a backpack with a sleeping bag compartment.
Attachment Points
Some things are better stored on the outside of your pack, instead of the inside. Trekking poles and ice axes, for example, are better to keep close at hand since you may need them more frequently, and they're designed to withstand the elements. But, where exactly are you supposed to stow them?

Many backpacks come with trekking pole and/or ice axes loops to make it easy to store them externally. If you have cooking equipment or other gear that you want to hang on the outside of your pack, it's worth looking for something that comes with a daisy chain or extra gear loops. It's rare to find a pack that doesn't have any loops at all, but it can be harder to find something a bit more specialized. For example, you'll have to look pretty hard to find something with a reinforced crampon pouch. These are usually found in mountaineering backpacks, which are designed for rough, alpine use.
Rain Cover
A rain cover is just a thin sheet of synthetics that goes over your backpack. While most packs are water resistant, a strong enough downpour will still seep through and saturate your gear. With a backpack rain cover, you won't have to worry about that happening anymore.

While some packs come with their own rain cover, many do not, but that's okay too. It's possible to buy one separately for a handful of bucks – an investment that I would highly recommend that you make, for the sake of your comfort and the longevity of your belongings.
Removeable Daypack
If you're like most people, you probably don't want to be limited to one style of backpacking. Perhaps you'd like to go on a multiday trek at one point in the year, and several day hikes in addition to that. These two activities often require different sized packs, but who wants to spend the extra money on another backpack?

That's why "two for one" backpacks are so nice to have. There are a few different ways to accomplish this, but the most common is to have a removeable top lid and hipbelt. Once you've taken both off, you can attach them together to create a lightweight daypack. The versatility is nice to have if you like to mix things up, and it's also convenient for mountaineering as well. Take the whole pack up to base camp, and then downsize to the daypack for a quick bid to the summit and back.

For a backpack that can be converted into a daypack, I'd recommend looking into the Granite Gear Crown3 pack.
Hydration Reservoir
Pretty much every backpack comes with an internal sleeve to hold a hydration reservoir. You'll have to buy the reservoir separately, but they're nice to have for long hikes when you want a convenient way to drink.
Backpack Fit
You may have found a pack that sports all the features that you wanted, but that doesn't mean anything if it doesn't fit you properly. There are a few measurements to consider, but the most important are going to be your torso length (not your overall height), and the circumference of your hips. For this stage, it's handy to have an expert offer their opinion on measurements.
Torso Length
Many packs can be purchased across a wide range of sizes, from extra small to large. Some only cover these sizes broadly (making a pack for small/medium, and one for medium/large), while other brands make a different pack for each size.

A few backpacks even have an adjustable suspension system, which allows you to modify the harness to fit your torso length. It's a great feature for getting everything to sit properly, and makes it possible to share one pack between several different people. However, it is worth noting that this will increase the weight of the backpack, though the addition is minimal.
Waist Size
When I first started backpacking, I thought that all of the weight would be supported by my shoulders. My first day on the trail was pure torture: 18 straight hours of hiking with a 7,000 foot elevation gain. Needless to say, my shoulders and upper back hurt so bad that it nearly brought tears to my eyes.

The next day, I discovered the proper way to use the hipbelt, and managed to take most of the weight off of my shoulders. With my hips now supporting the majority of the pack, I was able to enjoy the next several days much more than I had before.

Most hipbelts are able to accommodate waist sizes between the mid-20 inches to mid-40 inches. Some are interchangeable, and some are going to be too big or too small depending on the person.
Other Straps
There are two additional straps that are worth mentioning: the load-lifter straps and the sternum strap.

On each shoulder strap, you'll find a load-lifter strap that connects it to the top of the pack frame. When you cinch them up, they should pull the top of the pack closer to your body, providing a more comfortable carrying experience.

The sternum strap is mostly used for added stability on uneven terrain. It connects the two shoulder straps across your chest, preventing the backpack from sliding around as much while you walk.
---
Related Posts: