If you're in a rush and want to find out what the best Marmot tent is, we recommend the Marmot Tungsten Tent.

When I first started camping, I thought Coleman tents were the best you could do. It's what I grew up on (and what my parents grew up on), so I had always equated it with the gold standard for camping tents. Who could possibly compete with such an old, well-established brand?

And then I stumbled upon Marmot, and my whole perspective was flipped on its head. Marmot tents have seen me and my friends through hell and high water since then, and they managed to pass all the tests with flying colors. Here are just a few of our favorites, in case you're looking for a new, high-quality shelter to last you for years to come.
In this article, we'll be reviewing the following Marmot tents:
Why Marmot?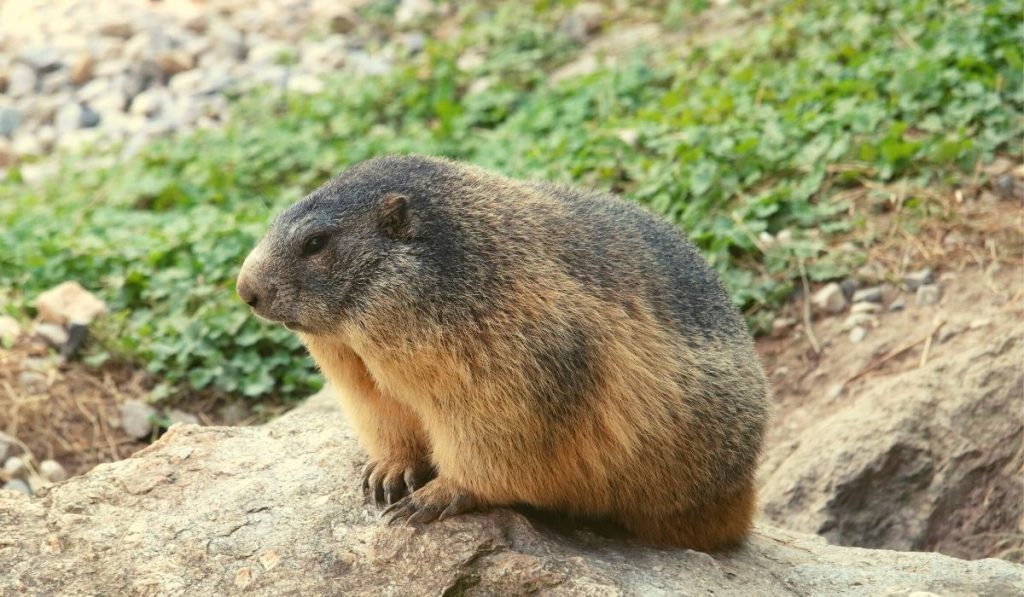 Ever heard of a marmot? It's a type of rodent, a ground squirrel, that can typically be found in mountainous regions over the United States and Asia. They're cute little critters that can be hard to spot… but we're not here to talk about animal. We're here to talk about the company.

Founded in the 1970s, Marmot started off as the Marmot Club, named after the ground squirrels because of their sociable nature. Eventually, they started Marmot Mountain Works, and got Clint Eastwood to wear one of their products in a movie. Now, about 50 years later, they're one of the best-known outdoor gear brands because of their commitment to quality, and their wide selection of products for both men and women.

Needless to say, Marmot tents will last you a long time, and work tirelessly to keep you protected against harsh outdoor weather. But before we dive into their gear, let's just do a quick review over some features worth looking out for:
Ease of Setup
Your tent may be lightweight, waterproof, and have tons of storage, but you'll still resist pulling it out of the closet if it's too much of a hassle to set up. Features like heavy poles, an excessive amount of canvas, and a confusing design are a pain to put together on a small tent, let alone something bigger – like a 6 person tent. While a reasonable amount of effort is unavoidable, there are plenty of larger shelters that take less energy to set up than you might expect, especially if you have someone else helping you. And if you're in the market for a 3 person tent or smaller, you should be able to put it together by yourself.

Quite a few large tents can take close to half an hour (if not longer) to pitch, even with the help of a friend. Regardless of the quality of these tents, no one wants to take that much time out of their day just to make camp. And for shelters meant for one person, and perhaps a partner, taking longer than 8 minutes can feel like an eternity.
Size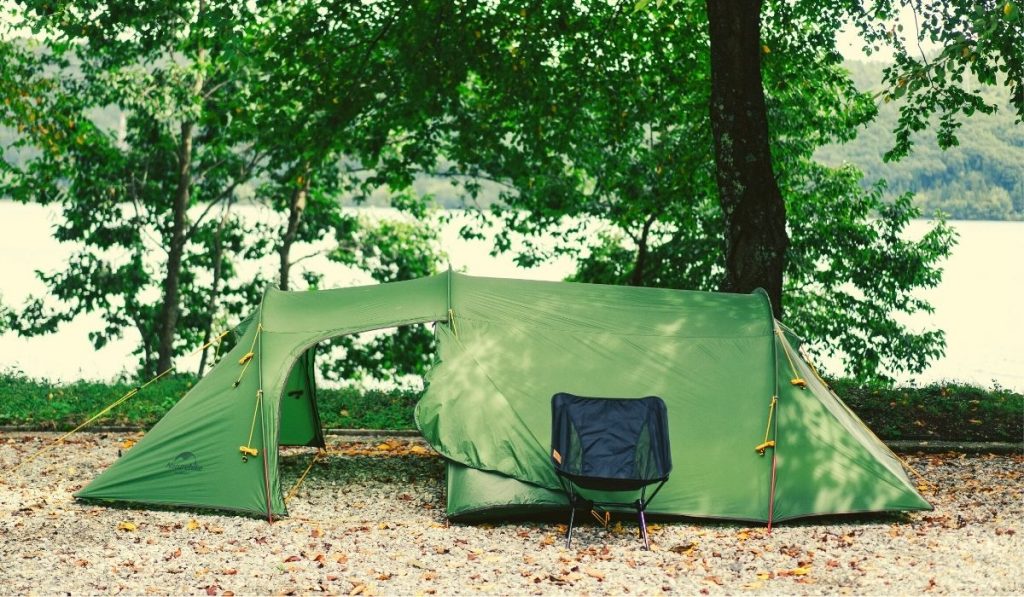 Finding a tent with the right amount of space can be tricky. Sometimes a 2 person tent is just too small, so you go up to a 4 person tent and find it's too big (and probably too heavy). Anything larger than that is often a behemoth, which makes setting it up and tearing it down that much harder. Especially if you didn't actually need all of that extra space to begin with! So, to help make this process easier, here are a few things to consider before making a purchase.

How many people are you trying to fit? It's a fair question that often gets overlooked. Are you using it by yourself? Is your significant other or close friend coming with? Will you be bringing the kids or extended family for a weekend getaway? If the answer to all of these questions is yes, then figure out what you'll be doing the most of and accommodate the appropriate number of people. Sometimes this means purchasing more than one tent.

Are your companions large? In a tight-fitting space, it's an unavoidable topic to bring up. If you come from a big boned family, fitting in a tent might be more of a squeeze than you thought, so you should consider getting a shelter with a larger capacity.

Is anyone claustrophobic? For new campers who aren't used to the confines of a tent, double check to see if anyone in your group will have a problem lying so close to other party members.

Are you bringing a small child or dog? Children and animals tend to need more space than the average adult, so make sure things don't get too cramped inside.

For the sake of example, if you have a party of 4 and answered yes to any of these questions, you might want to consider upgrading to a 6 person tent. However, if you don't mind a tighter fit, and need a shelter that's lighter and less bulky, there's nothing wrong with sticking to a 4 person tent.
Storage
It's often the little things that are most appreciated, and when it comes to camping, adequate storage can be quite the luxury. Maybe you're the type of person who likes to keep things organized. If you're like me, you probably don't enjoy having your gear thrown around haphazardly, simply because there's no better place to put it. Fortunately, many tents have handy pockets just for this purpose, as well as a convenient loop on the ceiling for you to hang your lantern for a nice homey glow.
Ventilation
Good tent ventilation is one of the more important, yet often overlooked, features that you can find in a shelter. Having more windows and vents does exactly what you might expect, increasing the amount of air flowing into and out of the tent. While it's nice to get a little fresh air into a stagnant tent, there's another important reason for having good ventilation.

Without airflow, condensation will build up on your tent walls over time. The biggest culprit for this water buildup is your breath, and is especially bad if it happens to be a humid day. If you don't have a method of removing this extra moisture, you'll have water droplets falling on you sooner or later. Not to mention, your tent will get waterlogged and start to sag, making it harder for it to repel rain and other external moisture sources.
Best Marmot Tents
Best For: Mountaineering
Pole Material: DAC Featherlite NSL
Tent Material: Nylon
Weight: 10.5 Pounds
Peak Height: 45.5 Inches
Number of Doors: 2
Comes with Footprint: No
Considered one of the strongest Norse gods, Thor is a suitable name for this tent by Marmot. Because it's a 4 season tent that will likely be exposed to heavy amounts of snow piling on top of it, strength is one of the most important things to look for. Along with insulation properties, that is.

If you take care of it, this shelter will continue to protect you against strong winds and heavy snow for many years to come. At 10 pounds, it is pretty heavy (for a 3 person tent), which is my biggest complaint overall. However, if you hand over the poles and stakes to a friend while you carry the rest, it's not a problem at all. In addition, it's got just about everything that you could hope for in a winter tent – fast setup, giant vestibules, superior ventilation – and the list could go on.

In general, I would say that this tent likes to stay about 20 degrees warmer on the inside than whatever the temperature is outside. So even in subzero weather, it's possible to stay safe and comfortable, especially when you pair the shelter with a proper sleeping bag, liner, and pad.

Pros:

– It has otherworldly strength
– Keeps you pretty warm on the inside
– Large vestibules
– Waterproof
– Though it's a 4 season tent, it works well during the summer too
– Easy to set up
– Plenty of storage on the inside

Cons:

– Very heavy
Best For: Car Camping
Pole Material: Aluminum
Tent Material: Polyester
Weight: 17 Pounds
Peak Height: 76 Inches
Number of Doors: 2
Comes with Footprint: No
Need to house a lot of people, and want to find a shelter up for the task? As far as Marmot tents go, the Limestone 6 person tent is a product that has all of the features that you could want in a family sized shelter. The vertical walls are a lifesaver, simply because it opens up the space more and provides a lot more headroom. And when you're packing so many folks into a tight space, you'll be happy to have it, even if you don't suffer from claustrophobia!

The sturdiness of this tent is something to be admired, since the taller walls can be something of a wind catcher. You might find that the poles will bend a little bit in strong, sustained wind, but it will take a lot before they break. Speaking of bad weather, you won't need to be concerned about staying dry in heavy rainstorms either. It would be nice if the back panel had some mesh on it to increase ventilation, but there's little to complain about aside from that.

Pros:

– Vertical walls
– Sturdy design
– Weatherproof
– Sleeps 5 comfortably or 6 tightly
– Zippers don't snag easily

Cons:

– Ventilation is fairly poor
Best For: Backpacking/Car Camping
Pole Material: Aluminum
Tent Material: Polyester
Weight: 5.5 Pounds
Peak Height: 43 Inches
Number of Doors: 2
Comes with Footprint: Yes
Apparently, Marmot likes to use the word "lime" in a lot of their products. I can hardly blame them, since I'm a big fan of citrus myself, and I'm just as fond of the Limelight 2 person tent (you can also find the 3 person version here).

Most tents this size are cramped and stuffy, especially when you try to shove 2 people inside to fill it to max capacity. However, the Limelight works to give you some extra breathing room by providing vertical walls for added headspace. Unfortunately, this means it's going to be a little heavier, but 5 pounds for a 2 person tent still isn't a bad deal.

Despite the taller height, durability and strength aren't a concern in the least. Whether you're facing heavy wind, or pouring rain that just doesn't want to stop, you'll be protected – as long as you stake it out properly! I've found that most issues with this tent can be associated with user error, instead of something being wrong with the tent itself. My biggest complaint with it is how bulky and heavy it is, specifically for those looking to go backpacking. It's certainly not something I'd suggest if you want to be ultralight, but for shorter treks or car camping, it's a comfortable tent that holds up beautifully.

Pros:

– Lots of space
– Sturdy and durable
– Waterproof
– Great ventilation
– Convenient doors and vestibules

Cons:

– A little heavy and bulky
Best For: Backpacking/Car Camping
Pole Material: Aluminum
Tent Material: Polyester
Weight: 4.8 Pounds
Peak Height: 47 Inches
Number of Doors: 2
Comes with Footprint: Yes
Want a 2 person tent that can actually fit 2 people comfortably? Unfortunately, it's hard to come by, unless you're just trying to shove a few kids under the same roof together. For those of us who are a bit bigger, though, you might as well kiss privacy goodbye and resign yourself to being a sardine for the night.

Well, unless you go with the Crane Creek, that is. The width of this tent is 50 inches, which gives each person about 25 inches to spread out before they bump into their partner. Considering the average shoulder width for a man is 16 inches, and 14 inches for a woman, that gives each person almost a whole foot of extra breathing room on either side. When you're crammed in a tent together, that's a lot of space.

The Catalyst is listed under Marmot's backpacking tents, which means weight needs to be considered as well. Coming in just under 5 pounds, it's certainly not the lightest option, but splitting the parts between a couple people can easily solve this problem. Personally, I would use it for car camping or short treks, as opposed to something more rigorous. However, when it comes to ease of setup, durability, and weather resistance, it's a top tier shelter that will see you through any storm that comes your way.

Pros:

– Spacious
– Waterproof
– Large door on each side
– Big vestibules for external storage
– Fast and easy to set up

Cons:

– A little heavy
– The internal pockets are a little small
Best For: Car Camping/Backpacking
Pole Material: Aluminum
Tent Material: Polyester
Weight: 8.5 Pounds
Peak Height: 52 Inches
Number of Doors: 2
Comes with Footprint: Yes
When it comes to Marmot tents, the Tungsten is one of the best sellers. The shelter that I'm talking about in this section is the 4 person variety, but you can also get it as a 3 person, 2 person, or 1 person tent as well. Aside from a difference in size and weight, the different Tungsten versions are pretty much the same.

Overall, I would say the most impressive feature of this tent is the walls. As opposed to the sloping walls commonly found in dome tents, these are vertical, giving you more space and headroom. Because of this, your shelter will feel larger than other tents of a similar size, while keeping weight to a minimum.

With color-coded clips and poles, setup is a breeze, and shouldn't take you more than a handful of minutes. If rainstorms come calling, the Tungsten is a beast when it comes to weather resistance and durability. Whether you're facing strong winds or torrential rain, you'll be able to stay safe and protected inside. And with 2 large vestibules, your gear will be just as sheltered as you are, without cramping up the inside of the tent itself.

My biggest gripe is that ventilation could be better – and it's a bit too bulky to carry by yourself – but it's still a great car camping tent. Especially if you split the weight between you and a friend!

Pros:

– Vertical walls for extra space
– Durable and strong against weather
– 2 large vestibules
– Weighs about 5 pounds
– Easy to put together

Cons:

– Ventilation needs improvement
– Stakes are flimsy
Best For: Car Camping
Pole Material: Aluminum
Tent Material: Nylon
Weight: 13 Pounds
Peak Height: 59 Inches
Number of Doors: 1
Comes with Footprint: No
There's really only one word to describe this Marmot tent, and that would be solid. It's hard to get a good sense of it from the picture alone, but the Halo is a 4 person tent with 53.8 square feet of interior space. That's a decent amount of space for a dome tent, and then you add in the vestibules with their additional space for you to store your gear outside, while still keeping it protected from the elements.

Once you enter through the double doors in the front (or the D door on the side), you'll feel like you're stepping into a spacious room back home. The peak height is tall enough for most people to stand a bit hunched over, making it a workable place to change clothes and stretch out a little bit.

Despite the size, it's ridiculously easy to put together, taking only a handful of minutes, once you've got the system down. You could even do the whole thing by yourself with minimal effort, which is nice to have when you're in a rush or don't want to bother your friends. Ventilation also exceeds expectations, even when the rainfly is on. The only issue you'll have with condensation will be outside on the vestibule, and even that is unlikely to happen too often.

Pros:

– Very spacious
– Not too heavy at 13 pounds
– Lots of room for storage, inside and outside
– Large entrance
– Good peak height
– Sturdy as a tank in rough weather

Cons:

– Carry bag is a little small
At Untamed Space, we're passionate about helping you have the best camping experience possible. Our team of experts have experience camping and backpacking all over the world, allowing them to provide insightful and relevant content to guide you in your outdoor pursuits.

All of our reviews are based on a combination of firsthand experience, extensive research, and an analysis of customer feedback. We are an independent website and do not receive payments or incentives from manufacturers to promote their products, and we continuously update our content to provide new information based on product availability. Wherever you are in your journey, whatever gear you're searching for, you can be sure to find unbiased and up-to-date reviews for all of your needs.
FAQ
Are Marmot Tents Easy to Set Up?
Marmot tents are designed with user-friendly features, making the setup process relatively straightforward. Most Marmot tents come with color-coded poles and clips, enabling easy identification and assembly, and the inclusion of clear instructions and diagrams makes setup even easier.

While the specific setup time may vary depending on the tent model and individual experience, Marmot tents generally prioritize ease of use, allowing campers to quickly pitch their tents and start enjoying the outdoors.
Do Marmot Tents Come with a Warranty?
Yes, Marmot provides a limited lifetime warranty for their tents to ensure customer satisfaction and product integrity.
What's a Good Marmot Tent for Backpacking?
The Marmot Tungsten 1P tent is an excellent choice for backpacking adventures. With its ultralight construction, this tent offers a perfect balance between weight and durability. Weighing just under 4 pounds, it won't burden you during long hikes, and it also features a compact pack size, making it easy to fit inside a backpack.
Final Thoughts
So, what's the best marmot tent? Ultimately, that's not an easy (or fair) question to ask, simply because they all shine in different areas. Some are better for cold weather, while others work best in moderate climates with larger groups. It really depends on what you're looking for in a shelter, but for us, our top pick would still have to be the Marmot Tungsten tent. Not only is it well made and easy to set up, but it's also spacious with large vestibules and vertical walls. But what truly makes it the winner is the extensive size range, allowing you to purchase what you need – from a single person tent all the way up to a 4 person tent.
---
Related Posts: