Camping is all about retreating into nature as a way to bond with loved ones, experience some stress relief, or just take a break from it all. And while that usually means leaving the tech at home, sometimes you just have to bring a few items to help you stay connected to work or family while you're gone.

Since the wilderness doesn't come with regular intervals of electrical outlets, you'll need a way to keep your tech juiced up and ready to go. That's where NESTOUT comes in – one of the top power banks with a solar panel to help you keep your batteries fully charged, no matter how long you're away from civilization.
What is NESTOUT?
NESTOUT is a Japan-based product line that makes portable power banks and outdoor lighting. Their parent company is ELECOM, which specializes in Japanese consumer goods, and is known for creating some of the most innovative products on the market.

However, NESTOUT decided to hone in on the outdoor power and lighting space, creating a solid set of portable batteries and lamps that even backpackers would find valuable. But in a landscape dominated by larger brands like Anker, Goal Zero, and BioLite, how does this brand hold up?

Well, let's find out.
NESTOUT Overview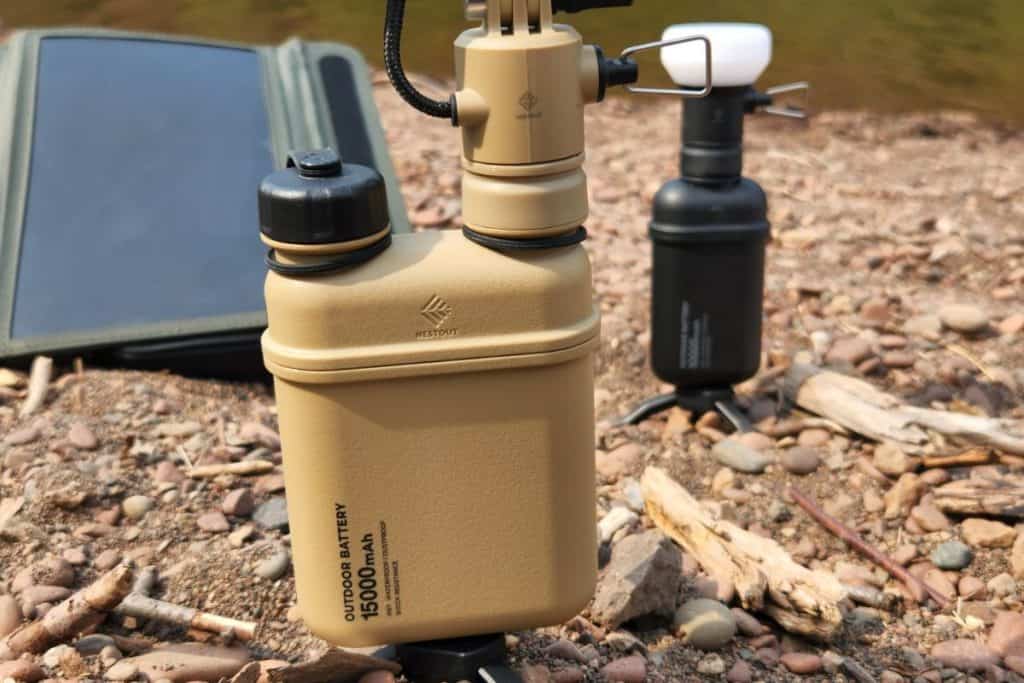 The NESTOUT product line can be broadly categorized as portable power, lighting, and solar charging.

In terms of power, they have two options at the time I'm writing this, coming in the forms of a 15,000 mAh and 10,000 mAh battery. Each size has a USB-C port and a USB-A port, though the 10,000 mAh size only has one USB-A port while the 15,000 mAh size has two of these. I have to admit that the first time I saw the batteries, I thought that they were water bottles, which is a complement to the design team. Created with nostalgia in mind, the batteries sport a stylish, old-fashioned water bottle shape that's sleek, minimalistic, and easy to slip into a pocket.

When it comes to lighting, NESTOUT developed both a lamp and a flashlight to plug directly into their batteries. Each one works with either battery size and provide a nice ambience to your camp setup. Brightness is fully adjustable, and the flashlight comes with a number of different "colors," so you can find the perfect level of warmth.

Charging is pretty simple, as NESTOUT also created a solar panel to pair with their batteries. It packs down to a nice size and is a lot more portable than something like a Jackery solar panel, though that does mean you'll get significantly less wattage.
Where it Shines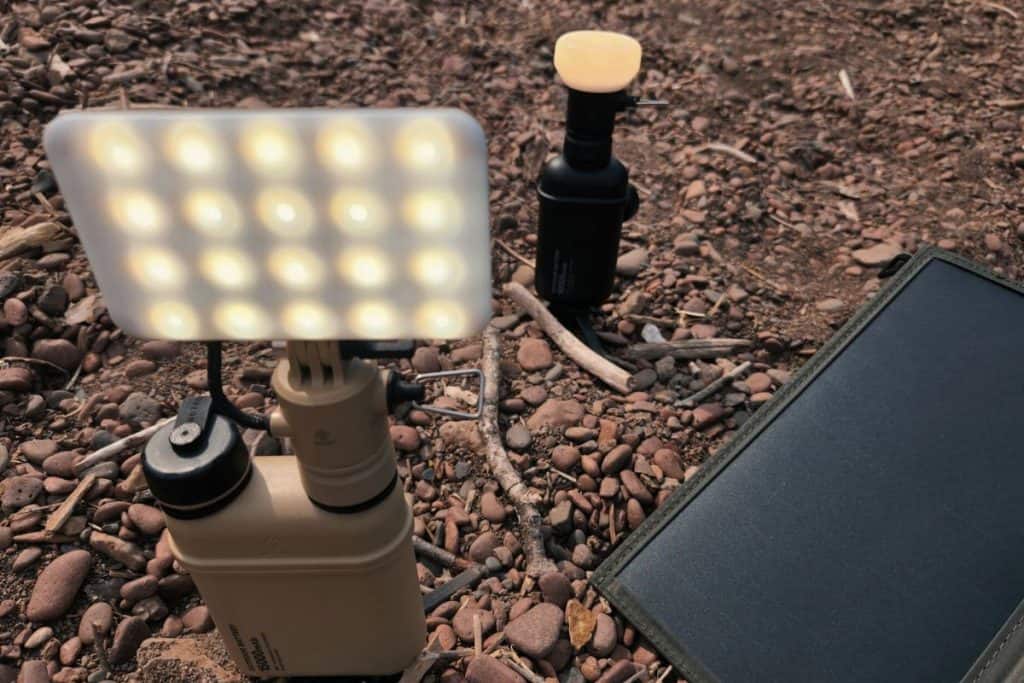 Portable power is a tough niche to get into, and it really required the product developers to make something both effective and unique. While it's not perfect, I do find that the NESTOUT line does a great job at differentiating itself from other big names through its novel design and sleek appearance. Here are some of the finer points that I really enjoy about this system:
Interconnectedness
I'm not an Apple user, but almost all of my friends and family are diehard fans of the brand. So even though I don't have much firsthand experience with the iPhone, iPad, MacBook, Apple Watch (etc.), I do know that one of the biggest reasons people like them so much is because they all sync with each other. They're interconnected and are supposed to work together, which I believe is also one of the strongest selling points for the NESTOUT line.

You could use the batteries by themselves, charging them up through a wall outlet or a generator when they get low on juice. You could use the solar panel as a way to power up your phone, without even buying a battery to begin with. But if you really want to get the most out of these products, you've got to use them as a package deal.

In fact, you can only use the flashlight and lamp when they're paired with one of the batteries. So, keep in mind that to have portable lighting, you'll need to invest in both products.

But even beyond that, these tools were meant to work as one unit, and you can only draw out their full potential when you use them with that in mind. Considering how small and portable the individual items are, it's easy to find space for everything inside of a backpack. More on that below:
Portability
One of the areas that the NESTOUT line really shines is portability. I can't tell you how many times I'll slip a battery into my pants pocket while I'm using it to charge my phone. The smooth outer surface of the batteries really helps it slide in and out of tight spaces without getting caught or causing friction. In terms of weight, they're about what I've come to expect from portable power banks: heavy enough to notice, but not heavy enough where you'll mind carrying it long distances. Perfect for backpacking, especially if you're using the smaller, 10,000 mAh variety.

And then you have the lighting. While the flashlight is definitely the heavier and bulkier of the two, it's not like it's that heavy or bulky. If you want bright, warm, effective lighting for your campsite (whether you're backpacking or car camping), both the flashlight and lamp are solid options. Each comes with its own carry case, along with a plastic ring that screws around the connecting point between the battery and the light.

Finally, there's the solar panel, which is something that I fell in love with immediately. It's a lot smaller and more lightweight than I was expecting, but it still does a great job of recharging the batteries quickly (as long as you have full sun). When not in use, it folds down into a neat little package, secured using velcro.
Durability/Water resistance
Aside from the novel battery/lighting/solar panel pairing, everything that I've mentioned about the NESTOUT line is pretty much par for the course. There are other 10,000 and 15,000 mAh batteries out there that perform just as well and recharge just as fast. You'll find a good number of camping solar panels that are equally as small, portable, and powerful. But in my opinion, the place that the NESTOUT products really shine is in durability.

No matter what you do to them, they just won't break. I've dunked my batteries in a river (with the cap on), dropped them more times than I can count, and have generally been rougher than normal on them to see just how well they'll hold up.

And I have to admit, I've been genuinely surprised.

Not only do they still work like they're brand new, but they're barely showing any signs of wear and tear. It's like they're fresh out of the box, which is a level of durability I've never experienced with any other portable power bank before – especially after playing with them as hard as I have been.

The lights are also pretty durable, and the solar panel has a good amount of resistance to water and dirt. You may need to take a damp paper towel to the surface of the panel after a camping trip, since dirt and dust will accumulate, but you're not going to damage the panel by doing so.
Recharging
I've handled quite a few different power banks and solar panels, and I have to say, the NESTOUT system is one of my favorites when it comes to rechargeability. Easy to integrate, the battery goes directly into a pouch connected to the solar panel. This protects it from the elements while ensuring that it doesn't stray from the panel when you're moving it around to get the most sun. It's a convenient design that works well for phones too, if you just want to charge up directly from the solar panel instead of from a battery.

I also appreciate how quickly the solar panel recharges the batteries (when it's exposed to full sun). My 10,000 mAh battery was about 20% full when I plugged it in the other day, and it was fully charged about two hours later. For most campers, a couple hours of direct sunlight a day isn't too hard to come by, making this a very viable option.
Potential Pain points
I've enjoyed using my NESTOUT products on a number of trips, and I'll continue to use them well into the future. However, they're not perfect, and I can think of a couple of different reasons why I might grab a different portable power bank instead. Namely when it comes to…
Charging Speed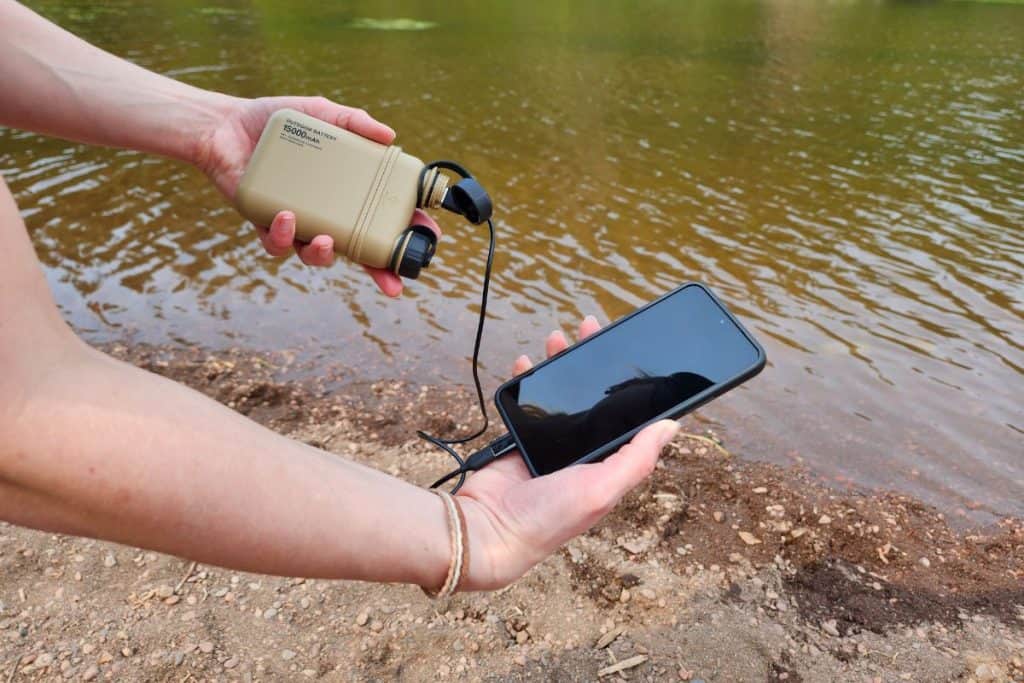 If your phone is almost dead and you're just plugging it in, it's going to take awhile to get it back to 100%. With the NESTOUT package, you don't get the fast-charging capabilities that we've all become so accustomed to. And that means your phone might not be fully charged after two hours of being plugged in…or longer.

Again, in practice, this is more of an annoyance than a genuine problem. If you're camping, you probably won't be on your phone much anyway, which gives it plenty of time to charge. If you're traveling or just going about your day, it's easy to slip the battery into your back pocket while your phone is in your front pocket. Just connect the cord, and you'll be good to go.
Battery Capacity
Then there's battery capacity. At the end of the day, 10,000 mAh isn't going to get you very far, especially if you're trying to recharge your phone and power up the lamp or flashlight once the sun goes down. From personal experience, I can recharge my phone (a Samsung Galaxy S22 Ultra) about 2.5 times from a full 10,000 mAh battery. Depending on how much I use my phone, if my wife wants to charge hers too, and how much I want to use the lighting systems, it's easy to drain the whole battery in one day.

The 15,000 mAh battery goes a bit further – between two and three days, depending on how aggressively I use it. Which honestly isn't too bad, especially if there's enough sunlight to keep the battery charged from the solar panel. However, cloudy days and aggressive phone and/or lighting usage can quickly leave you in the dark, if you aren't careful.
Instructions
Since NESTOUT is a Japanese based product line, all of the instructions for the gear are written in Japanese (and only Japanese). At the end of the day, the products are fairly intuitive, and I was able to figure out how to get everything to work in a relatively short amount of time. However, if you don't have much experience with power banks or tech in general, it could be frustrating trying to get everything to work properly.
Final Verdict
The NESTOUT product line is an exciting and novel way to bring power and lighting to your next outdoor excursion. Barring a few of the pain points listed above, it's still one of my favorite methods for recharging my phone and a few other small devices on the go.

What it lacks in raw power (compared with most Anker products), it makes up for in durability, waterproofing, and style. That being said, if you're looking for something to give your phone a boost on a day trip, there are better alternatives out there. However, if you're going to be in the wild for a couple of nights, you're rough on your gear, and you like to have some illumination for your campsite, I can't recommend these items enough.

Curious? Check it out below!
At Untamed Space, we're passionate about helping you have the best camping experience possible. Our team of experts have experience camping and backpacking all over the world, allowing them to provide insightful and relevant content to guide you in your outdoor pursuits.

All of our reviews are based on a combination of firsthand experience, extensive research, and an analysis of customer feedback. We are an independent website and do not receive payments or incentives from manufacturers to promote their products, and we continuously update our content to provide new information based on product availability. Wherever you are in your journey, whatever gear you're searching for, you can be sure to find unbiased and up-to-date reviews for all of your needs.
---
Related Posts: