Our feet allow us to walk, travel, and explore the world we live in. Doesn't it sound like a good idea to protect them to the best of our ability?

Whether you're going on a hike or walking through town, footwear matters, especially when it comes to protection and comfort. But let's be honest… Decent boots can be a financially painful investment. That is, unless you're looking at the Nortiv 8 Amradillo 2 boots, which cost less than $60. I know it might be hard to trust the quality of something that inexpensive, but let's just say I was surprised when I got my hands on them, and I think you will be too.

So without further ado, let's check them out.
Nortiv 8 Armadillo 2 Boots Overview
Founded in 2019, Nortiv 8 is a relatively new brand. But in that time, they've managed to garner a large following of like-minded outdoor enthusiasts who value both personal and environmental health.

The first edition of the Armadillo boots was a huge success, as you can see if you check them out on Amazon. However, Nortiv 8 took it up a notch with their second variation, upgrading a number of key points. Increased durability, a water-resistant padded tongue, and improved arch support are just a few of the reasons why you'll want to check out version 2 of the Armadillos instead of the flagship design.

I've gone ahead and tested them in a number of locations around the world, analyzing their comfort, durability, and wateproofing, among other factors. Long story short, I'm seriously impressed. But as to why I'm so pleased… Well, I guess you'll have to read the full review to find out!
Disclaimer: The Armadillo 2 boots normally run for $89.99, but at the time of this writing, they're experiencing a discounted "launch price." Check them out now for $50.99!
Where They Shine
Hiking boots can honestly be hit or miss. Sometimes they don't fit right, othertimes they just never break in as much as you need them to. Occasionally the waterproofing doesn't hold up, or the material starts falling apart before you feel like you've gotten your money's worth out of them.

My wife recently bought a pair of Sorel boots, and they gave her quite a bit of pain before finally adapting to her feet. Needless to say, she was pretty jealous of how comfortably I could walk around in my Nortiv 8 Armadillo 2 boots… But more on that below.
Comfort
Right out of the box, I was honestly astounded by how comfortable the Armadillos were. I've worked my way through a number of boots over the years, and they've all required a few days of breaking in – at best. My Salomon boots, for example, resisted for over a week (causing more than one blister) before they finally conceded and let me hike in comfort.

Thankfully, that wasn't my experience with the Armadillos. In fact, it couldn't have been more different. Instead of the traditional break-in period, I was greeted with immediate comfort that surrounded my feet and left me feeling like I was walking on a cloud.

Overall, my best estimate is that I've walked and hiked roughly 150 miles in these boots so far. In that time, some of the cushion in the sole has flattened out, so they're not quite as comfortable as they were when I first got them. At the same time, the difference is minimal at best. They still feel great, and I haven't gotten a single blister or hot spot in the entire time I've worn them.

I have felt some rubbing on the outer edge of my big toe, but again, not enough to get a blister. I've only noticed the skin getting a little callused there, and that's after wearing the Armadillos every day for a couple months. And when I say "every day," I mean it.
Warmth
I suppose you could see this as either a pro or a con, depending on the season. As someone who lives in a colder climate, I appreciate how these boots keep my feet well insulated. But I admit, they can get a little stifling in the summer.

At any rate, temperatures are starting to dip pretty dramatically as I write this. I'm a big fan of the 60s and 70s, but now that it's dropped into the 40s, it's getting hard to escape that underlying chill in the air. With the Armadillos, I can at least be sure that my feet will stay warm, even if the rest of my body is struggling.

Broadly speaking, these would make great winter boots, despite not being designed specifically for that season. They're not going to perform quite as well as my actual winter boots, but if you only have the budget for a single set of footwear, the Armadillos will cover you through the whole year.

As I already mentioned, it does get pretty hot inside during the summer. Still, I've gone on 6 mile hikes in 80+ degree weather without feeling too miserable. For the price and versatility, I have no reason to see this as anything other than a benefit.
Waterproofing
I wanted to put the Armadillos to the test, so I decided to bring them to Kaua'i for a week to run them through the gauntlet. Part of my testing included a thorough exploration along the Napali coast, where I encountered 5 river crossings – great opportunities to see just how water resistant these boots actually are.

As you can see in the above video, standing directly in the river didn't cause any problems. My feet stayed perfectly dry, even after remaining submerged for roughly 3 minutes straight.

And don't let the video fool you: that was the shallow part of the river crossing. There was a point where the water went up three times higher than that, and still, my feet remained perfectly dry. Needless to say, I probably could have stood there for a much longer period of time without suffering any unfortunate consequences.
Traction
Traction is an important consideration for any type of footwear. I live in a state that gets hammered by ice and snow every winter, so believe me, I'm well aware of how impactful traction (or the lack thereof) can be.

But this isn't an area that's only relevent during the colder months. Loose dirt and gravel, inclines and declines, and even a little bit of water on the pavement can cause you to lose your footing before you have a chance to blink.

While the traction on the Armadillo boots isn't the best that I've ever seen, it does have some admirable traits. The material is pretty sticky, and the pattern on the outsole is rounded and multi-directional, which improves its performance on wet and mixed-surfaces. I would like to see a somewhat deeper and more aggressive pattern, but I believe 95% of hikers will find the traction to be more than sufficient.
Lightweight
I work a lot with the camping and backpacking community. Having talked with plenty of backpackers in particular (especially the new ones), I can tell you that boot/shoe weight is a frequently overlooked area.

Tent weight? It's on everyone's mind. Sleep system? We're all trying to cut ounces where we can. But very few people seem to remember that the weight we carry is more than what goes into our packs.

Now, my Salomon boots are pretty heavy. There's a certain amount of durability that comes with the weight, which is nice to have, but wearing them on a 19 mile hike almost killed me. I'd say somewhere in the 8-10 mile range is where I really started to feel lead-footed, and every step after that increased my misery.

But what about the Armadillo 2 boots? I've taken them on a 12 mile hike before, and let me tell you: it was amazing. I completely forgot I was wearing them until the end of the hike. They're the lightest boots that I've ever owned, and at this point, I prefer to wear them more than my sneakers.
Price
I don't know about you, but I always dread the day when I find that my hiking boots are no longer usable. A $150-$250 charge for new footwear never feels good, but we've all been taught that you get what you pay for. And generally speaking, it's true.

That's why I had to rub my eyes a few times when I saw the price on the Armadillo 2 boots. And then I received them in the mail, tried them on, and had to rub my eyes again. I even put an Armadillo on one foot and a Salomon boot on the other to see the difference, and it was completely night and day.

Without a doubt, I preferred the Armadillo, a boot that costs about 40% as much as my Salomons. So not only are these great for hikers on a budget, they're exactly what I would recommend for outdoor enthusiasts with a much higher disposable income as well.

Read More: Best Hiking Boots Under $100 for Men and Women
Still, as we all know, even the most amazing products have areas where they can improve. The Nortiv 8 Armadillo 2 boots are no different, though the pain points listed below are a lot more minor than what I can usually come up with.
Sizing
Sizing is a problem that you'll often encounter when buying footwear online. Whether too big or too small, it can be hard to find that perfect fit, unless you're trying the boots (or shoes) on in person. In the case of the Armadillo 2 boots, they run a little large.

Normally, I'm a size 11. That goes for my running shoes, my court shoes (for tennis), my sandals, and my dress shoes. However, I do like my footwear to fit a little big, so in reality, a 10.5 is probably a better respresentation of my true size.

That being said, when I first received a size 11 in the Armadillos, they were uncomfortably large, allowing my foot to shift around more than I was used to. Nortiv 8 was kind enough to send me a replacement pair, and I have to say, the size 10 boots fit like a glove.

So, while the choice is yours to make, I'd recommend purchasing a half size smaller than what you're used to wearing. Hopefully that will save you the trouble of buying the wrong size and going through the replacement process.
Breathability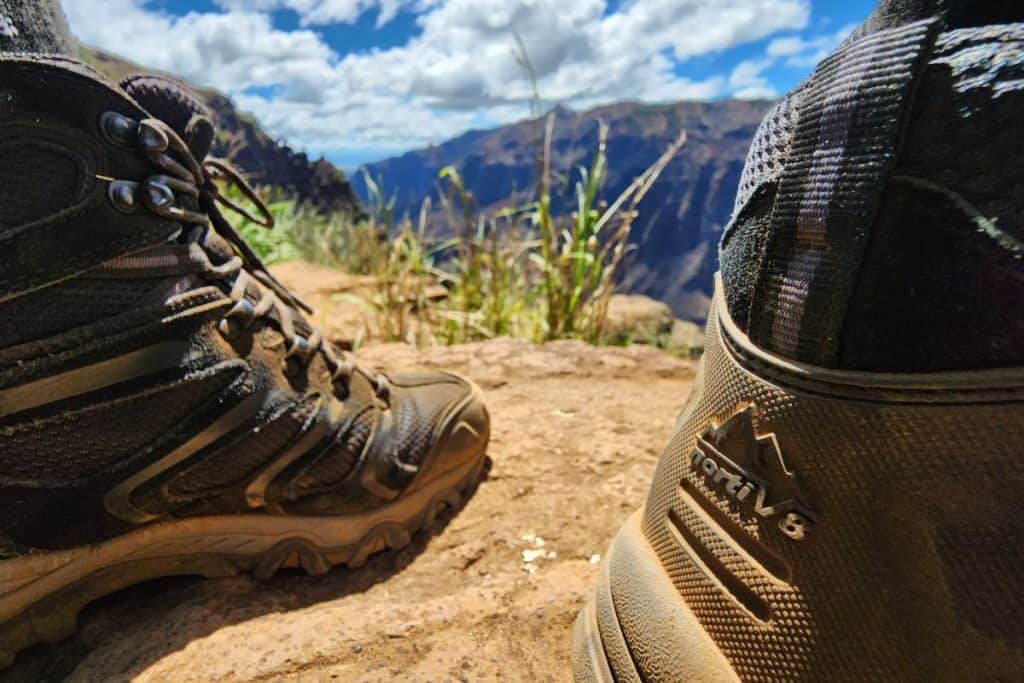 Breathability helps keep your feet from overheating on long hikes, especially during the warmer months. But it's also important when your feet start to sweat, as the ventilation allows moisture to escape, reducing the risk of blister formation. And… How shall I say this.

The Armadillo 2 boots have almost no breathability whatsoever.

This goes back to what I said eariler about the boots being warm – a fact that I labeled as a good thing, but recognized how it could be bad depending on the circumstances. Since there's so little ventilation, heat gets trapped inside, which is perfect for colder temperatures. Water also has a harder time passing through the material, given its lack of permeability.

Still, in temperatures that exceed 80 degrees, the build up of heat inside the boots becomes almost unbearable. At least, that's where my threshold exists; I imagine some of you will be able to tolerate more or less than that depending on what you're used to.

Overall, the Armadillos are perfect for autumn weather. And while the summer months can feel oppressive, these boots will work just fine as long as you don't mind having hot feet.
Final Verdict
A high-quality hiking boot that costs a fraction of what you'd typically pay sounds too good to be true, doesn't it? Trust me, I felt the same way.

But after putting over 150 miles on them, I can say with confidence that this is one of those rare instances where it's not too good to be true. In practice, they feel very comparable to higher end (expensive) boots like Salomon and Lowa. Minimal break-in time makes them comfortable right out of the box, and the water and abrasion resistance ensures they'll last a long time.

Are they as durable as the more well-known brands? Time will tell, but so far, my opinion is… no. They aren't. I'm already starting to feel that the sole isn't as comfortable to walk on as it was a month ago, and the outer material of the boots are showing some wear.

Even so, they're priced so low that I can hardly find it in myself to complain. Nortiv 8 truly went above and beyond with the Armadillo 2 boots, providing one of the best "bang for you buck" pairs of hiking footwear that you'll find.

Curious? Check them out below!
At Untamed Space, we're passionate about helping you have the best camping experience possible. Our team of experts have experience camping and backpacking all over the world, allowing them to provide insightful and relevant content to guide you in your outdoor pursuits.

All of our reviews are based on a combination of firsthand experience, extensive research, and an analysis of customer feedback. We are an independent website and do not receive payments or incentives from manufacturers to promote their products, and we continuously update our content to provide new information based on product availability. Wherever you are in your journey, whatever gear you're searching for, you can be sure to find unbiased and up-to-date reviews for all of your needs.
---
Related Posts: