Camping with the family is something that most of us have done at some point in our lives. It can be great fun or an absolute nightmare, and sometimes the determining factor boils down to the type of tent that you're using.

Ozark Trail tents are easy to pitch, weatherproof, and spacious enough for the whole family to spread out comfortably. Even better, they tend to be cheaper than many better-known brands, saving you from a little pain the wallet. Here are some of our top picks that we believe would work great on your next family camping outing.
In this article, we'll be reviewing the following best Ozark Trail tents:
Why Ozark Trail?
What's so great about Ozark Trail tents that we decided to write an entire article on them? Well, I'm glad you asked.

As a little background, Ozark Trail is a Walmart brand. That being said, these tents can only be bought at Walmart and Amazon, so you options are pretty limited if you were hoping to buy through a different retailer. However, being a Walmart brand, the Ozark Trail tents come with some pretty significant perks. For example, they tend to be a lot more cost effective, especially for the size of the shelter that you get. Most of the tents fall within a 6-14 person capacity, which aren't the exactly the cheapest products on the market. And while you'll still pay a couple hundred bucks for an Ozark Trail, Walmart is selling them for a fraction of what a name brand would charge.

On top of that, almost all of the Ozark Trail tents are instant tents. With very minimal effort, they can be set up in a matter of minutes, which is very handy given how large they are. There aren't too many 12 person tents out there that can be pitched by one person, but the ones by Ozark Trail definitely fall into that category.
Size and Shape
It's always good to think about capacity before you buy a tent. Ozark Trail only makes large tents, and it usually goes without saying that no one will stuff 12 people in a 12 person tent. Instead, it's far more likely that a shelter that large will be used for glamping purposes, providing plenty of space for 4 to 6 people to spread out in.

Shape also plays a large role in the amount of usable space you'll have to work with. Cabin tents with vertical walls allow you to get nice and close to the edges of the shelter, making the most of the available floor space. However, something like the Ozark Trail 10 person 3 room tent will force you to get a little more creative, given the sloped curves of the walls.
Weather Resistance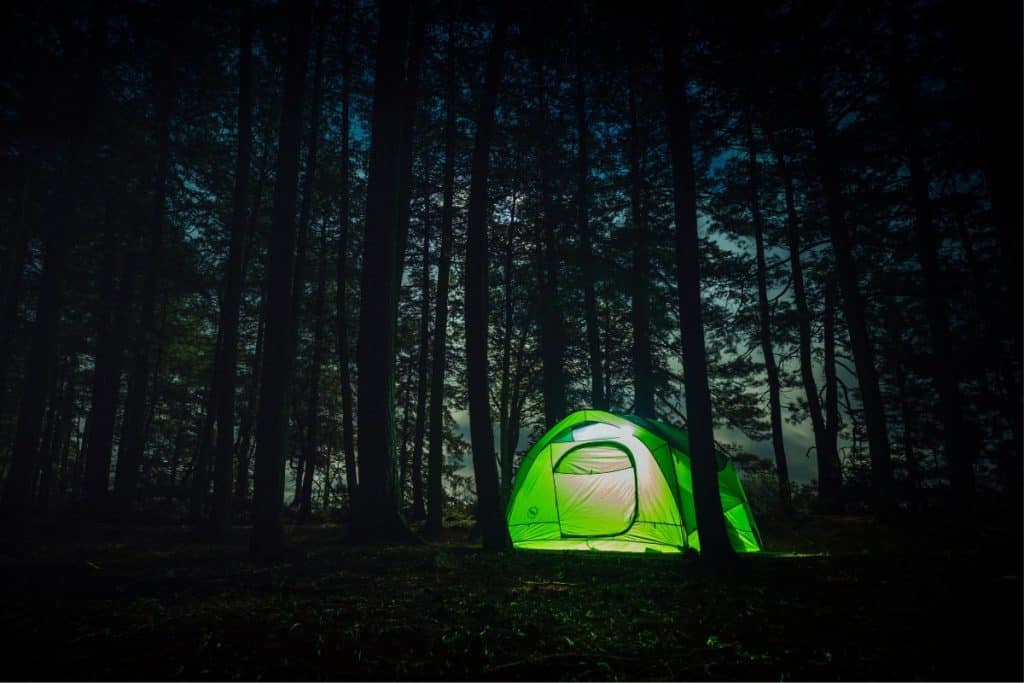 A tent only has two purposes: keep the bugs out and keep the rain out. Failing in either way is a pretty big problem, which is why we stress the importance of weather resistance so much. Will your tent survive strong wind gusts? That depends on how well you guy it out, in part, while aerodynamics and pole strength play another role. Will a rain shower cause the material to leak? Hopefully not, but it doesn't hurt to read reviews and add a coating of waterproof spray to be safe.
Durability
You don't spend a couple hundred bucks on a tent that you only expect to last a year or two. You pay for quality, and that often expresses itself best in the form of durability.

The longevity of a tent is directly correlated with the materials used in its construction. Looking at the poles, your options come down to steel, aluminum, and fiberglass, ranked from strongest to weakest in the order they've been listed. However, the quality of the tent fabric itself is a little less straightforward.

The durability of fabric is measured using denier. Since denier is an indicator of the thickness of the thread used in a material, it follows that the higher the denier, the more resilient the fabric is. I like my tents to have a denier over 100, but for light/moderate use, something around 50 works well too.
Ease of Setup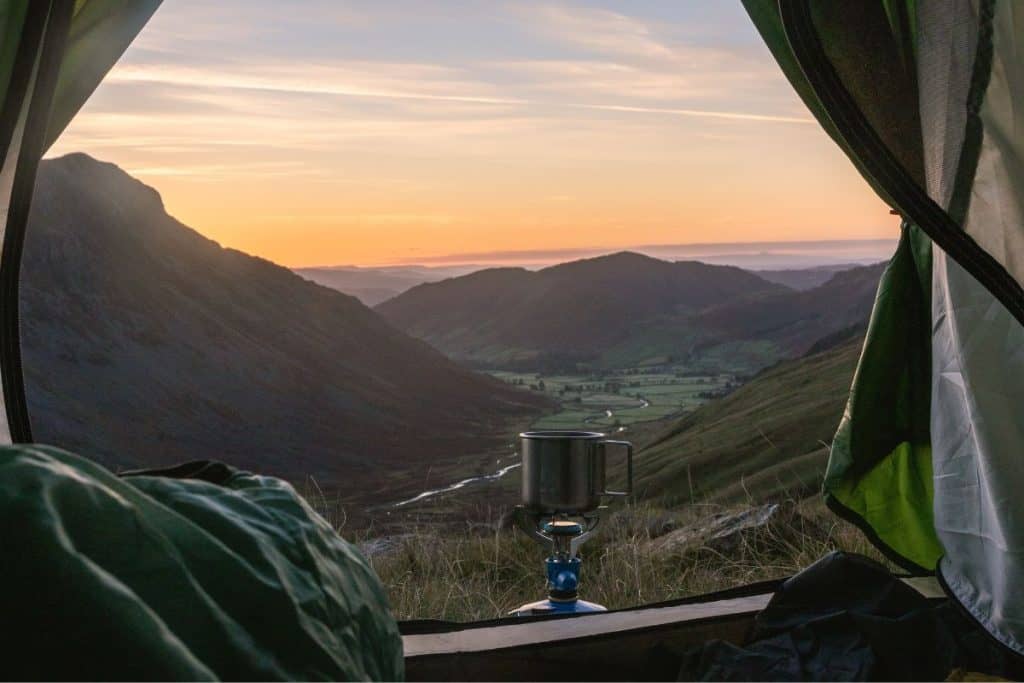 Tents can be a pain to set up in the best of conditions, but what about when it's dark, cold, and rainy? The last thing you want to do is fumble around with an excessive number of poles and 20 pounds of tent material.

Ozark Trail tents tend to be quite large, and large tents can be frustrating to put together. However, the manufacturers seemed to be aware of this, which is why they created most Ozark Trail tents with an instant design. Unroll the tent fabric on the ground, and pop everything into place in a matter of seconds. It doesn't get much easier than that, and when you're working with something as large as a 14 person tent, you'll be very glad to have the convenience.
Weight
Weight plays an important role when determining whether specific camping gear is right for you or not. As a disclaimer, none of the Ozark Trail tents are going to be light enough for backpacking. Most of them come in somewhere between 20-30 pounds, which is reasonable considering the sizes of the shelters, but still a bit excessive to carry long distances.

So, this tent brand is for car campers only. Depending on your fitness level and the number of people helping you, it's certainly possible to carry one of these tents a mile or so. However, I'd try to keep your campsite close to your car, so that you don't have to make multiple trips across long stretches of trail.
Price
And of course, we can't fail to mention one of the most important features of any tent: price. When you're looking at tents this large, it's pretty common to pay anywhere between $600-$2,000, depending on the brand and style. However, with Ozark Trail, it's a lot more common to see prices hovering around the $300-$400 range. It's one of the perks that comes with picking an off brand, even if you do "pay" for it in other ways.
Best Ozark Trail Tents Comparison Table
Best Ozark Trail Tents – Reviewed
Weight: 55.2 Pounds
Peak Height: 82 Inches
Floor Area: 192 Square Feet
Tent Material: Polyester
A large, 12 person tent, this Ozark Trail shelter is the kind that's perfect for hot weather camping. And why is that, you might ask? Well, when those stifling temperatures make you sluggish and miserable, the large number of windows and ground vents help to air things out. In total, there are seven windows, all of which can be fully closed for weatherproof purposes. If you kept the large doors open as well, if would feel like you're sitting outside – not in a tent.

And that brings me to another point, which is the fact that you can sit outside while remaining sheltered against the sun and rain. Due to the unique "L" shape design, there's an awning that can cover the inside corner, allowing you to set up some chairs outside under the canopy. It's a cozy space that you won't really find on any other tent, Ozark Trail or not, but it's not without its flaws. The most apparent is the fact that the "L" shape turns into quite the windcatcher. However, if you know which way the wind is coming from, you can often pitch the tent at a more aerodynamic angle.

Like most Ozark Trail tents, this one is an instant tent. In roughly 2 minutes (depending on how much practice you have with it), the tent can be fully put together. Taking it down again will be slightly more time consuming, but it's still very reasonable, given the size of the shelter.

Three rooms, each with a divider to provide some privacy, give you plenty of space to spread out and get comfortable. Whether you're camping with the family and want a haven to escape to, or you like the idea of having the bedroom separate from the living space, there are numerous configurations for you to mess around with.

Pros:

– Very large
– Unique outdoor awning
– Instant cabin tent
– Waterproof
– Big doors
– Easy to take apart again
– Pre-attached poles

Cons:

– Non-removeable room dividers
– Windcatcher
Weight: 25.6 Pounds
Peak Height: 80 Inches
Floor Area: 137 Square Feet
Tent Material: Polyester
One of the most affordable products in our review, the Ozark Trail 10 person tent with a screen room is a handy option for people on a budget. It's what I would consider a niche product, not suitable for all campers (even in the car camping community), but it's still effective for some.

From a durability standpoint, you get what you pay for. In this case, that's not very much, so if you're a hardcore camper who likes to get out several times a year, you'll be disappointed in the longevity of this product. Really, this is the sort of tent that's best used among people who want to camp with their family once or twice a season. Something expensive and durable isn't as necessary, since it won't be seeing much use.

The screen room is a crowd favorite, and it's not hard to see why. It's excellent for gear storage, or as a fun place to hang out to catch the breeze. You could use it to stargaze during the night as well, or you can remove the rainfly and gaze up at the sky through the mesh roof.

It's too large for one person to setup by themselves, especially since it's not an instant tent. However, with some exertion, two people could get everything put together in a handful of minutes.

Pros:

– Affordable
– Screen room
– Lots of mesh
– Good ventilation
– Holds up well in bad weather

Cons:

– Not very durable
– Difficult to pitch
Weight: 37.7 Pounds
Peak Height: 78 Inches
Floor Area: 140 Square Feet
Tent Material: Polyester
One of those rare blackout tents, the Dark Rest is perfect for folks who like to sleep past sunrise. The darkness also works to keep the inside of the shelter cooler, if only by a little bit. However, if you don't always want the inside of your tent to feel like a dark, depressing cave, there are a couple of skylights built in. Just roll back the fabric to achieve your desired amount of brightness. At night, you can keep some open to look up at the stars, too.

Marketed as a 10 person tent, we all know that fitting that many people in a tent is pretty unrealistic. If possible, I'd keep your max capacity closer to 6 bodies, for an optimal amount of comfort and space for you and your belongings. There are quite a few pockets on the inside for storage, though the lack of a vestibule makes it a bit trickier to keep your boots and pack out of the way.

Still, the large doors allow easy access into the tent, and the 78 inch peak height is ideal for tall people to stand up inside. It might not be an instant tent, but it's still pretty easy to put together, as far as 10 person tents go. I'd recommend getting some help for it, but with another pair of hands, you could get everything ready in under 20 minutes.

Pros:

– Durable
– Good in the wind and rain
– Darkroom technology is effective
– Several skylights
– Good ventilation
– Electrical port

Cons:

– A little more storage space would be nice
Weight: 38 Pounds
Peak Height: 76 Inches
Floor Area: 160 Square Feet
Tent Material: Polyester
It's not every day that you come across an 11 person tent. And yet, the Ozark Trail 11 person instant tent is one of my favorites in this review. There are a few reasons why I say that, but let's start by looking at the inside of the shelter.

At first glance, it might look like the inside of any cabin tent. However, in the back, there's a separate "room" that pops out from the main body of the tent. It's the ideal location to put a queen-sized mattress, perfect for couples who want some privacy and separation. There is a divider to fully block off that room as well.

It has a tall peak height that can allow almost anyone to stand straight up inside without running into the ceiling. Perfect for changing clothes, stretching out, and staying comfortable, even for the tallest of folks. Speaking of space, it is an 11 person tent, which means there's plenty of room on the floor to put a few cots, chairs, and other items. 160 square feet is a modest amount of space for a shelter with this capacity, but it works great for families of 6 and under.

It boasts a 5 minute setup time, since it's an instant tent, but I think that might be a bit of a stretch. In a hurry, you could probably do it in 7-8 minutes, but I'd plan on taking 10 instead. Still not too bad when you consider the overall size of this product.

Pros:

– Spacious
– Instant tent
– Separate room for sleeping
– Tall peak height
– Affordable

Cons:

– Thin material
Weight: 19.38 Pounds
Peak Height: 66 Inches
Floor Area: 90 Square Feet
Tent Material: Polyester
With 90 square feet to its name, the Ozark Trail 6 person instant tent is the smallest shelter in our review. However, it's certainly not the cheapest, primarily because it has quite a few bells and whistles that make it quite the charmer.

For starters, it has built-in LED lights in the hub with three brightness settings. You can bring a camping lantern if you want to, but you certainly don't need one anymore. The electrical port allows you to wire in some power, if you have a generator or power station that you want to use for other electronics as well.

Three windows and a vent offer a generous amount of airflow, preventing the accumulation of condensation and keeping the interior somewhat cooler on those hot summer days. The instant design is fabulous as always, making it quick and easy for one person to pitch the tent in a matter of minutes.

It's marketed as a 6 person tent, but as always, I'd try to limit your capacity to 3-4 people for optimal comfort. In theory, you can squeeze two queen-sized mattresses inside the tent, but you won't have much room left for your other gear. I'd recommend keeping it to one queen mattress and a cot, or some combination of smaller sleeping arrangements to make it work.

Pros:

– Instant tent
– Built-in LED lights
– Great ventilation
– Decent amount of space
– Electrical port

Cons:

– A tad difficult to tear down again
Weight: 27.6 Pounds
Peak Height: 78 Inches
Floor Area: 175.5 Square Feet
Tent Material: Polyester
You've probably noticed it by now, but a common pattern with Ozark Trail tents is their superior ventilation abilities. With several doors and windows that can be opened or closed depending on the weather, airflow won't be a problem with this 10 person tent.

Normally I'm not a fan of tents that are tall in the middle but slope downwards to either side. Most of the time, they take it too far, sloping so severely that you can no longer walk from one side to the other without slouching. Ozark Trail did a great job keeping the change in height reasonable, allowing the majority of campers to keep their posture while they walk around.

As a three room tent, you can expect to find a couple dividers to separate the space off. Each of the three rooms has its own entrance, allowing you to come and go without disturbing anyone who might be in a separate room. However, it's worth noting that the dividers can be pushed aside rather easily, so someone could invade your territory if they had a mind to do so.

The zippers like the get stuck, but that's one of the few complaints that I have with the tent. Overall, it's weatherproof, spacious, and well ventilated, checking most of the boxes that you'd hope to find in a good car camping tent.

Pros:

– Affordable
– Two room dividers
– Three doors
– Plenty of ventilation
– Large amount of floor space
– Electrical port access

Cons:

– Sticky zippers
– Takes awhile to setup
At Untamed Space, we're passionate about helping you have the best camping experience possible. Our team of experts have experience camping and backpacking all over the world, allowing them to provide insightful and relevant content to guide you in your outdoor pursuits.

All of our reviews are based on a combination of firsthand experience, extensive research, and an analysis of customer feedback. We are an independent website and do not receive payments or incentives from manufacturers to promote their products, and we continuously update our content to provide new information based on product availability. Wherever you are in your journey, whatever gear you're searching for, you can be sure to find unbiased and up-to-date reviews for all of your needs.
FAQ
Is Ozark Trail Owned by Walmart?
Yes, Ozark Trail is one of Walmart's private label brands. It got its name from the Ozark Mountains in Arkansas, close to Walmart's headquarters.
Why Buy an Ozark Trail Tent?
Ozark Trail is what many would consider an "off brand" in the camping world. It's made more cheaply than competitors like Marmot, Nemo, REI Co-op, and others, since it's a product line developed by Walmart. However, unlike most off brand tents, the Ozark Trail products are above average quality for a fraction of the price.
Final Thoughts
Few things are as important as your shelter when it comes to camping. And when you're enjoying the great outdoors with your family, all the more reason to invest in something that will keep everyone safe and cozy during rough weather and bug infested environments.

Ozark Trail tents are perfect for group camping settings, offering a nice balance of quality and affordability. In particular, we like how the Ozark Trail 11 person instant cabin tent provides a large amount of space, privacy, and weather protection. And not only that, but it also goes up in a matter of minutes, do to the instant design. For your next family camping trip, you'll be hard pressed to find something better for the price.
---
Related Posts: