Lightweight for easy carrying
Durable enough to hold up under the most extreme conditions
Pocket for storage so you can keep your valuables close by at all times
 Sits higher to accommodate taller individuals
Not for people who are looking for comfort
May be wobbly on uneven ground
Hiking is hard work.
This is especially true if you've been lugging 20-50 pounds of gear on your back for the last 8 hours!
That's why Portal created the Tall Slacker Folding Trail Stool, a light and comfortable seating option when you're out on the trail. With its sturdy steel legs, this stool is specially designed for people who want to maximize load capacity and durability.
key features
Portal has developed a wonderful trail stool that beats out most of their competitors in height, so you don't feel like you're barely off the ground. Weighing in at 2 pounds, you won't even notice it neatly stowed away inside of your backpack all day.
Its unique design is for campers who want to get in some quality relaxation, and take the pressure off their feet after a long day on the trail. Are you looking for something more comfortable to sit on than a rock for your lunch break? Don't feel like standing while roasting your marshmallows? This trail stool will offer you everything you'll need for convenience and comfort.
product overview
Regardless of whether you're an expert or novice backpacker, there's nothing better than having a bona fide chair to sink into at the end of the day. This is especially true if you have health problems or injuries that make camping difficult. The only problem is that you have to carry it with you!
Most camping chairs are large and bulky, which is not ideal if you're moving around from place to place a lot. They're hard to store, and can add several unwanted pounds to your load.
That's why I love Portal's trail stool. When folded up, its slim design can easily slide into narrow spaces, and the weight is almost non-existent. The materials are extremely durable, so you can take it to the most unforgiving locations without worrying about it breaking.
detailed product review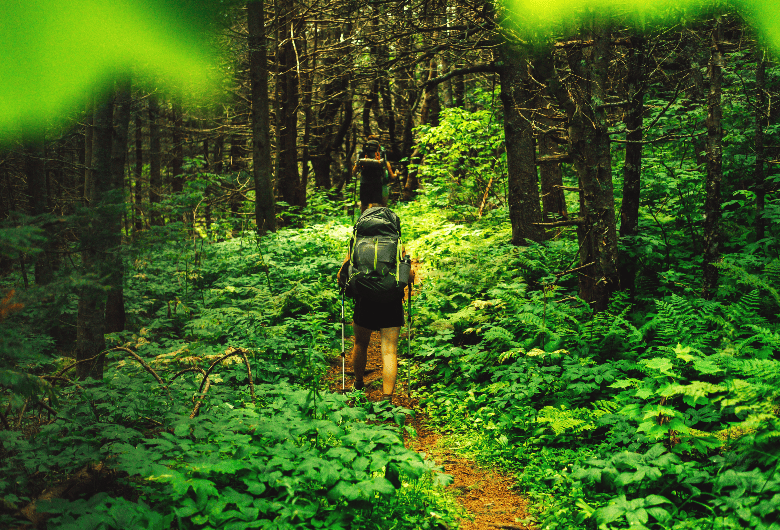 Stability 4/5
With three, sturdy steel legs, you won't have to worry about wobbling or tipping over with this stool. Aside from camping, many people find it works well when doing anything from home repairs to watching their kid's sports games. As long as you keep it on a firm surface, you should have no problem with staying upright.
comfort 3/5
While not uncomfortable, it certainly doesn't make for the most comfortable seating arrangement either. There is no back, and the arches around the edge can make for some awkward moments, especially for men. Obviously it has to be this way for ease of portability, but if you're looking for something you can lounge around in all day, this isn't the item for you.
It should be noted that this is true for any kind of trail stool on the market. If comfort is a must have for you, I would recommend checking out camping chairs.
The stool does come with a shoulder trap for easy carrying, as well as a pocket on the side to hold a beverage or phone while you sit, which is relatively uncommon among trail stools.
durability 4/5
Overall, the stool should last you several years with moderate use. The seating material is good quality and won't rip or tear very easily, and the legs are very sturdy. Some stools have a problem with the plastic caps at the end of each leg breaking if you put it on rough terrain, but I haven't discovered any problem with the caps on Portal's stool.
The amount of weight the stool has to hold up also impacts durability. Keep in mind that it's rated for a max weight of 225 pounds. If you're not significantly over that, it will still hold you. But, you might discover that the stool breaks down faster than it otherwise should.
weight 4/5
Weighing in at two pounds, it's comparable to many other similar products currently on the market. However, while it might weigh the same, it's on the taller end of the spectrum so you end up getting more out of it. If you're planning on trekking with this trail stool, or any, remember that every pound counts. You'll have to decide if the comfort of having a stool is worth the extra weight. I know there have been many times out on the trail when I would give anything to have my pack be a pound or two lighter!
price 4/5
Portal's trail stool runs about average on the price spectrum. It's not exactly "cheap" considering you can get some sleeping bags for a similar price (though the quality of those bags is debatable), but it is affordable. If you value having a nice place to sit out in nature , it's worth investing a little more into this stool.
how does it compare?
alps mountaineering tri-leg stool
Cheap and sturdy, this stool is a good fit for anyone who's looking to save a couple bucks without compromising on durability. In fact, the Alps Tri-Leg Stool has a higher weight limit at 250 pounds.
The legs are made out of steel, which makes it a reliable choice for heavy use. On the other hand, the steel frame does increase the weight of the stool, so keep this in mind if you're thinking about purchasing it.
Travel Chair, Slacker Chair
Rated at a 275 pound max capacity, this stool is great for anyone worried about something breaking while they sit. It's a little on the expensive side, and for good reason given its steel frame and slightly taller dimensions. If you're not afraid to pay a little extra for quality, this stool is a good option.
It is about 2 feet long when folded, so keep this in mind when you go about stuffing it in your pack. But, if you don't mind the extra length, it's as narrow as a rolled newspaper when closed, and makes for a great seating option out on the trail.
AILLOVCOL mini portable folding Stool
With a slightly different design, this folding stool's flat seating area is good for men who are concerned about comfort. Small and affordable, it packs away easily into the tiny crevices of your backpack.
It's surprisingly light, even with its steel legs, but that's probably because of how short it is. Coming in at a height of 11 inches, it is much shorter than its competition. If that makes it a dealbreaker as a chair, I've seen plenty of other people use it as a footstool.
Should i buy portal's trail stool?
Whether you're planning a week of trekking in the mountains, or need something convenient to sit on while gardening, there's a lot to like about this stool. It's durable enough to withstand some pretty heavy abuse, but light and small enough to pack away neatly.
Unlike a lot of its competitors, Portal's trail stool comes with a convenient little pouch to hold your belongings. That way, you don't have to keep your beverage, phone, or other pieces of gear on the ground or somewhere else that's hard to reach.
A good fit for people of all sizes, you won't have to worry about knee or hip pain that can come from sitting at odd angles outdoors. So take a seat, and enjoy nature comfortably.