The Resources You need to succeed
At Untamed Space, we only recommend gear and products that we have personally tested or thoroughly reviewed. There's no hype, just the best stuff that we've found to help you have fun and stay safe outside.
The Best gear for car campers to enjoy a weekend in nature
There are a lot of options for weekend warriors. Everything from tents to furniture, we've tested and reviewed it all. Here are some of our favorites that we trust and believe will give you the ultimate experience.
Tents
Sleeping
Seating
Tables
Tents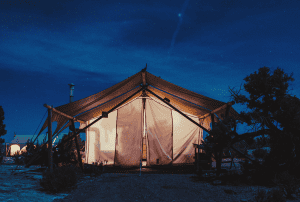 The bread and butter of your camping experience, there's nothing more important than making sure your tent is up to par. 
That's why we like Core's 12 person cabin tent. Large and homey, this piece of equipment is durable and well ventilated to keep you comfortable all day. For something smaller and more portable, we're also fans of Toogh's 3-4 person camping tent for its stable design and instant setup.
Sleeping
Seating
Tables
Our favorite picks for a trekker's escape into The Wild
Long hikes into the wilderness require a lot of prior planning. We've done a lot of the work for you by laying out some of the best gear to take with next time you decide to go backpacking.
Tent
Sleeping Bag
Sleeping Pad
Tent
Staying light and mobile is key when backpacking. Even just one or two extra pounds in your pack can make for a painful day.
Clostnature's 2-3 person tent really caught our eye as something light enough to carry with you while remaining strong and weather resistant. The freestanding design also makes for fast and easy setup, so you don't have to waste precious energy in the evening.
Sleeping Bag
Sleeping Pad
Helpful advice for those who prefer to explore the world vertically
Rock climbing can be an intimidating sport, especially for those who are new to the scene. To help you increase your confidence, we've laid out everything you'll need to know to prepare for your climbing debut.
Gear
Your climbing gear is your lifeline on the wall. Should something malfunction while you're scaling a route, you'll be in for a painful, if not fatal, landing.
Your first line of defense is a climbing rope, as this is what will be taking your weight and catching you when you fall. Beyond that, though, you also need a harness for the rope to connect to. A helmet is also a great idea to protect your head from falling rocks and other dangers, while a good pair of climbing shoes will make your ascent remarkably easier.
Skills