Alaska, the last frontier. Aptly titled, due to the extreme conditions, undeveloped land, and endless beauty. It's an outdoor enthusiast's dream come true, but it's surprisingly friendly to those who have less experience in the wild too. Regardless of your skill level, it's worth a visit for the stunning glaciers, pure blue water, towering mountains, and raging rivers. It's nearly impossible to keep the most breathtaking places in Alaska down to 10, but at the very least, we think these are a good place to start.
Map of Scenic Locations in Alaska
1. Marmot Mountain in Hatcher Pass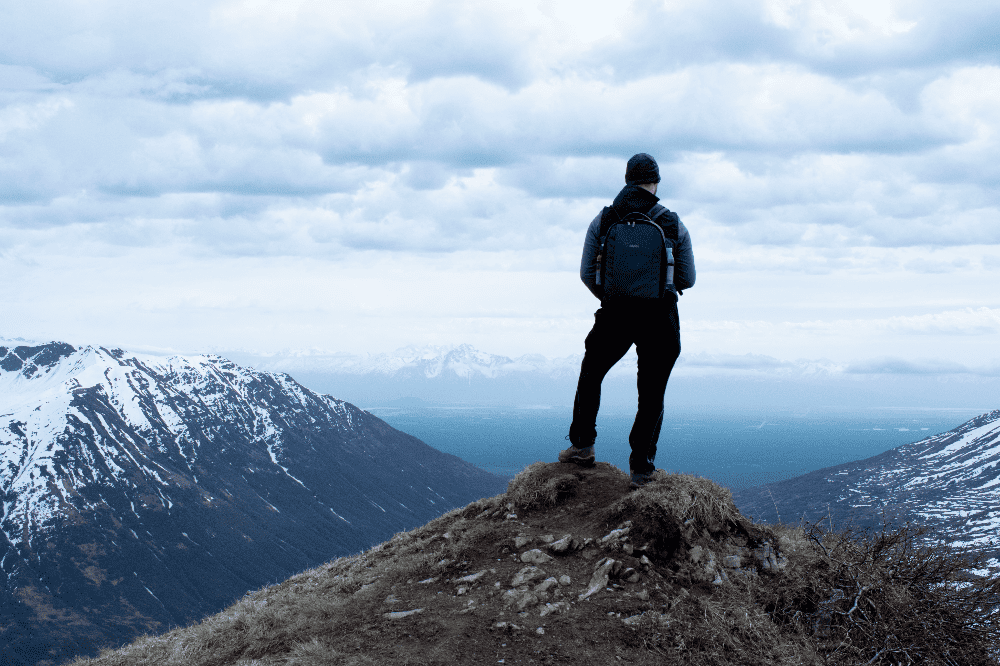 About an hour and a half north of Anchorage, you can find yourself entering into Hatcher Pass. This is a famous gold mining location, and almost all of the development in the area is a result of this activity. There are several different locations where you can partake in recreational gold mining, as well as hiking, climbing, skiing, and many other outdoor sports. My personal favorite, though, is the Fishhook Trail that climbs up the side of Marmot Mountain.

From the parking lot to the first summit, you'll gain about 1,400 feet of elevation over the course of 2 miles, making it a fairly strenuous hike. There aren't any trees or bushes that exceed the height of your shin, so you'll have a clear view from the bottom all the way to the top, and vice versa. Because it's so steep, though, it can be difficult to gain traction going up or down. Even into May, it is still partially covered in snow, and everything else tends to be muddy until late summer. Despite the difficulty, though, it is without a doubt one of my favorite hikes in Alaska, purely for the majestic scenery that surrounds you on all sides. When you get to the top, you'll feel like you're touching the clouds, despite only being about 4,300 feet above sea level. The mountain vistas will leave you rooted in one place, unable to take your eyes off of the glory around you.
2. Portage Pass Glacier
While there are many glaciers that you can visit in Alaska, Portage Pass is home to one of my favorites. Just getting to the trailhead is a treat that you won't soon forget, as you have to pass through a tunnel to enter into the small town of Whittier where the trail is located. The tunnel is the only way in and out of the town by road, and it takes roughly 8 minutes to travel through the entire thing. It's a very impressive path to drive on, as your tires will mostly be stuck riding over the train tracks the whole way.

Once you take the first right after exiting the tunnel, you'll find yourself on a dirt road riddled with potholes that will lead you to the trailhead. It's a mile up to the Portage Pass lookout area, and another mile to get to the lake that touches the glacier itself. The first stretch of trail that leads to the lookout is quite steep and riddled with snow and ice, so make sure to come prepared. I recommend bringing a pair of micro spikes and trekking poles to help you on your way up (and down) the mountain. The weather can change rather quickly as well, so bring a rain jacket and a few extra layers to keep you warm and dry as you explore the area. It's not always wet, but it's certainly not as arid as the landscape you'd find in Utah!

And of course, don't forget your camera…you'll be kicking yourself pretty hard if you don't have a way to take a picture of this beautiful site. Just make sure you bring a backpack rain cover with you to protect your gear, as the weather can change at a moment's notice.
3. Denali National Park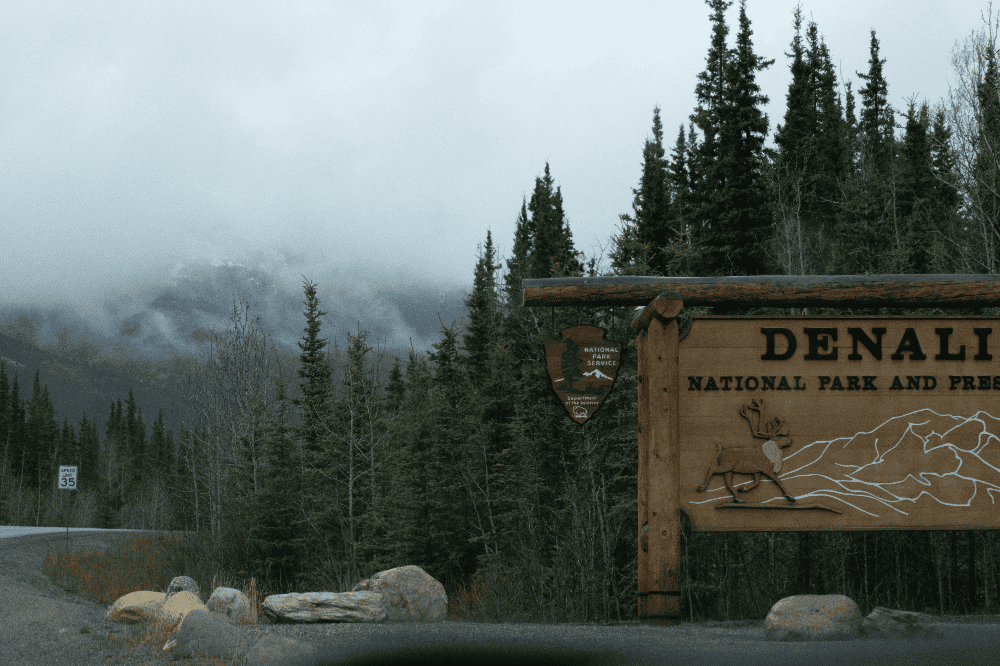 Probably the most well known section of Alaska, Denali National Park is famous for a reason. Not only is Mount Denali an impressive sight to behold simply because it's the tallest mountain in North America, but the entire park is full of stunning vistas and must do hikes. If you're into alpine climbing, this place will feel like heaven for you.

Unlike most national parks in the United States, Denali doesn't actually have a ranger station to collect an entrance fee. You're free to drive through the park if you're trying to get from one end to the other without paying, but if you do decide to stop and hike or participate in some other activity, you will have to pay either online or at the visitor center. While mostly an honor system, a ranger may randomly decide to ask for your pass. If you're looking for good hikes, there are plenty of trailheads that start at the visitor center, located in the north east section of the park.
4. Castner Ice Cave
You'll hear me say this a lot, but visiting Castner Ice Cave is worth it just for the drive to get there. If you're coming from Fairbanks, the drive is pretty enough as you pass through Fort Greely, but after that, prepare to have your jaw hit the floor. The mountain range is absolutely stunning, and you'll feel like a little kid who's unable to wipe a stupid grin off their face as you stare at it. At least, that's how I felt…

The trailhead for the hike isn't super obvious, and I missed it the first time I drove by. There are 2 pullouts, one on either side of the bridge that goes over Castner river. Either place is suitable to park at, and you'll have to cross the road to get to the trail. Once you start walking, it's an easy journey to the ice cave, with almost no vertical elevation gained along the way.

I would suggest visiting in the colder months when the river is still frozen, as this is the only way you'll be able to walk into the ice cave itself. When the river is liquid, there isn't a trail that will allow you to gain access inside. Whatever time of year you decide to visit, though, the trek is well worth it, and you'll find yourself surrounded by mountains and bright, blue ice and snow the whole way.
5. Seward and the Kenai Peninsula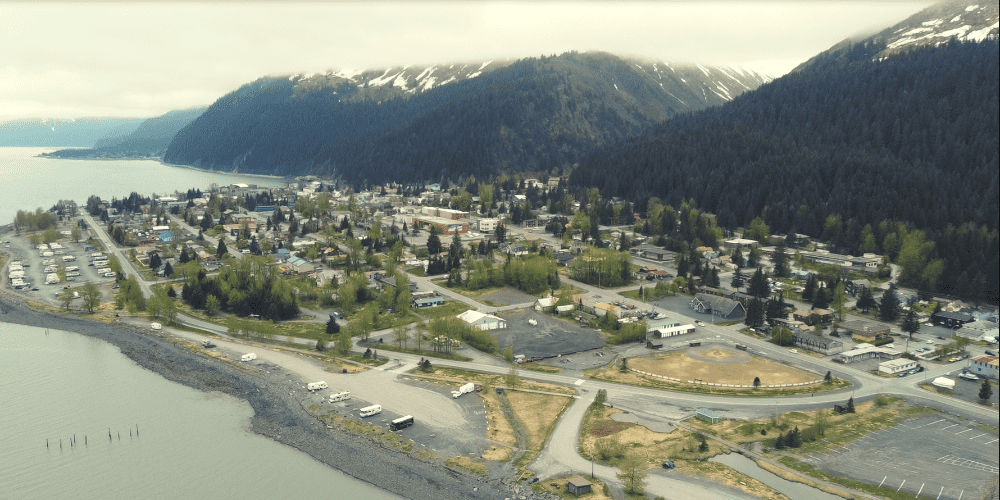 Located a little over 2 hours south of Anchorage, Seward might not be a big town, but it's well known for a number of reasons. Not only is it a famous fishing port, but it's also located in the Kenai Peninsula, housing the only access point into Kenai National Park via land: Exit Glacier.

While it's an enjoyable experience to explore the area on foot, the best way to see the fjords is on the water. Sunny Kove kayaking was the route that I decided to take, and I would recommend them to anyone looking to get a remarkable and unique view from the sea. While I had done quite a bit of kayaking on various lakes back home, sea kayaking was a new experience for me, and something that I quickly fell in love with. Though a bit chilly, and more than a little wet, it was by far one of my favorite things to do in Alaska.

The mountains surround you on all sides, and despite the chronically overcast weather, the roof of clouds is enchanting in its own way. While in the water, you'll have the chance to see massive starfish, sea lions, otters, whales, jellyfish, and much more.
6. Bird Ridge
The Seward highway is one of the most beautiful roads I've ever had the opportunity to drive on. Connecting from Anchorage to Seward, there are countless pull-offs and trailheads, to the point where you almost see at least one every mile. While most of them are worth stopping for, my personal favorite is the Bird Ridge trail.

Put your favorite hiking shoes on and grab a pair of trekking poles, because the vertical elevation change is a killer. It's only a couple miles to the actual ridge, but you'll gain well over a thousand feet of elevation during that time. The hike itself is quite pretty, but once you get higher, you'll want to stop and take a break for more than one reason. While you're catching your breath, take a look behind you and admire the Turnagain arm and the string of mountains behind it. The highway below will start to look like nothing more than a tiny stream of ants, especially after you break through the tree line and enter into the more rocky stretch of trail.

Eventually, you'll reach a stone slab with an inscription on it – but don't get your hopes up too high just yet. This is only the halfway mark. If you're a serious hiker or just feeling rather adventurous, keep on going because the views are stellar. Otherwise, if it's getting late in the day or your legs just can't take one more step upward, this would be a great place to turn around and start your descent.
7. Matanuska Glacier
I've found that nearly every road in Alaska will provide you with an exceptionally scenic drive. However, some are still better than others, and the road to Matanuska glacier from Anchorage is one of them. It's a drive full of twists, turns, dips, and inclines with a new, breathtaking view around every corner. After several miles, you'll find yourself in Glacier View, a small town that does exactly as the name implies – it gives you a fantastic view of Matanuska Glacier.

If you find yourself in this area and are looking for something a little more exciting than sightseeing to do, check out the zipline at Glacier View Adventure. It's home to the fastest zipline in Alaska (you'll probably break 60 mph), and will give you an unforgettable view of the glacier as you sail 200 feet above the ground for half a mile.

And if you're fortunate enough to be visiting during the 4th of July celebrations, you won't want to miss what this town has in store. Fireworks are hard to come by, partly because they're difficult to see due to the midnight sun, but also because they pose a fire hazard. To get over this unfortunate fate, the locals came up with their own solution. Instead of launching fireworks to celebrate Independence Day, they launch old cars off the side of a cliff and watch them crash on the rocks below. Personally, I find this option to be far more entertaining.
8. Lazy Mountain
In the mountains surrounding the town of Palmer, you'll find the Lazy Mountain hiking trail. It isn't a very heavily trafficked spot, which makes it all the more attractive if you're looking for a good workout without a crowd to contend with. However, contrary to its name, you'll need to be anything but lazy if you want to attempt this beast.

It's a highly strenuous hike, gaining 3,000 feet over the span of 4 miles. When you get to the trailhead, you'll have the option to turn left up Lazy Mountain, or go right up the Lazy Moose trail. The latter is full of switchbacks and more gentle inclines as you work your way up the mountain – the former, on the other hand, is just a straight shot upward. It can be hard to find the motivation to carry on, especially when you see various runners pass you by as they quickly lunge up the incline, but the views don't disappoint. The higher you go, the better you'll be able to see the town of Palmer below, in addition to the never ending peaks of the local mountain range in the distance.
Byron's Glacier
On the other side of Portage Lake from the Anton Anderson Memorial Tunnel leading into Whittier, you'll find a relatively short hike out to Byron's glacier. At about 2 miles round trip, the trail is fairly flat and well groomed, following the river all the way from the parking lot to the glacier. In terms of effort exerted, there really aren't any other glaciers that are as easy to access as this one.

While not as stunning as Portage glacier, it still is a sight to behold. It's also quite easy to walk up to it, unlike many of the other glaciers that are only visible from afar. If you're starting in Anchorage, don't feel like you need to make a 2+ hour journey to visit the Exit glacier or Matanuska glacier…or pay the $13 round trip toll to enter Whittier for the Portage glacier (as highly as I do recommend it).
Lu Young Park
Similar to Portage Pass listed above, Lu Young Park is also located within the town of Whittier. As such, you will have to pass through the 2.5 mile long tunnel (and toll booth) to get there. Once you've made it through, you'll have to drive through town and past a few buildings that were left as relics of World War II, before reaching the end of the road.

Lu Young is popular because of the increased chance visitors have of seeing a black bear. Unfortunately, the opportunity didn't present itself to me when I was there, but it's well worth the visit anyway. You'll feel like you're on a little peninsula when you stand next to the water, due to the presence of a river on both sides of you. Like most places in Alaska, the water was blue and clear, though at this particular location, it seemed extra see through. If the river wasn't moving and creating ripples, you'd feel like you were viewing the rocks and fish through glass.

What's your favorite?
Alaska is a massive state, so there's no way we could possibly cover all of the scenic places it holds. If you're fortunate enough to live here, or have stopped by to visit, we'd love to hear what your favorite location is! Drop your top pick in the comments below with a brief description on why you like it.

Interested in the other non-continental state in the USA? Check out our guide to the best beaches in Hawaii!