If you're in a rush and want to find out what the best tent with a screen porch is, we recommend the Gazelle T4 Plus Hub tent.

Glamping has been picking up steam in recent years, as a way to experience nature without giving up our favorite creature comforts. And nothing says "glamorous" like enjoying an afternoon siesta in your very own screen porch.

Perfect for sleeping, relaxing, or cooking, the best tent with a screen porch is going to be your new favorite toy to bring to the campground. You'll be the envy of everyone around you, as you enjoy the weather from the bug-free safety of your own outdoor living space.
In this article, we'll be reviewing the following tents with a screen porch:
Weight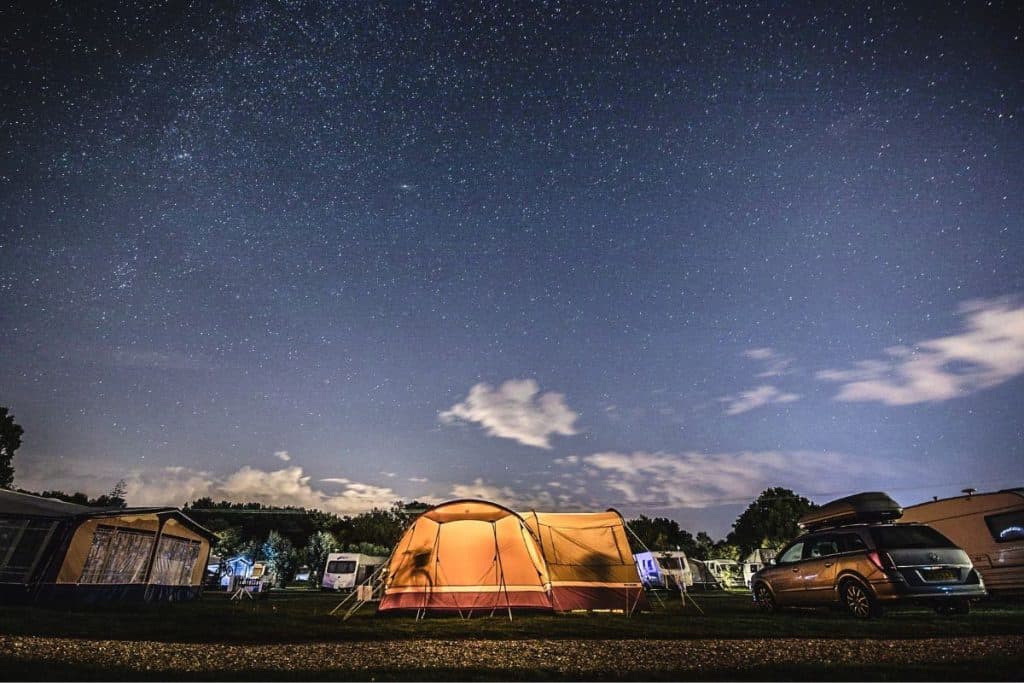 If your tent has a screen room, it's not going to be a small tent. That being the case, you can't expect it to weigh as little as a backpacking tent, which means you need to be prepared to carry 15+ pounds out to your campsite.

Is it bad to get a tent that weighs so much? Not at all, unless you don't have the strength to transport and pitch it. Heavier tents tend to be more durable, better able to withstand the forces of nature from the outside, and the wear and tear from children, pets, and rowdy friends on the inside.
Space and Storage
One of the many reasons why people like having a tent with a screen porch is because of its storage ability. You can think of the porch as a sort of mud room, allowing you to leave your dirty shoes and gear away from your sleeping area. It really opens up the amount of livable space inside the tent itself, giving you more room to spread out and get comfortable.

The porch can also be used as a unique sleeping arrangement. Especially on clear nights, imagine lying down with nothing but the mesh entryway between you and the wild. It'll give you the opportunity to stare up at the stars, and enjoy a refreshing breeze while you sleep.
Ventilation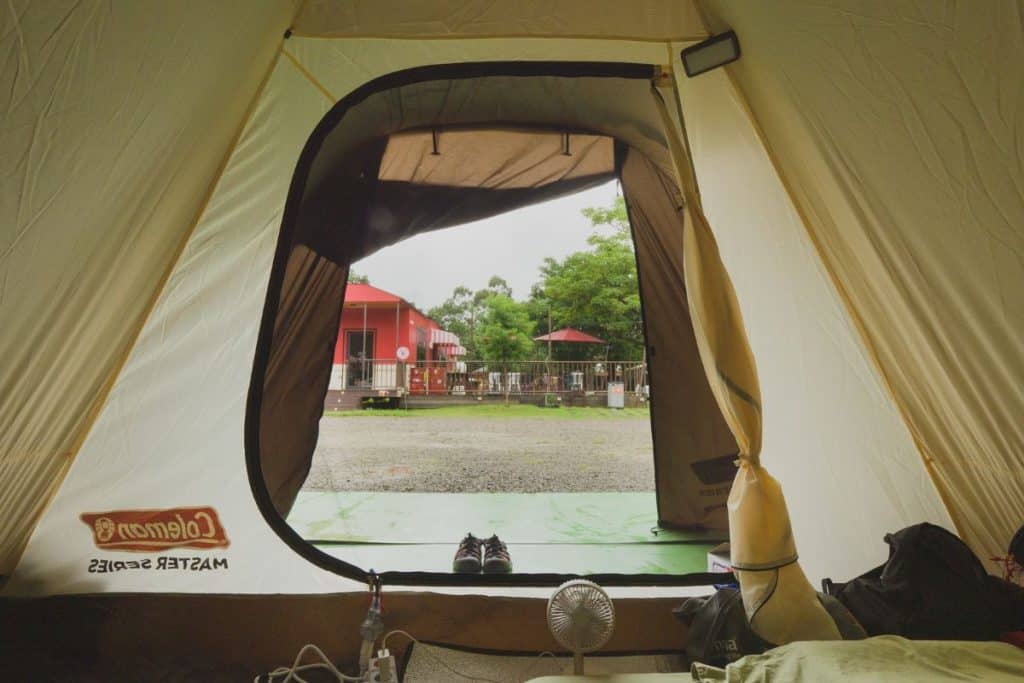 The nice thing about a tent with a screen porch is that ventilation usually isn't an issue. All you have to do is open up the door to the main body of the tent and let the breeze come in through the porch. It's a lot more protected than what you'd find on a standard tent, so you can even keep your door open when it's raining.

Don't forget to look for other ventilation options too, in order to create a cross breeze. Other windows in the tent, roof vents, and ground vents are all game changers on hot, steamy nights. They keep the inside of your shelter from getting stagnant, and work to prevent the buildup of condensation on the ceiling as well.
Water Resistance
Water resistance is one of the only reasons why you need a tent in the first place. But surprisingly, there are quite a few shelters out there that can't seem to withstand a few hours in the rain before they start to leak.

Before we say anything else, it's important to point out the difference between water resistant and waterproof. Have you ever owned a rain jacket that shed water for the first 30-60 minutes before it became oversaturated and got you wet? Chances are it was water resistant, which is not what you want to see in a tent. If your shelter starts leaking after being exposed to high concentrations of water, it's not a very good shelter, is it!

What you want to buy is something that's waterproof. While there are varying degrees of waterproofing, most will have no trouble protecting you during your standard rainstorm. Ensure all the seams are taped and sealed properly, and you should be good to go! If you're still a little paranoid, though, consider adding a coating of waterproofing spray to the outside of your tent.
Durability
The durability of a tent can be measured by the strength of its fabric and poles. When researching tent materials, you'll find that synthetics like nylon and polyester are pretty standard. However, that doesn't mean that they're all created equal, which is why you need to dive a little deeper to check out the denier of the fabric.

Denier is a measurement used to determine the thickness (or more specifically, the weight) of a thread. The higher the denier, the thicker the thread will be, creating a more durable material overall. A good baseline denier for the tent floor is 60, but you'll find some lightweight backpacking tents that have a floor denier of 15. For something larger, like tents with a screen porch, you'll want a number closer to 100, since it will likely be receiving a lot of foot traffic.

When it comes to poles, you typically have three options to choose from: steel, aluminum, and fiberglass. Steel is the most durable, but it's also the heaviest, which is why you only find it in tents that need a lot of support. Great for large tents, cabin tents, and canvas tents, steel is going to be the best option if you don't care about weight.

Aluminum is my personal favorite, since it's strong, lightweight, and relatively cheap. It's a very versatile pole material that can be used in all seasons, creating a sturdy frame that's less likely to snap, sliver, or crack when exposed to stress.

Fiberglass, on the other hand, is very prone to cracking and slivering, especially in colder temperatures. It's also heavier than aluminum and is the least durable pole material that you'll find. So why would anyone buy a tent with fiberglass poles? Well, many off-brand tents make use of fiberglass because it's the cheapest option out there. If you're on a budget, or you don't think you'll be camping too often, fiberglass still might be a very reasonable choice for you.
Ease of Setup
When it comes to most tents with a screened in porch, there's just no way around it – you'll need a good 20 minutes to set it up. But aside from enlisting the help of a friend, there are some factors that can make pitching your tent a little more bearable.

For example, take a look at the Zempire EVO tent that we've reviewed down below. It's an inflatable tent, which means there aren't any "poles" that need to be locked into place and threaded through the sleeves. Instead, just unroll the fabric, hook up the air pump, and start inflating the frame. It'll still take some time and effort, but I guarantee it will be a lot easier than what you'd normally expect from a tent that size.

Your other option for an easy setup is to get something like the Gazelle T4, an instant tent we also reviewed below. It has a preassembled hub setup, which allows you to put everything together in about 90 seconds – after you've had some practice, of course.
Best Tents with a Screen Porch – Reviewed
Weight: 69 Pounds
Pole Material: Air
Tent Material: Polyester
Peak Height: 86.6 Inches
Number of Doors: N/A
One of the few inflatable tents out there, the Zempire EVO TL V2 is impressive in its own right. Instead of poles, it has tubes that can be inflated with a handpump. With just a few up and down motions in several key locations, the tubes become rigid and serve as the frame for the shelter.

It's a large, tunnel tent that has a lot of weight and bulk behind it. Unfortunately, it also doesn't come with an extended rainfly or vestibules, but you can purchase those separately from certain international vendors. That means a little bit of rain may slip into the screen room during a storm, which would be unfortunate for anyone sleeping out there at the time. However, this is a pretty standard issue with screen room tents in general, so there's not much you can do about it.

Given the shape and design of this screen porch tent, ventilation and air movement couldn't be better. Catch a breeze from any angle, and stay cool even in the oppressive summer heat with the massive front entry and extensive use of windows. The inflatable awning will also give you a comfortable place to set up some camping chairs, so you can be outside without exposing yourself to the sun or rain.

I said it was a heavy tent, but 69 pounds is no laughing matter. Transporting this screened porch tent is going to take some effort, and you're not going to want to lug it more than a handful of feet at a time. Thankfully the large stuff bag does make it easier to pack and carry, but you may still find that it's a two person job nonetheless.

Pros:

– Spacious
– Easy to setup
– Great air flow
– Versatile design
– Durable
– Plenty of guy points

Cons:

– Heavy
– May be too large for some campsites
Weight: 32 Pounds
Pole Material: Steel
Tent Material: Polyester
Peak Height: 80 Inches
Number of Doors: 2
Many of us probably grew up with Coleman, one way or another. It was one of the first brands to make quality camping gear accessible to much of the population, allowing more people to get outdoors without ruining their budget.

While Coleman has seen a decline in its overall quality, especially compared to major brands like Marmot, Nemo, and Big Agnes, it's still a great company overall. In particular, I find the WeaterMaster to be one of their best products, providing everything you'd hope to find in a tent with a screen room.

It'll be a tight fit, but you can fit two queen size mattresses inside the main room of the tent. If that sounds a little too cramped for you, I'd suggest cutting it back to one bed in the main room and a cot in the screen room. It's more adventurous that way too, especially for whoever is going to sleep in the screen room!

The waterproofing on the tent is solid, though water may still pool around the edges of the screen room in a heavy rain shower. You'll also get the benefit of having a hinged door, which makes it significantly easier to come and go. The door is similar to what you'd find back home, holding a rigid shape and turning on an axis. You can secure it with velcro, or use the zipper to completely seal it off in bad weather.

Stiff necks and awkward wardrobe changes will also be a thing of the past. Since the peak height is a staggering 80 inches, the vast majority of you will be able to stand straight and tall inside. The vertical tent walls really help with this, while giving you more useable floor space in the process.

Pros:

– Very roomy
– Tall center height makes it easy to stand straight
– Welded seams
– Steel poles
– Separate floorless screen room

Cons:

– Doesn't protect against heavy rain very well
Weight: 29.7 Pounds
Pole Material: Fiberglass
Tent Material: Polyester
Peak Height: 66 Inches
Number of Doors: 1
Given the size of the Wenzel Klondike, you'd think that it would be one of those hopelessly unaffordable tents that would take a year to save up for. Surprisingly enough, despite the 176 square feet of interior space, it only costs as much as a quality 2 person tent, making it ideal for a family on a budget.

However, low prices usually indicate that corners are cut in other aspects of the tent. With the Wenzel Klondike, that takes the form of ineffective mesh and a general lack of durability. Which is to say, gnats will be able to squeeze through the mesh holes, and you may experience the formation of a small tear or hole in the floor if you set it on a sharp rock.

If you can look over those imperfections, though, it is a very good value for the money you'll spend. It's a waterproof shelter with great ventilation, making it perfect for 3 season use in a variety of climates. There's enough space inside to fit a queen size mattress, a camping table, and a few chairs, if you're so inclined. Naturally, you'll have more room for storage in the screened porch area as well, or you could set up an outdoor living space.

Instructions are a little hard to follow, but if you've ever set up a tent before, it should be fairly intuitive. In case you can't find them, they're sewn onto the inside of the case.

Pros:

– Spacious
– Affordable
– Good ventilation
– Waterproof
– Relatively easy to pitch

Cons:

– Lack of durability
– Large mesh holes
Weight: 9 Pounds
Pole Material: Fiberglass
Tent Material: Nylon
Peak Height: 68 Inches
Number of Doors: 1
We've got a Coleman dome tent here, with yet another impressive screen room built in. While it's technically a 6 person tent, you could sleep up to 8 people uncomfortably, if you made use of the screen room. Or, cut your population down to 4 people or less and enjoy the vast amount of space that you'll open up.

The screen room provides a nice escape from the confines of the "main tent," giving you a blast of fresh air without the hassle of swatting away bugs and other critters. On clear nights, it also gives you a fun place to toss a sleeping bag and hang out for the night. Depending on the angle that you're lying, you could easily fall asleep while looking up at the stars.

Again, like most screen rooms, this one will do little to block out rain and other moisture. None of it will get inside the main room of the tent, but it would be a bummer to wake up wet just because you decided to sleep in the screened room. Check the weather forecast, if you're able, before you decide to set up shop out there for the night.

With excellent ventilation, and a distinct lack of insulation, this is the perfect warm weather camping tent. That being said, you might get pretty cold on chilly spring and fall nights before the sun has a chance to heat things up again.

Pros:

– Well ventilated
– The screen room makes for a fun, unique experience
– Waterproof
– Can easily be pitched by one person
– Tearing it all down again is just as simple

Cons:

– The porch will get wet in storms
– Doesn't do well on chilly nights
Weight: 32.6 Pounds
Pole Material: Steel/Fiberglass
Tent Material: Polyester
Peak Height: 86 Inches
Number of Doors: 2
Another large, affordable option, the Core 11 person tent is airy and well designed. The walls are mostly made out of mesh, as is the ceiling, almost making it feel like there's no barrier between you and the outside world at all. So as you might expect, you'll catch quite the breeze when the rainfly is off.

You'll get 204 square feet to work with, including the floor space of the screen room. Since it's marketed as an 11 person tent, you can fit that many people by squeezing 8 into the main tent body, while putting the remaining 3 in the screen room. It's a cramped system that leaves no room for gear storage, so I'd recommend keeping your max capacity to 6 people.

The peak height comes in at 86 inches, which is higher than almost any tent that I've ever seen. I'd be a little surprised if some of you weren't able to stand comfortably inside (with room to spare), which is not a statement I often get to say. There's an electrical port for you to bring power into the tent, and plenty of gear lofts, pockets, and loop for you to store your belongings.

Because it is such a large tent, you may have some trouble making it fit at some campsites. On top of that, the only way into the main room of the tent is through the screen room, which can be inconvenient if you're trying to use the screen room as a separate sleeping area. But aside from that, it's a great summer camping tent that goes up in a jiffy and tears down just as quickly. All the bells and whistles make it a great option for seasonal campers of all experience levels, especially when you consider how cheap it is to buy.

Pros:

– Very large
– Great ventilation
– Screen room can be walled off
– Electrical port
– Gear storage pockets

Cons:

– Heavy
– Not a bathtub floor
Weight: 15.7 Pounds
Pole Material: Fiberglass
Tent Material: Polyester
Peak Height: 65 Inches
Number of Doors: 1
By far the cheapest screen room tent in our review, the Outbound 8 person tent certain comes with its fair share of pros and cons. I'm the type of person who likes to eat dessert first, so let's get right into what this product does well.

For starters, it's incredibly spacious. The floor measures in at 84 square feet, and the peak height is 65 inches, which is plenty of room for a medium size family to live in comfortably. While the screen room is a bit small, it's effective at keeping the bugs out, while giving you enough room to set up a chair or two. On clear nights, you could even set up a camping cot out there for a fun sleeping experience. Just bear in mind that you will get wet if it decides to rain!

On top of that, it's a fairly easy shelter to put together. With the help of a friend, you could probably do it in about 10 minutes, especially if you have a little experience under your belt. And of course, the primary reason why I like this tent is because you won't find a lower price for a shelter this large and luxurious.

But of course, it's not without its flaws. While it will keep you dry in light rain, I'd hesitate to say that you'll stay protected in an extended, heavy downpour. The overall durability is also somewhat questionable, and you may find that some small holes and tears will form in the netting around the screen porch. It's not going to hold up well to aggressive wear and tear, but for the occasional weekend warrior, it's a great, budget friendly option.

Pros:

– Affordable
– Spacious
– Fairly easy to set up
– Decent ventilation
– Sufficient storage pockets and gear loft

Cons:

– Cheap materials
– Waterproofing is questionable
Weight: 54 Pounds
Pole Material: N/A
Tent Material: Polyester
Peak Height: 78 Inches
Number of Doors: 2
The only instant tent that made the cut, the Gazelle T4 is about as tough and durable as they get. As you'd expect from an instant tent, setup is fast and easy, though it will take you some extra time on your first couple attempts. Orienting it, reading instructions, and piecing it together will take you the better part of an hour the first time you use it, so I'd recommend doing a trial run (or two) at home first.

But once it's up, it's really up. Wind, rain, snow, sleet…nothing is going to take this shelter down. Some strong wind gusts might push a side panel in, but they can easily be popped back out again. Overall durability is top notch, as the Gazelle T4 can take quite a beating without showing any signs of ripping or tearing.

What I really like about this tent, though, is the screen room. More specifically, I like how the screen room can be sealed off in bad weather to keep water from leaking in. Even if you don't decide to seal the walls with the built-in polyester covering, the rainfly extends far enough past the edges of the screen to prevent most water from entering. It's a feature that's practically unheard of among screen room tents, which is unfortunate, since it makes a huge difference in how useable that space can be. More power to the T4, I suppose.

At 54 pounds, the weight is honestly my biggest complaint with this product. However, you do get 104 square feet of space and a 78 inch peak height for the weight, not to mention the highly durable materials that the tent is made from. If you have the budget and arm strength for this tent, I'd definitely recommend it to anyone looking for the best tent with a screen porch.

Pros:

– Durable
– Easy setup
– Waterproof
– Spacious
– Covered screen room
– Tall peak height

Cons:

– Heavy
At Untamed Space, we're passionate about helping you have the best camping experience possible. Our team of experts have experience camping and backpacking all over the world, allowing them to provide insightful and relevant content to guide you in your outdoor pursuits.

All of our reviews are based on a combination of firsthand experience, extensive research, and an analysis of customer feedback. We are an independent website and do not receive payments or incentives from manufacturers to promote their products, and we continuously update our content to provide new information based on product availability. Wherever you are in your journey, whatever gear you're searching for, you can be sure to find unbiased and up-to-date reviews for all of your needs.
FAQ
What is the Best Tent with a Screen Room?
Due to the overall durability, waterproofing, and design of the Gazelle T4 Plus hub tent, we believe it's the best tent with a screen room.
Is There a Tent with a Porch for 2 People?
Most tents with a screen room are going to be larger than a 2 person tent. Since two person tents value mobility and weight reduction, it doesn't make sense to have a screen room adding bulk to such a small shelter.
Final Thoughts
Very few things say "luxury" like a screen porch on your tent. It's the perfect addition for lounging, cooking, and sleeping, while giving you a protected space with maximum airflow. However, not all screen room tents are created equal. Some porches are much smaller than others, and most don't provide much protection against rain blowing in from the side. The best screen room tents don't struggle with these issues as much, which is why it's important to do your due diligence before purchasing anything.

You won't have any of those problems with the Gazelle T4 Plus hub tent, though. It's a sturdy design with and extended rainfly that covers most of the screen room. In rough weather, polyester panels cover the mesh of the screen room, fully closing it off from the outside world. It might be a little heavy, but it's certainly worth the weight.
---
Related Posts: