Hawaii is a tropical paradise that most people hope to visit at least once in their life. Full of lush mountains and an endless expanse of sea that spreads out as far as the eye can see, it's easy to see why tourists are fond of calling this place an island paradise. Along with Alaska, it's a state that doesn't make up the continental US, making it feel like you're visiting a foreign country, in some respects. And with the presence of coastline in every direction you travel, that means this state is also the home to plenty of beaches – some of the best in the world, in fact. So let's dive in and take a look at some of the best beaches in Hawaii, so you know exactly where to look on your next vacation.
Map of Hawaiian Beaches
Kauai
Hawaii's Garden Isle is arguably the prettiest out of all the islands, and is my favorite place to visit. The hiking is second to none, and the food is to die for, making these factors alone enough of a reason to spend time on this remote paradise. However, we're here for the beaches, and let me just say…they don't disappoint.
Donkey Beach
Don't let the name of this beach turn you off, like it did for me the first time I heard it. The term "donkey" refers to the mules that used to work for the plantation in this area many years ago, but even though nothing of the sort is in operation anymore, the name has stuck. While once a very private place to enjoy the ocean waves, it has been increasing in popularity in recent times. Previously, it was a place where sunbathers would freely strip down to nothing in order to get an even tan and feel closer to nature, but things have changed now that more people are flocking here. The local government has been cracking down on such practices even more, making it a more family friendly spot to relax.

Donkey beach is one of my favorite white sand beaches for a number of reasons. The sand is almost spongy, and makes you feel like you're walking on a cloud. After a long day of hiking, it's incredibly soothing on tired and blistered feet. The waves tend to be big, and the water rough, with a significant undertow that gets stronger the farther you move from shore. Because of this, I don't really recommend swimming out too deep, but playing in the water close to the beach is still a very enjoyable experience.
Poipu Beach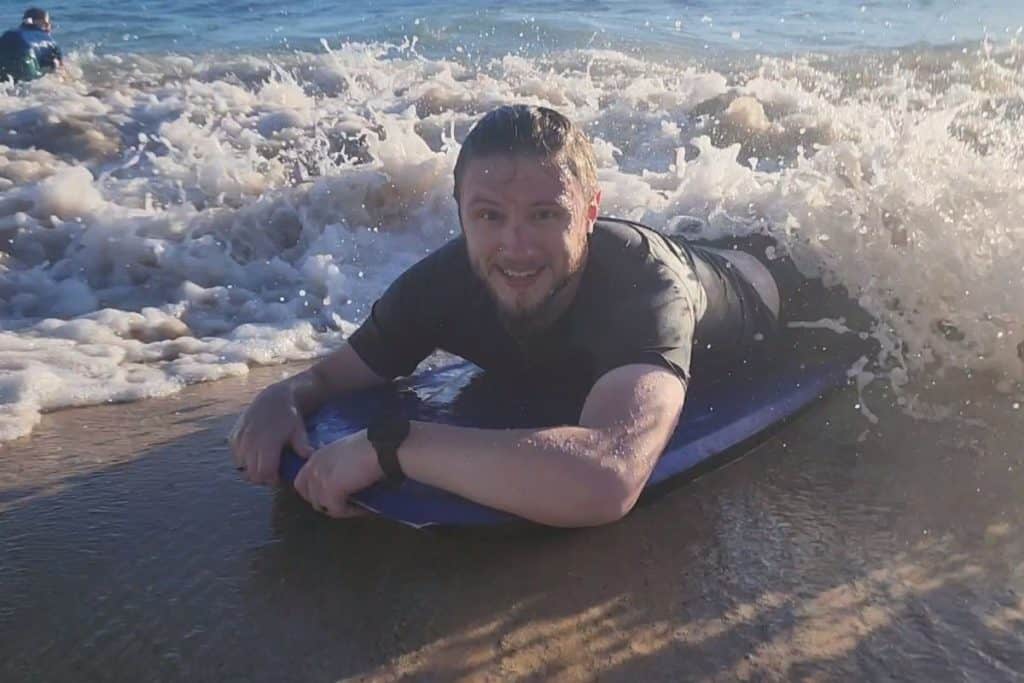 When you visit Kauai, you'll notice that you can enter drastically different ecosystems within the span of an hour or two of driving. Contrary to what you might expect from Hawaii, the town of Poipu and the region surrounding it is very much like a desert. Cacti included.

However, it's still a popular places for visitors to stay, and Poipu beach is one of the best that you'll find on the island. In fact, it's so impressive that it was rated in the top 10 best beaches in America. Multiple crescent shaped sand formations make up this beach, creating many protected regions that have made this area famous for snorkeling. That being said, I'm not much of a snorkeler myself, so I mostly go to this beach for the waves. Boogie boarding is one of my favorite pasttimes when I get the chance to visit the beach, and there are no shortage of big waves on the south side of the island.
But, one of the lesser known facts about Poipu beach is that it's home to a larger number of "beacher" turtles. These sea turtles will crawl up onto the beach every evening, around 5pm, to catch some quality shut eye. I've seen as many as 53 turtles piled on top of each other in one night, but I've also heard some of the locals say they've seen up to 80 at one time.

If you can, I'd recommend getting there before sunset, when you can see the turtles clearly. After dark, a number of wildlife conservationists will enforce a strick "no white light" policy, which is to say, flashlights aren't allowed. They will occasionally shine a red light on the turtles to help illuminate them, but it doesn't work too well, especially if you have any interest in snapping photos.
Glass Beach
Perhaps not what you were expecting to find in a beach, Kauai's Glass beach isn't actually a place that I would recommend swimming or sunbathing. Located just outside of Hanapepe, this area used to be the local dump a century ago. Old cars, bottles, and other items were left here, given over to the whim of the ocean waves for years to come. After enough time, the glass was eventually broken down and smoothed over, creating an entire beach of sparkling glass beads.

Because of the beach's unhygienic past, it's strongly recommended that you don't swim here. And while there's less glass remaining than there was a few decades ago, it's still a beautiful place to visit that you won't find in my guide books.
Oahu
The island that most people are familiar with, and home to the state's capital and largest city, Oahu is a dream come true for those who love a combination of tropics and city living. While much of the island has been developed, there are still a few hidden gems that beach lovers will enjoy.
Waikiki Beach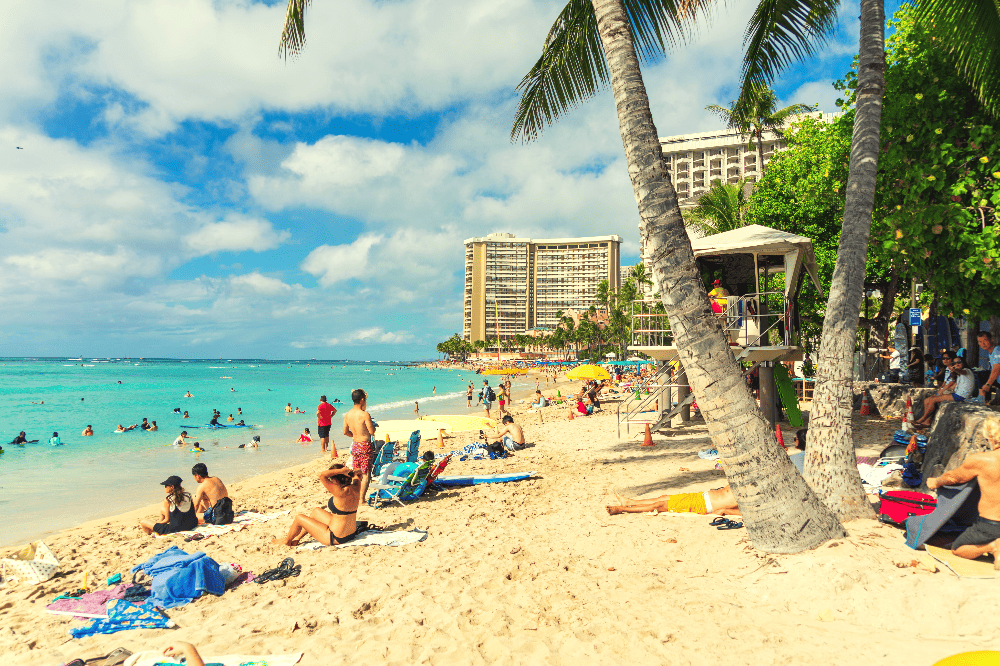 You can't visit Oahu and not take a stop on one of the most famous beaches in the world. Waikiki takes up about 2 miles of coastline, with the ocean on one side and a bustling shopping district on the other. It was a famous playground for Hawaiian royalty a couple of centuries ago, as they enjoyed spending time on their longboards in this stretch of the sea. To this day, it's still a very popular place for surfers and paddleboarders to have fun in the waves, as the environment here on the south side of the island is perfect for this sort of activity. Swimmers beware though…getting hit by a surf board, even if it's going slowly, is enough to cause some serious damage.
Hanauma Bay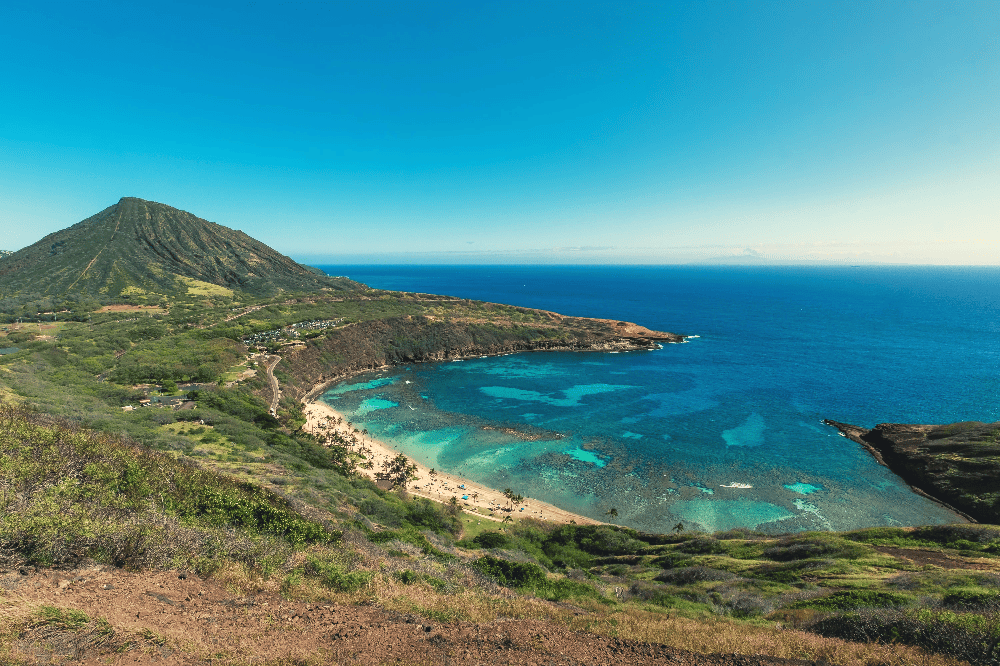 Not really a traditional beach where you would find surfers and sun bathers too often, Hanauma Bay is a nature preserve that is home to a wide assortment of fish and other marine life. Originally home to millions of visitors a few decades ago, this bay was far beneath its current glory – in fact, it was at risk of being permanently damaged due to the abuse and neglect caused by the frequent tourist activity. In 1990, steps were put into place to make the bay the gem that it is today.

While you won't find regular beach sports here, it is a popular destination for those who enjoy snorkeling. Fragile ecosystem though it may be, there's a plethora of underwater creatures that are amazing to catch a glimpse of. If you're lucky, you may even have the opportunity to see a moray eel while you're gliding through the tropical water.

Keep in mind that you will need a reservation to access this beach. The process can be a bit of a pain, but you'll forget all about this once you step food on this beautiful wildlife preserve.
Lanikai Beach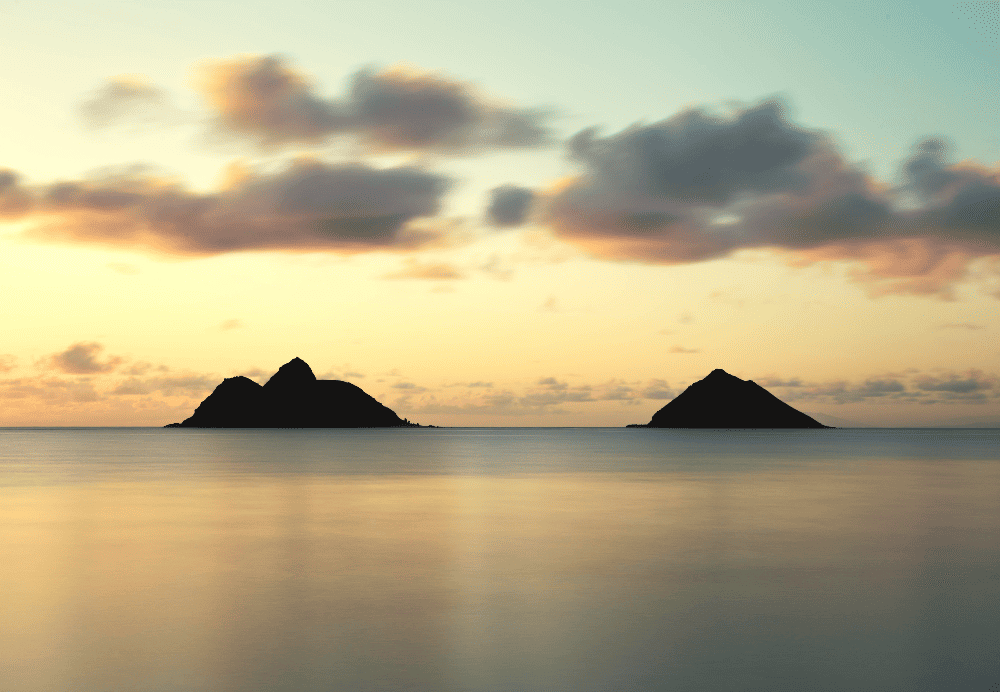 A beach widely renowned for its beauty, Lanikai is a must visit location whether you like beaches or not. Its name means "heavenly sea," and I would say that's a fairly accurate description of what you'll see when you visit here. The water is exceptionally calm and the sand is fine and soft, making this an ideal place to bring kids without worrying about the ocean current sweeping them away while they play in the water.

Should you need a break from lounging around, the Kaiwa Ridge Trail will give you a good opportunity to stretch your legs. It's full of old structures that were used as lookout stations to keep watch over the waters in 1943, and when you get to the top, you'll have a stunning view of Lanikai and the distant Makapu'u lighthouse. Among the many hikes you'll find on Oahu, this is one definitely worth doing just for the views.
Maui
Visiting Maui is like being able to explore two islands instead of one. There are two separate volcanos with an isthmus connecting them, creating hundreds of miles of shoreline. And you know what that means… That's right, beaches galore. Some of which have been rated the top beaches in America, in fact. Why don't we go check out a few of them below.
Ka'anapali Beach
Once named America's Best Beach, Ka'anapali is one of my favorite places to swim among all of the Hawaiian islands. I'm not really into snorkeling, and I definitely don't like walking out into the water just to cut my feet open on sharp coral and shells. If I can find a beach that has a sandy bottom as far out into the ocean as you can go, I'll take it, and Ka'anapali has just that. 3 miles of it, in fact.

There's a walking path that runs alongside the beach, connecting the sandy shore to the handful of hotels that line the coast. It's a pretty trail to walk, especially during sunset when you can see the sun dip beneath the ocean in the distance. And if you come during the right time of the year, you may even catch a glimpse of a few humpback whales breaching, and hear them talking when you dip your head underneath the waves. It's no wonder this place is considered one of the best beaches in Hawaii.
Red Sand Beach
A hidden gem if there ever was one, the Red Sand Beach (also known as Kaihalulu) is tucked away within the town of Hana. Despite being close to the town, it's only lightly trafficked, and I imagine most people would like to keep it that way. Because of its remote environment, you can expect to find the occasional nudist looking to get a perfect tan away from the crowds.

As pretty as the red cinders are, though, I don't recommend coming here unless you have good control over your body. The trail leading to the beach is notorious for being treacherous, and many folks end up injured on their way to the cove. Narrow and slippery, its easy to lose your footing and take a tumble that could render you incapacitated for the rest of your trip. But if you're confident in your ability to hike through this sort of terrain, you'll be glad you went for it after you reach the bottom. It's not every day that you get to see a red sand beach, and Kaihalulu is certainly one of the best out there.
Wailea Beach
Next to Ka'anapali, Wailea is my favorite Maui beach, especially if I'm looking to do a little boogie boarding. Pressed up right next to a line of resorts, it's a pretty well known (and crowded) part of the island. Unless you arrive early, expect to find dozens of sunbathers, snorkelers, and other tourists looking to catch a bit of the sea breeze.

The sandy floor extends out well into the ocean, which is great for those who want to play in the water without fear of cutting themselves open on sharp rocks. However, flanking either side of the beach are a few rocky outcroppings that attract snorkelers from all over the island. Regardless of how you want to enjoy the sunny oceanfront, there's an option for you somewhere along this stretch of shore.
The Big Island
The island of Hawai'i is the youngest of them all, geologically speaking. As such, you won't find as many pristine, white sand beaches that are common among the other, older islands. Instead, you'll discover sand of various colors, from black, to red, to green, making for an incredibly unique experience.
Hapuna Beach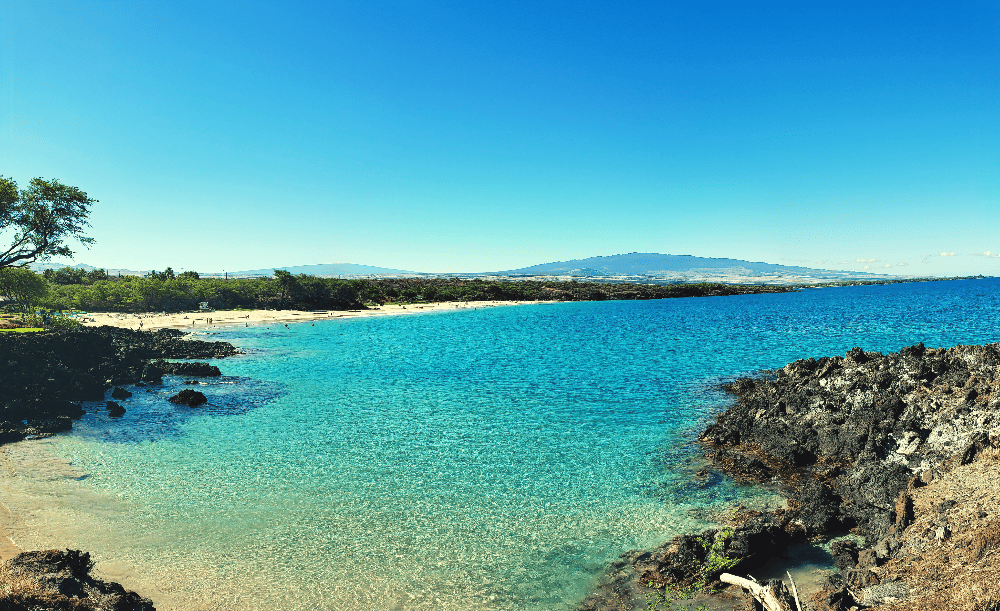 Though Hawai'i Island isn't well known for its white, sandy beaches, that doesn't mean they don't exist. Hapuna beach is a clear testament to this fact, and is actually the largest of its kind on the entire island. Compared to other beaches spread out across the Hawaiian islands, Hapuna's half mile of shoreline isn't very long, but that doesn't mean that there's less to do and see. On the contrary, it's packed full of activities from picnic pavilions, food vendors, snorkeling, swimming, and bodyboarding, allowing you to enjoy whatever it was that drew you to the beach in the first place.

If you're worried about bad weather ruining your day, chances are that will be the least of your concerns. This section of the island only gets a meager 10 inches of rain each year, so unless you're really unlucky, there should be nothing but bright, blue skies for you to enjoy. Because of this perfect atmosphere almost all year round, it is a very popular location and can get busy very quickly. Make sure to plan accordingly, and try to arrive as early as you can.
Punalu'u Beach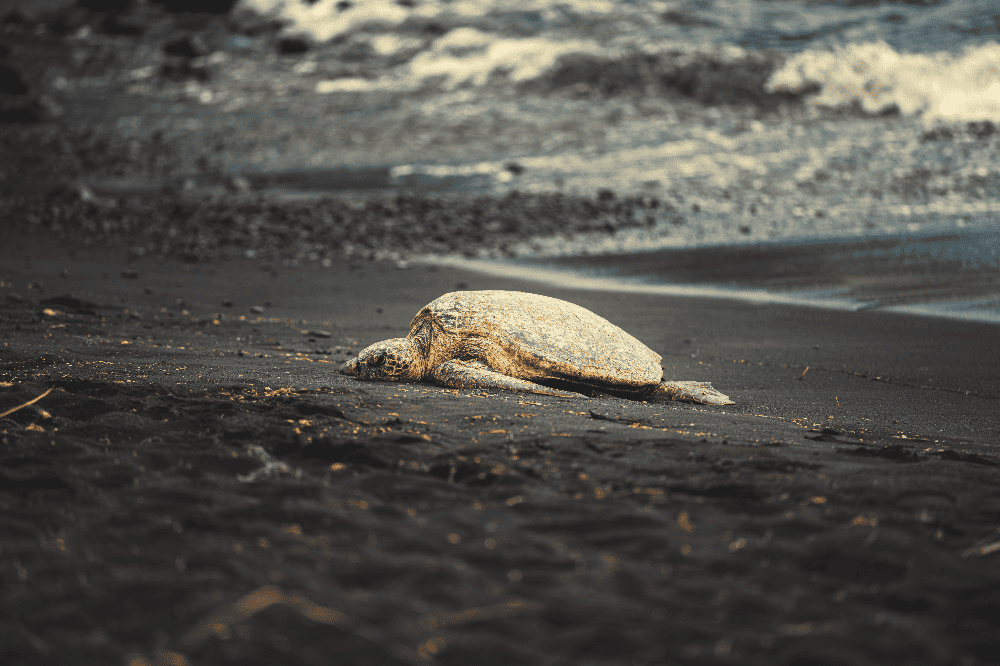 If you've travelled all the way to Hawai'i Island, chances are you didn't come just to see the standard white sand that's common among the rest of the islands, and much of the world. If that's the case, Punalu'u will likely end up at the top of your to-do list.

Due to all of the lava flowing out of the local volcanos over the past few centuries, many of the beaches on this island have taken on the black hue of the subterranean rock they came from. One of the more popular of these beaches is Punalu'u. The black sand here is especially rich and dark, creating a striking contrast with the turquoise water it touches.

This spot in particular is also famous for its high density of sea turtles. It's pretty common to find a few swimming around in the water, or resting somewhere up on the beach. If you're lucky, you might even catch sight of a rare Hawksbill turtle. Just remember that these creatures are protected, and you should make an effort to not get too close to one.
Kua Bay
Just north of Kona, you'll find Manini'owali, more commonly referred to as Kua Bay. This white sand beach is one of the best of its kind on this island, and it isn't uncommon to catch sight of a few turtles and perhaps even a dolphin during your visit.

It can be a little difficult to access, though, as you have to make your way down several feet of lava rock to get down to the sand. But once you're down there, you'll be glad you made the trip. Big waves will greet you during the winter, making this the perfect environment to catch a ride on a bodyboard. And when the sea is calm, there are several areas to explore that will make snorkelers feel like they're in heaven.

The beach is fairly secluded, and there aren't any food vendors nearby, so be sure to pack a few snacks and plenty of water if you decide to go here.