I grew up in Minnesota, so I'm no stranger to cold weather. The bitter chill can make it easy to give up outdoor activity for the warmth of your home, causing you to sit back and wait until Spring rolls around.

But really, who can wait a full 3-5 months to get back in nature again? I certainly don't want to, and I'm pretty sure many of you feel the same way. That's why in this article, we'll be taking a look at some of the best insulated tents, so you can tap into the joys of winter camping.
In this article, we'll be reviewing the following cold weather tents:
3 vs 4 Season Tents
We often hear about the number of seasons that a tent can handle, but do we pay attention to it? Many people go tent shopping looking for whatever will save them the most money, or perhaps whatever looks the coolest or most high tech. If you can get in and out of it without too much trouble, it doesn't feel very heavy, and fits the number of people you need to house, it's easy to think it's good enough for your plans. And I'll be honest…a lot of times, that WILL be good enough to get you by for most car camping getaways.

However, when it comes to dealing with extreme weather conditions, a little more thought is required. If you're planning on camping in the winter, you likely have quite a bit of camping experience under your belt. Which means you probably know that your standard 2 or 3 season tent just isn't going to cut it when you're sitting in the middle of a snow storm with temperatures below freezing. There are winter pop-up tents if you want to maintain convenience, but in extreme temperatures, I'd rather struggle with a 4 season cabin tent if it gives me confidence that I won't freeze.

Don't get me wrong, there are some 3 season tents that will work just fine for most winter camping. However, 4 season tents have a few extra features that help with insulation and stability, making them the better option for extreme weather camping.
Insulation
Staying warm is a top priority during winter camping, and insulation is going to help you do that. There are a couple things to consider here, with the first being the tent walls. Your typical 1-3 season tents have walls made out of one layer to keep things light and breathable. Many 4 season tents, on the other hand, have walls made from 2 layers to help keep warmth in and cold out. It makes the tent heavier, but you'll be glad to have the extra layers when you're out in the wild.

The other thing to consider is the amount of open space in your tent. If it's just you sleeping in a 3 person tent, there's going to be a lot of extra air floating around that will keep you cold. To stay as warm as possible, you should try to fit as snugly as you can in the tent to stay well insulated.
Shape and Design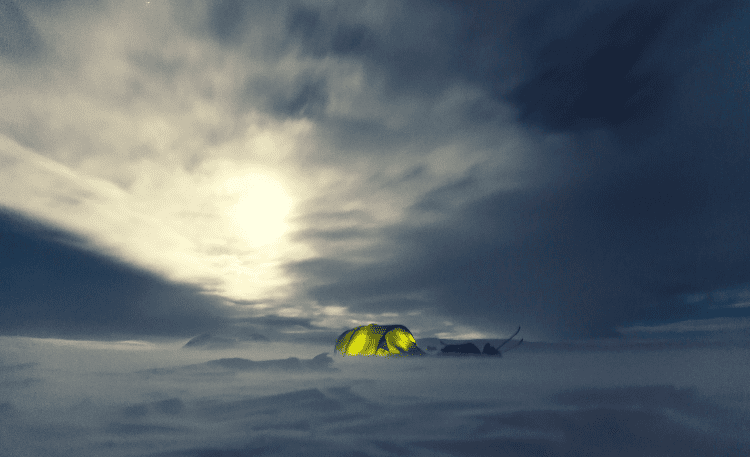 The shape of a tent is a big factor you should consider for winter activity. If the roof is too flat, there's the chance that snow will build up on top, weight it down. This could be problematic for you if it becomes too heavy and collapses on you! Find a tent with a rounded top so snow will slide off easily, and see if you can avoid going with a 4 season cabin tent.

It helps if the sides of the tent are more vertical for the same reason. You want the excess snow to slide right off to keep your tent stable and secure.

Additionally, strong winds can prove to be a challenge for winter campers. The cold temperature is bad enough, but wind chill can be dangerous, not to mention how miserable you'll feel anyway. Blizzards aren't uncommon either, depending on where you're going, so you'll want a tent that can withstand any condition that comes your way. Something low profile and aerodynamic is usually the best way to go.

Aluminum or carbon fiber poles will hold up the best under stress, so that's another thing you should look out for. Fiberglass splinters and breaks more easily in cold temperatures, so I would try to avoid any tents made from that material.
Stove
It never hurts to bring along an actual heat source, if you're able. Stoves can be a great way to add warmth to your shelter, at the cost of adding weight and taking space in your pack. Take some time to figure out if it's worth it to bring something like this along, wherever you decide you want to go.
Price
Because of all the additional features in 4 season tents that help keep you warm, they do tend to run on the more expensive side. Generally speaking, there's no way around this, though there are a few decent options if you're on a budget. It's true that you get what you pay for, but if you don't have a lot of wiggle room in your finances, I've included a good mix of cheap 4 season, insulated tents and more expensive cold weather tents in the review below.
Best Cold Weather Tent Comparison Table
Best Cold Weather Tent Reviews
Weight: 6.4 Pounds
Tent Material: Polyester
Pole Material: Aluminum
Peak Height: 41 Inches
Number of Doors: 2
A 2 person, cold weather tent designed for people on a budget, Geertop's 4 season tent gives you more than your money's worth. Weighing in at 6.4 pounds, it's actually quite light for a 4 season tent, making it a good option for backpacking trips in the winter. With a waterproof coating, the tent walls and roof will easily shed any rain or snow that might fall on you, without weighing the material down or waterlogging it. 

The rainfly is large enough to cover the entire tent, adding an extra layer of insulation in cold temperatures. If you'd like to use this tent year round, the layer underneath the rainfly is breathable for good ventilation, so your needs will be met in the summer too. 

It also comes with a vestibule to store your gear, and has a freestanding design for easy setup, even in uneven snow. The tent poles are very sturdy, as is the material that makes up the tent walls.

Pros:

– Budget friendly
– Large rainfly for protection and insulation
– Freestanding
– Comes with a good sized vestibule
– Walls have a waterproof coating

Cons:

– The zippers and stakes could use some tweaks
Weight: 7.9 Pounds
Tent Material: Polyester
Pole Material: Aluminum
Peak Height: 46 Inches
Number of Doors: 2
Nothing says low profile and aerodynamic like the ALPS Mountaineering Tasmanian tent. Combine the slick design with its sturdy aluminum poles, and you can feel confident that you'll stay secure inside. It's a little heavy at 7.5 pounds, but worth the weight in my opinion, especially if you're setting up camp somewhere that's very exposed.

It's spacious for a two person tent, and comes with mesh pockets that line the inside of both sides of the tent. Assembly is also very straightforward, and easy enough for one person to accomplish on their own. Not only that, but all of the vents can also be zipped closed if you don't want anything getting in.

It can be a little bulky and difficult to pack away, but overall, the tent is well worth the price. Everything from the polyester rainfly to the buckles and zippers are high quality material and should last you for a long time. And on the off chance that something breaks, the tent comes with a lifetime warranty to put your mind (and wallet) at ease.

Pros:

– Freestanding
– Aluminum poles
– Water and UV resistant
– Comes with vestibules and storage pockets
– Low profile and aerodynamic
– Walls are double layered for insulation

Cons:

– A little difficult to get it back into its storage bag
– Poles can be a little tricky to get into place
Weight: 9.7 Pounds
Tent Material: Polyester
Pole Material: Aluminum
Peak Height: 53 Inches
Number of Doors: 2
Large and spacious, this tent is ideal for housing more than one person. The vestibules are also bigger than most that you'll find on any other 4 season tent, so for those of you who like to bring a lot of gear, this might be a good option for you. However, because of its size, this tent is on the heavy side coming in at 10 pounds. I wouldn't suggest it for backpacking, but it works just fine if you're looking to stick around one area for awhile.

Overall, there aren't many super fancy features in this tent, other than keeping you warm and giving you lots of room (which, what more do you need anyway?) It is on the cheaper end of the spectrum, though, so it makes for a good tent to cover the most important bases if you're on a budget.

Pros:

– Large and sturdy
– Plenty of storage space
– Big vestibules for a 4 season tent
– Well insulated
– Cost effective

Cons:

– Heavy
– Not as easy to pack up or carry around
Weight: 10.25 Pounds
Tent Material: Polyester
Pole Material: DAC Featherlite
Peak Height: 46 Inches
Number of Doors: 2
Black Diamond is well known in the outdoor community as a quality brand, and the Mission is no exception. What I think of as a special ops tent, this cold weather tent is designed to go anywhere in the world and keep you warm and secure. From an open prairie to the edge of a cliff, the Mission will have your back.

Designed for alpine use, this tent is made to withstand extreme conditions including rain, snow, and heavy wind. The hybrid tunnel/dome design is what makes it so effective in strong winds, easily withstanding heavy loads from all directions. And if you find yourself needing to pitch the tent in those same conditions, it won't be as difficult as you think. With a hubbed pole structure and pre-attached poles, it'll go up in a breeze – pun intended.

It might be a little heavy for backpacking, but 10 pounds for a 3 person tent is a steal, in my book. Just spread some of that weight out among a friend or two, and you'll be golden for any alpine excursion.

Pros:

– Hybrid tunnel/dome shape
– Very good at blocking out the weather
– Extra length and height for taller campers
– Reasonable weight
– Easy to pitch in rough conditions

Cons:

– Expensive
Weight: 7.1 Pounds
Tent Material: Nylon
Pole Material: Easton Syclone
Peak Height: 44 Inches
Number of Doors: 1
In my opinion, this tent is the gold standard when it comes to alpine or extreme camping shelters. A lot of thought went into the MSR Remote, and it includes quite a few features that you really won't find anywhere else. Weighing in at 7.1 pounds, it's pretty average for a 4 season tent when you account for insulation and overall weather resistance. It's one of those rare tents that work well in cold, alpine climates as well as warmer, humid environments.

The poles are Easton Syclone, making them fairly lightweight without compromising on strength. The pole setup is external too, so you won't have to waste time trying to slide them into place in the middle of extreme weather. There's a rear window for air circulation, creating superior ventilation despite the general lack of mesh, compared to most tents.

Very wind resistant, the design ensures the tent stays streamlined and aerodynamic. Unfortunately, the pole structure makes it a little difficult to attach the rainfly, but it's not a huge hassle once you get the hang of it.

Pros:

– Durable poles
– Decent ventilation
– Good in warm and cold weather
– Reasonable weight
– External pole setup

Cons:

– Price
Weight: 10.14 Pounds
Tent Material: Nylon
Pole Material: Aluminum
Peak Height: 49 Inches
Number of Doors: 2
A bomb proof tent that can withstand practically any weather that hits it, the Marmot Thor lives up to its mythological origins when it comes to strength. Even after several years of use, you won't notice any decline in its ability to protect you against strong winds and heavy snow.

At 10 pounds, it is a pretty heavy tent, which is my biggest complaint about this product. However, if you split up the weight between you and a friend or two, it's not a problem at all. Aside from that, it's got just about everything that you could hope for in an insulated tent – easy setup, large vestibules, excellent ventilation – and the list could go on.

On average, the general consensus seems to be that the temperature inside the tent feels about 20 degrees warmer than the outside. So even in subzero weather, you should be able to stay quite toasty, if you have a proper sleeping bag, liner, and pad.

Pros:

– It has otherworldly strength
– Keeps you pretty warm on the inside
– Large vestibules
– Waterproof
– Though it's a 4 season tent, it works well during the summer too
– Easy to set up
– Plenty of storage on the inside

Cons:

– Very heavy
Weight: 6.25 Pounds
Tent Material: Nylon
Pole Material: Aluminum
Peak Height: 43 Inches
Number of Doors: 1
REI doesn't just sell gear from other companies – they also make and sell their own. And boy did they get it right when they developed the Arete 2 person tent. While it's more of a 3+ season tent, instead of a true 4 season tent, you won't be disappointed in the quality of this shelter.

Part of the reason why it's not suitable for subzero temperatures is because REI put so much effort into keeping it as lightweight as possible. We all know that 4 season tents are on the heavier side, which can be a pain to deal with when you've already got an overstuffed pack. At 6 pounds, the Arete isn't as light as an ultralightweight backpacking tent, but you really can't do much better than that for winter camping.

It's durable enough to handle heavy snowfall and strong wind gusts, and the material is quite waterproof. There have been some issues with the rainfly delaminating, but it seems like REI has taken steps to fix this problem. Aside from that, you'll find that the ventilation quite adjustable, and works well to prevent the build up of condensation. There are also more than enough internal gear loops and pockets to store all of your personal belongings while you're camping.

Pros:

– Very lightweight for a winter tent
– Durable and sturdy
– Does a good job of keeping water out
– Great ventilation
– Plenty of storage space

Cons:

– Rainfly might need resealing shortly after purchase
At Untamed Space, we're passionate about helping you have the best camping experience possible. Our team of experts have experience camping and backpacking all over the world, allowing them to provide insightful and relevant content to guide you in your outdoor pursuits.

All of our reviews are based on a combination of firsthand experience, extensive research, and an analysis of customer feedback. We are an independent website and do not receive payments or incentives from manufacturers to promote their products, and we continuously update our content to provide new information based on product availability. Wherever you are in your journey, whatever gear you're searching for, you can be sure to find unbiased and up-to-date reviews for all of your needs.
FAQ
How Do You Keep Your Tent Warm in Cold Weather?
There are a number of different tactics you can use to insulate your tent. You can lay a rug out on the floor, buy a four season tent, or purchase a tent heater to provide some warmth when it's cold out.
How Do You Weatherproof a Tent?
You can weatherproof a tent by investing in a rainfly and groundsheet to prevent water from entering. You can also get a waterproofing spray to make the tent fabric even more resistant to moisture.
Final Thoughts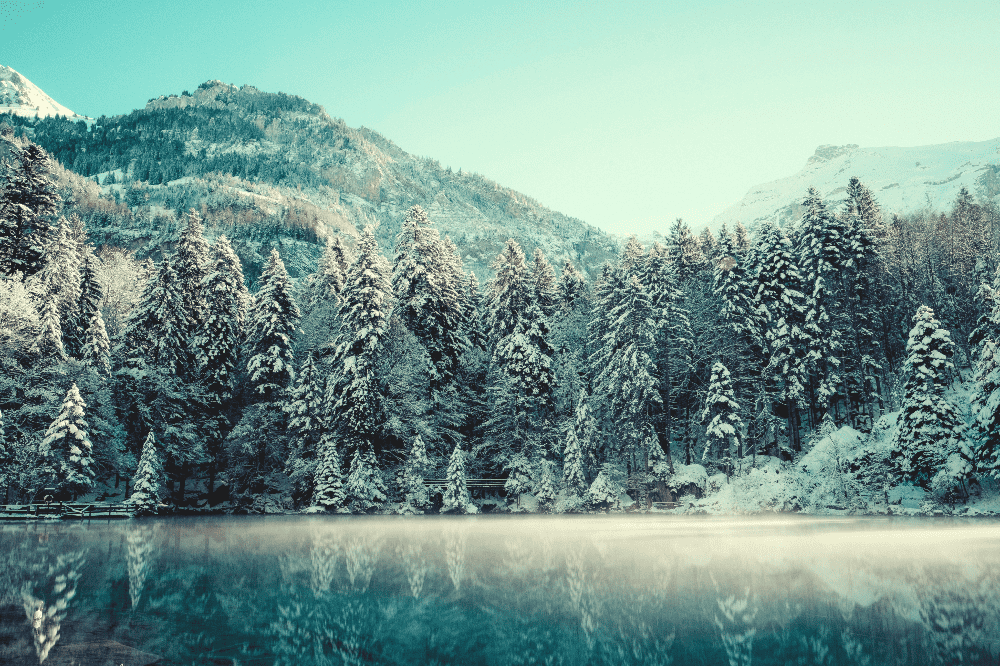 Staying warm is essential for winter and alpine camping. Having a shelter that isn't suited for cold temperatures can be more than annoying…it can be dangerous. We like the ALPS Mountaineering Tasmanian tent because we know how important it is to have a shelter you can rely on in any circumstance.

Its aerodynamic design makes it the perfect option for strong winds and blizzards, and the large amount of space inside makes it the perfect place to hunker down. It comes with more storage space than you'll probably need, and you can close the vents when you don't need them. Overall, we believe it's the best option if you're looking for a cold weather, insulated tent to keep you warm and secure.

Having a cold weather tent is half the battle, but what about your sleeping arrangement? Check out these sleeping bags that will help you stay warm when you're on a budget!
---
Related Posts: