Home » Camping » Sleeping Gear » Best Rectangular Sleeping Bags for Cozy Camping

If you're in a hurry and want to find out what the best rectangular sleeping bag is, we recommend the NEMO Jazz 30 Sleeping Bag.

Aside from finding the right tent, few things are more important than figuring out what kind of sleeping bag to use. Not only is it a much needed source of warmth, but it also acts as one of the few creature comforts you'll have in the great outdoors. The best rectangular sleeping bags are what will most closely imitate your bed back home, making a soft and spacious place for you to rest during the night.
In this article we'll be reviewing the following sleeping bags:
Rectangular vs Mummy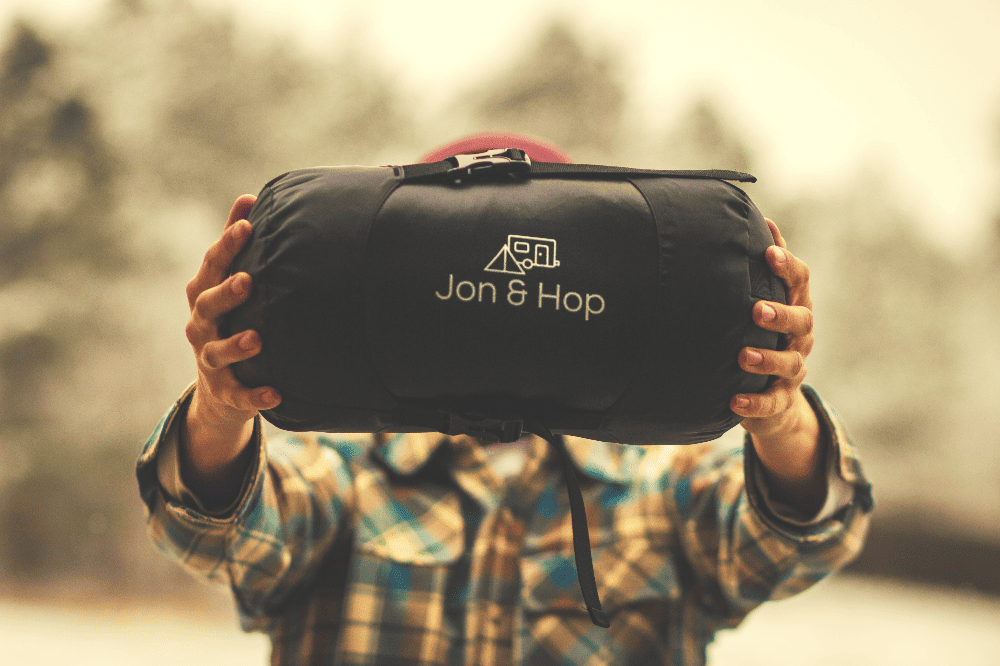 When it comes to choosing the proper sleeping bag, there are a number of factors to consider. What's the material? How good is the insulation? Does it pack down well? These are all important, and should be given a great deal of thought. However, there is one factor that many people don't consider as much.

Shape.

It might feel like an insignificant feature that can be easily overlooked… But after you've spent a few nights in your tent, you'll wish you would've put more thought into it. Sleeping bags can generally be broken down into 2 categories: rectangular and mummy. Within the category of rectangular sleeping bags, you'll also find semi rectangular sleeping bags as well, though we won't be discussing those here.

Rectangular bags have a shape that stays true to their name, and are good for giving you a lot of room and comfort as your sleep. Mummy bags can also be comfortable, but since they're designed to wrap close to your body, it's difficult to stretch out when you're inside.

It's important to know the pros and cons of each of these styles before purchasing, so you know what will be best suited for your needs. For example, rectangular sleeping bags are larger and bulkier (and therefore more comfortable) than mummy bags. Because of this, they don't tend to fit well in small tents, and can be difficult to carry on long journeys, though there are some lightweight rectangular sleeping bags out there. However, because of their large size and insulation, they make a great place to sleep for car campers and those with bigger tents.

Mummy bags, on the other hand, are made for backpackers and people with small tents. They're easy to compress, which means they take up less space when placed in a backpack. They also don't take up much space inside the tent either, which makes them the ideal bag for backpackers to use.
Temperature
One of the primary reasons why you have a sleeping bag in the first place is to keep you warm. If your current option can't even do that much, it's probably time to invest in something more suited to your needs, or perhaps you should consider getting a sleeping bag liner. 

Pay attention to the temperature ratings on each bag, too, as these indicate the lowest temperature you can use it in and still feel comfortable. And when they say "comfortable," it usually means that you'll still be cold, but it won't be unbearably freezing. If you plan on camping in any season other than summer, it's always good to be prepared for chilly nights by getting a sleeping bag with a good temperature rating. It never hurts to get a quality sleeping bag liner to help with the cold as well.
Carry Bag
While not as important to think about when it comes to sleeping bag functionality, the carry bag or compression sack is still a necessary feature. First of all, it's nice to have one because it makes it easier to transport your sleeping bag. However, many bags are difficult to get back into their compression sacks, so it can be an exercise in frustration depending on how tight of a fit it is. While it isn't possible to completely get rid of this problem, some are designed better than others.
Insulation Type
Keep an eye out for the type of insulation that the sleeping bag has as well. Ultimately, you only have two choices here: down and synthetic.

Synthetic insulation is just what it sounds like, usually made from polyester or some other man-made material. It's definitely the heavier option, and it's inferior to down when it comes to overall insulation ability; however, it's far more inexpensive and it will still keep you warm, even when it's wet.

Down, on the other hand, is the clear winner when it comes to warmth retention. If you plan on camping in extreme cold weather conditions, you honestly shouldn't be looking at any options other than down. It's also very lightweight, which makes it the perfect fill for backpacking sleeping bags. On the other hand, it's more expensive (for good reason), and it loses its insulation ability when wet.

Looking at them both from a big picture perspective, though, down is always going to be the superior insulation, and it's what I typically recommend people go with. That is, unless you're searching for a budget sleeping bag.
Rectangular Sleeping Bag Reviews
Material: Polyester
Weight: 1.85 Pounds
Insulation: Synthetic
Temperature Rating: 40 Degrees

Probably most well known for their wide variety of colors (you can choose between at least 12 different shades of the same tent), Revalcamp's sleeping bags have more to offer than just customization. Though I would say this product is geared more towards children and recreational purposes (as opposed to serious camping), that's not to say that it doesn't work well as a fair weather sleeping bag. It's rated for temperatures 40 and above, so on exceptionally chilly nights, you might get a little cold. But for summer, late spring, and early fall, this bag is quite comfortable and spacious.

For people who would like to sleep together, these bags can be unzipped and then rezipped together, to make one large sleeping bag. It's also easy to put it back into its carry bag, and weighs a mere 2 pounds, which allows for good portability.

Pros:

– Color customization
– Lightweight
– UV protection
– 100% money back guarantee

Cons:

– Not suitable for very cold temperature
– Tends to get lumpy after washing
Material: Flannel
Weight: 9 Pounds
Insulation: Synthetic
Temperature Rating: 10 Degrees
Coleman is well known for being a camper's best friend, providing quality gear that will last you for awhile. With its heat locking flannel liner, staying warm won't be an issue in this big and tall sleeping bag, even in temperatures that drop below freezing. And because it's a flannel sleeping bag, it's softer and more cozy than your typical synthetic liner.

Also, this sleeping bag isn't called "big and tall" for nothing. At 7 feet long, and over 3 feet wide, this bag can accommodate people who are 6'7" and under and still have room to spare. And if you don't like it when the insulation in your bag gets lumpy, this product has fiber lock technology, which prevents it from bunching up uncomfortably.

You'll also like to know that the zippers are actually pretty good on this sleeping bag too (which can be a rare thing). Even better, it rolls up really easily, and you don't have to shove it into a tiny bag. Just use the attached cords to secure it in place, and you're good to go.

Pros:

– Very large
– Easy to roll up
– Soft, but not "too" soft
– Machine washable

Cons:

– No carry bag
Material: Polyester
Weight: 5 Pounds
Insulation: Synthetic
Temperature Rating: 30 Degrees
Spacious and warm, the Coleman Brazos is a great all around sleeping bag. While not "exceptional" in every area, it's hard to find anything to complain about. Rated for 20 degrees and up, this bag will keep you cozy in every temperature short of bitter winter nights. To prevent heat loss, there's a draft tube along the zipper that helps keep body heat trapped inside the bag.

Everything is made out of polyester, with the insulation being "hollow" poly, to decrease weight and maximize warmth. Out of all the sleeping bags in this review, this is probably the only one that I would even consider taking with me on a backpacking trip, due to how light and warm it is.

Pros:

– Good in temperatures down to 20 degrees
– Draft tube to prevent body heat from escaping
– Hollow polyester insulation
– Fiberlock prevents insulation from shifting
– Can be fully opened to use as a comforter

Cons:

– Material is a little scratchy on sensitive skin
Material: Polyester
Weight: 3.75 Pounds
Insulation: Down
Temperature Rating: 20 Degrees
Most people recognize REI as an outfitter for all things outdoors, but what they often forget is that they also make their own products. And let me tell you, those items rarely disappoint.

The HunkerDown 20 is one such product, offering powerful insulative properties without compromising on weight. In fact, this rectangular bag is as lightweight as many mummy options out there – something of a rarity in the sleeping bag world. The down fill certainly helps with both the weight reduction, and the superior insulation, and you might be happy to learn that all the ducks and geese were treated in accordance with leading animal welfare standards. On top of that, all of the other materials used to make this sleeping bag are recycled, so it's about as eco-friendly as you can get.

REI also went above and beyond by adding a hood to this rectangular sleeping bag. It's a feature that you normally find on mummy bags (and only mummy bags), but it very useful for housing a pillow overnight. The hood helps trap heat as well, so you can stay warm and cozy, even as temperatures drop to 20 degrees.

Pros:

– Comes with a hood
– Made from recycled materials
– Warm and comfortable
– Follows animal welfare standards
– Roomy
– Pretty lightweight

Cons:

– Somewhat bulky
Material: Polyester
Weight: 5.5 Pounds
Insulation: Synthetic
Temperature Rating: 40 Pounds
This sleeping bag is for all you shorter folks out there who just need a little something more to keep you snug at night. This bag is not for winter camping or for super cold temperatures, as it's only rated to go down to about 40 degrees. However, what it might lack in terms of extreme weather insulation, it makes up for in other features.

Around the rim of the bag where your head will be, there's something called the "comfort cuff," which is exactly what it sounds like. The addition of plush material around your face adds another layer of softness and support for a better night's sleep. There is also a roll control feature, which locks the edges of the bag in place to make it easier to roll up when you're ready to move out. When it comes to packing up, my least favorite part has always been putting my sleeping bag away. After you do it enough times, it gets easier, but I definitely wish I knew about roll control earlier.

Pros:

– Comfort cuff for added cushion around your face
– Roll control
– Fiberlock
– Machine washable

Cons:

– The material of the inner lining is irritating for some
– Lacks the durability needed for extended use
Material: Polyester
Weight: 6 Pounds
Insulation: Synthetic
Temperature Rating: 30 Degrees
How could you possibly resist a name like "Jazz," when it comes to a sleeping bag? And since it's coming from NEMO, you know it's going to be good. I mean, how many sleeping bags have you found that actually come with their own bed sheets?

The Jazz is fairly one-of-a-kind in that regard, as Nemo attempted to include all of the comforts from home in their product. It's an incredibly cozy setup that will make it difficult to wake up in the morning, especially if it happens to be chilly outside. The temperature rating is set at 30 degrees, so most of you will stay toasty during the night, unless you want to embark on a winter camping trip. In that case, you'd likely need to add a liner and perhaps a pair of long johns into the equation.

It comes with a draft collar and hood, so you can keep more heat inside while giving your pillow a secure place to rest during the night. In my opinion, this is the best option out there for camping comfort, short of purchasing a cot or a mattress as well.

Pros:

– Extremely comfortable
– Comes with removable bed sheets
– Good temperature rating
– Comes with draft collar and hood
– Oversized carry bag make storage easy

Cons:

– The footbox does get quite warm
Material: Polyester
Weight: 5.75 Pounds
Insulation: Synthetic
Temperature Rating: 20 Degrees
We've seen Coleman pop up quite a bit in this review, but I have to say, the Kompact 20 seems to be their highest performer yet. It's an impressive and (surprisingly?) sleek design that's had a lot of technology packed into it, to provide the maximum amount of comfort and insulation. And in typical Coleman fashion, you can get it all for under $100. Though, it does get very close to that cutoff.

Overall, it's got all the bells and whistles you'd hope to find in any decent sleeping bag. Zippers that don't snag, a compact design that traps heat, a comfortable cuff that wraps around your face, and several other things. It's even light enough where you could probably backpack with it, though you may get overly burdened by the weight, and frustrated by how difficult it is to get it back in the stuff sack.

It's also worth noting that it runs a little small. So, if you're a large adult like me, it might feel like you're sleeping in a mummy bag instead of a rectangular one. Children and smaller adults won't have too much issue, however.

Pros:

– Reasonable price
– Good insulation
– Sleek design
– Snag free zippers
– Comfortable

Cons:

– A little small
– Hard to pack back up again
In Conclusion…
The right sleeping bag should do more than just keep you warm…it should be comfortable and easy to pack away too. While most rectangular sleeping bags are known for being spacious and comfy, sometimes they lack the heat retention that you need at night. We like the NEMO Jazz sleeping bag the best because it fulfills all of these things better than many other bags that we've encountered.

Not only is it rated for temperatures down to 30 degrees (which is already impressive for this type of bag), but it's also very large and comfortable. The draft tube is a handy feature that makes sure your own heat stays close to you, and the included bed sheets add a touch of home to your outdoor experience. It's a tad heavy, but it's a small price to pay for the amount of luxury you'll get out of this sleeping bag.

Want to enhance your sleeping experience even more? Check out these camping cots to pair with your sleeping bag!
---
Related Posts: