If you're in a rush and want to find out what the best tent fan is, we recommend the
OUTXE camping fan.
Camping is an enjoyable experience for many, but that doesn't mean it's free of difficulty. On hot summer nights, it's easy to dream about air conditioning and ice cold drinks while getting cooked inside your tent. A breeze might not come through your window, and even if it does, it won't offer much relief.

In situations like this, it's okay to treat yourself to a little extra comfort by adding a camping fan to your checklist. The best tent fans are light enough to carry with you, and have a battery strong enough to last you all night. We'll take a look at a few of our favorites below.
In this article, we'll be reviewing the following tent fans:
Why Use a Fan?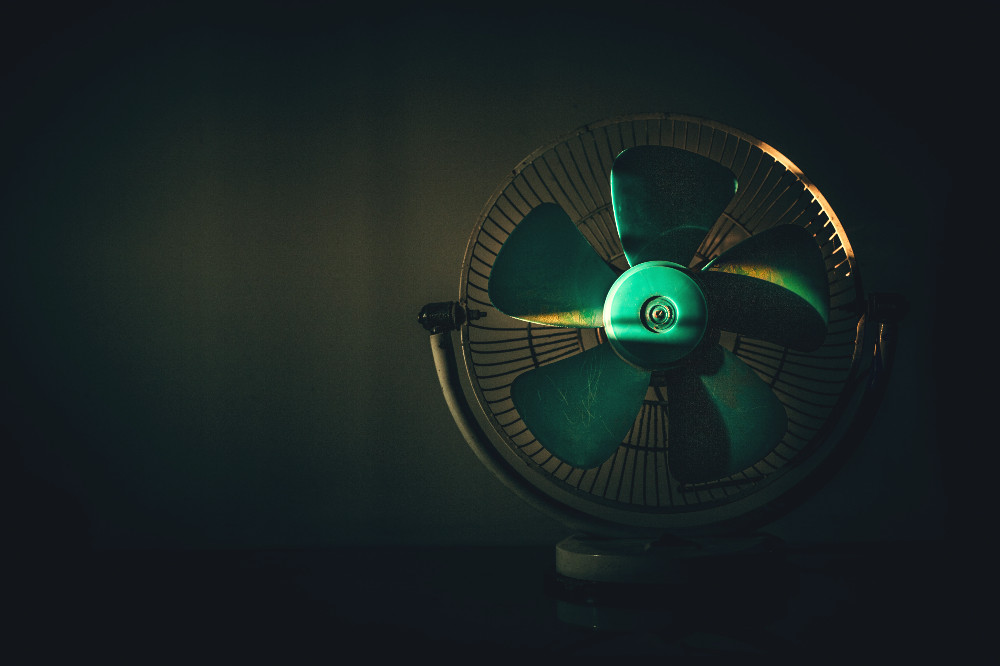 I think it's fair to say that most people don't even realize camping fans exist. Most people probably don't even think they need a fan while they're out camping, especially if it isn't summer. Even if it is hot outside, I'm sure the general mentality of hardcore campers is to just tough it up and deal with the heat. I mean, having another electronic device kind of ruins the "natural" vibe, right?

Well, I'm here to challenge that mentality. Fans are actually really useful tools that do more than keep you cool at night, as I'll explain shortly. And even if you just take them at face value for their ability to make you more comfortable…why wouldn't you want that? Especially if you're planning on camping somewhere like Utah in the middle of the summer!

But aside from the obvious, the main reason I like fans is because they circulate the air. And I don't necessarily mean in the sense that they create wind to keep you cool. If you're still figuring out how to camp, you might not know that air circulation is critical for keeping the inside of your tent dry by preventing condensation buildup. Especially if it's raining, opening your tent vents isn't always possible, so a fan will take some of the burden. This is the primary reason why I like having a tent fan, even more so than for keeping me cool.
Versatility
Having the best camping fan is all well and good, but it doesn't mean much if you can't put it where you want to. Tents are notorious for their lack of good, usable space, and this is especially true when it comes to accessories like fans or lanterns. Since it isn't always possible to adjust the layout of your tent to accommodate other creature comforts, versatility is an important component of these additions.

Many tent fans come with a hook for you to hang them from a gear loop in your tent. This lets them blow down on you, circulating the air better. Of course, this only works if you have a gear loop to hang it from, as not all tents have this feature.

Some fans can be mounted on walls, while others can sit on a flat surface – a few can do all of these things. Depending on what kind of tent you have, you may have to make sure that the camping fan you purchase is compatible. And don't forget about recharging it either, especially since solar powered tent fans are few and far between. Rechargeable tent fans are what I like to use for myself, simply because I don't have to spend the time and money needed to get batteries every time the fan dies on me.
Multifunctional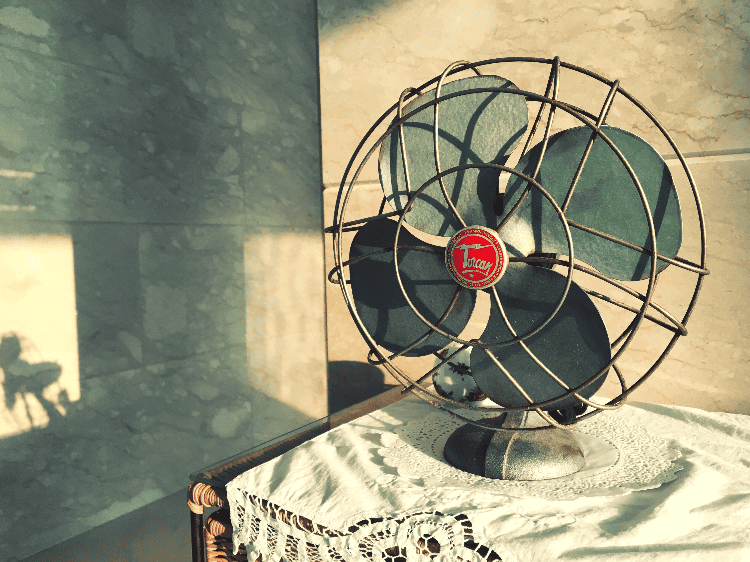 Versatility doesn't just relate to a product's ability to function in a variety of environments, but also covers the number of additional roles it can fulfill. See, the thing with gear loops is that they're a really handy place to hang a lantern. I don't like spending time in a dark tent unless I'm trying to fall asleep, so I love to bring a small light source to hang from the roof of my tent.

I'm sure many of you are like me in this regard, so you know the internal debate that's bound to come. Do I use my precious gear loop for a fan? Or a light? Do I use a fan during the day and a light at night? But it gets hot and stuffy at night, so I'd really like my fan…

Trust me, I know how it goes.

Thankfully there is a way around this dilemma without needing to compromise. Many tent fans come with a built in light, so you can avoid the need to make tough choices. In a lot of cases, the light is set behind the blades of the fan to spread the light out as much as possible. This, of course, only works because the fan blades are transparent (or semi-transparent), so they don't cast shadows while the light is on. Some have the lights built into the rim of the fan while others have flaps that fold out and shed light. Whatever setup you prefer, there's probably a design out there that you'll like.
Noise
Even the best camping fans make a sound while they run, but some are definitely more obnoxious than others. Personally, I have a hard time sleeping without some white noise, so I like to have a fan running by my bed at home, as well as during the night in the tent. However, louder sound at an annoying frequency is counterproductive, which is what many camping fans end up doing.

Whether you're sensitive to sound or not, I think we can all agree that a soothing whir is preferable over any clicking or grating noise. Not only will it be more relaxing, but it likely means that your fan will last longer as well!
Tent Fan Reviews
Weight: 1.16 Pounds
Materials: Plastic
Power Source: Batteries
Many tent fans come with a built in lantern. However, quite a few manufacturers tend to put more time into the "fan" portion, neglecting the "light." The result is a tool that circulates air well, but barely manages to illuminate your tent, leaving you a little dissatisfied at the end of the day.

Personally, I like to have a lot of light, which is why I'm a big fan of Odoland's portable lantern. With 3 separate LED lights built into the rim of the fan, your shelter will be flooded with light when you turn it on. The only complaint I have is that there's only one switch for it: on and off. It would be nice to have a mode or dimmer setting, but since you can easily adjust the angle of the light, you can work around this issue.

Weighing a pound, it is a tad heavy, especially if you're planning on backpacking with it. However, for car campers, it's a nice addition to brighten up the night and add a comfortable breeze on a hot day.

Pros:

– Very bright light
– Strong airflow
– Quiet motor
– Collapsible frame

Cons:

– Big and bulky
– Cheap feel and isn't very durable
Weight: 3 Ounces
Materials: Plastic
Power Source: USB/Batteries
Earlier, I talked a little bit about how versatility is an important trait among tent fans. In my opinion, the product that best represents this philosophy is the Amacool portable camping fan. Not only is it a camping fan and a light (the bare minimum that you should settle for in a tent fan), but it also has a built-in aroma diffuser. There's a foam pad that you can place behind the blades that will circulate whatever scent you decide to put on it. Mostly designed for insect repellant use, I recommend using citronella or eucalyptus.

The light and fan portion each have 3 different brightness and speed settings. There is a separate button controlling both of these. While fan noise is generally unavoidable, this item is quiet enough where you won't notice it as you're trying to sleep. And don't worry…it won't turn off in the middle of the night because of low battery. When fully charged, you can keep it running on one of the lower settings for at least 12 hours.

Pros:

– Aroma diffuser
– 3 brightness and speed settings
– Good battery life
– Portable and compact

Cons:

– Durability is a little lacking
Weight: 1.5 Pounds
Materials: Metal
Power Source: USB/Batteries
If you want to know the fan that I personally use most frequently, this is the one. The OUTXE camping fan is a real powerhouse, featuring all of the elements you would hope to find in the best camping fan. It has a ring light, a hook and a clamp so you can attach it to almost anything, and a full range of motion to aim it anywhere it's needed.

The circular light on this fan is both bright and aesthetic. I like how it's one continuous light that isn't hidden behind the blades of the fan, as well as the fact that it has 3 different brightness settings. The fan itself has 4 speeds. With a 360 degree range of motion, you'll be able to direct the breeze (and light) to the place that you need it, while keeping the fan hanging or clipped into the same spot.

Pros:

– Continuous ring light
– Aroma diffuser
– 360 degree range of motion
– Multiple brightness and speed settings
– Small and portable

Cons:

– Isn't extremely powerful
– The clip is a little flimsy
Weight: 14.4 Ounces
Materials: Plastic
Power Source: Battieries
When it comes to battery life and charging capabilities, Comlife's camping fan takes the cake. Depending on how you use it, you can get up to 40 hours of battery life out of it. Not only that, it comes with a convenient USB charging cable, so you can plug into your computer, power bank, or wall adapter to fill the battery back up. All of the batteries are rechargeable, which is convenient if you have an easy way to access power when you need it. However, it would be nice if this product was compatible with regular batteries as well.

The fan can rotate 360 degrees, so you can get airflow in whatever direction you need it. Even though it moves in all directions, once you've settled on where you want it, there's no need to worry about it shifting on you. And if you want to use it as more than just a tent fan, you can hang it on most things in your home, or set it upright on its stand.

Pros:

– Long battery life
– Rechargeable batteries
– 360 degree rotation
– Sturdy and stable

Cons:

– Isn't very powerful
Weight: 11.4 Ounces
Materials: Plastic
Power Source: Batteries
Similar to many of the other fans in this review, the Reenuo tent fan provides powerful airflow and good lighting. However, there are a couple of things that make it stand out from the crowd. The battery life is very good for a product this size, lasting as long as 440 hours, depending on the settings that you use. Both the fan and the light can be used simultaneously or separately, and each has a variety of speeds and settings that you can adjust them to.

The battery itself is rechargeable, so all you have to do is connect the USB cable to an outlet or adapter to power it up. It charges quickly, especially if you have a power station that you've brought to your campsite. The bars on the fan are narrow enough where a child won't accidentally lop their finger off, and this fan even comes with a diffuser for you to drop some essential oil on. It's a great way to freshen up the smell inside your tent, or keep bugs away, depending on the oil that you use.

Pros:

– Bright lights
– Long battery life
– Rechargeable battery
– Comes with diffuser

Cons:

– Hard to say how long it will last
Weight: 3.25 Pounds
Materials: Plastic/Foam
Power Source: Batteries
The Coleman CPX tent fan sports an interesting design. It's the only product in our lineup that can be attached anywhere on the roof of your tent, by making use of magnetism. Place the fan anywhere you'd like, and set the included metal plate on the top part of the roof. This effectively sandwiches the roof material between the fan and metal plate, keeping the device in place. If you'd like to use it on the floor or on a table, you can use the fold out stand that comes attached.

Designed with kids in mind, the blades of the fan are soft, so they won't cause as much damage if someone happens to get their fingers in there. In addition to that, there's also a sort of "nightlight" mode that you can set the light to. It's a feature that's handy for children and adults alike, especially when you want a little light to see by when you need to relieve yourself during the night.

Unfortunately, the foam blades don't move air quite as effectively as hard plastic. The fan itself is also a bit too top heavy for the stand, and doesn't like to stay upright as a result. If you only plan on hanging the tent fan from the ceiling, though, this won't be too much of a problem.

Pros:

– Child friendly
– "Nightlight mode"
– Unique hanging design
– Easy to install

Cons:

– Not going to blow you away
– Isn't rechargeable
At Untamed Space, we're passionate about helping you have the best camping experience possible. Our team of experts have experience camping and backpacking all over the world, allowing them to provide insightful and relevant content to guide you in your outdoor pursuits.

All of our reviews are based on a combination of firsthand experience, extensive research, and an analysis of customer feedback. We are an independent website and do not receive payments or incentives from manufacturers to promote their products, and we continuously update our content to provide new information based on product availability. Wherever you are in your journey, whatever gear you're searching for, you can be sure to find unbiased and up-to-date reviews for all of your needs.
Final Thoughts
While not a critical addition to your camping setup, having a tent fan can be a welcome luxury. It's a good way to stay cool on hot summer nights, and also provides some much needed air circulation to offset condensation buildup. Most fans are also light enough to backpack with and easy to pack away.

Out of all the options listed, we liked the OUTXE tent fan the best. With its 3 in 1 design, the fan is extremely versatile and holds up well while camping. Additionally, we also liked the 360 degree rotation that's available, since we know that keeping the air flowing in one direction isn't always ideal. While it's not the most powerful fan out there, it does well for the price you pay for it. For outdoor enthusiasts on a budget, it's hard to find something better.
---
Related Posts: