Home » Camping » Accessories »

If you're in a rush and want to find out what the best tent stakes are, we recommend ABCCANOPYs Tent Stakes.

Sometimes it's the things that look and seem insignificant that end up playing one of the biggest roles in whatever you're doing. Tent stakes are one of these powerhouses that are easy to overlook, yet play a vital role in making sure your camping experience goes as smoothly as possible. Without them, your guylines are useless, and your tent might be as well, if it happens to fly away in the wind.

There really isn't a tent spike that's perfect for every location, so it's important to do some research and find the best ones for you. We'll take a look at a few key things to consider, and then let you decide from there.
In this article, we'll be reviewing the following tent stakes:
What do they do?
Tent stakes are often the unsung heroes in the camping world. Sure, you can sometimes do without them and not notice much of a difference, but other times, you'll be in for a miserable trip if you don't bring the right stake.

These stakes (also called tent pegs) serve a couple of different purposes. First, most campers use them to secure the edges of their tent into the ground to stabilize it and prevent it from blowing away in the wind. Others use them to stake down their guy lines, which are ropes that pull away from the poles in order to give your tent some shape and give more stability. Overall, if you want to keep your tent firmly rooted in one place without having to worry about the weather taking it, tent stakes will become your best friend.
Material
Tent stakes are made out of a variety of materials, each one suited for a different type of situation. Titanium and steel stakes are great if you need to pound them into hard ground. They'll be able to withstand more impact, since they'll be sandwiched between your mallet and the ground. The stakes that come with your tent typically won't be able to hold up under the weight of a mallet, bending or breaking on you when you need them most.

For camping on regular soil, you can certainly use your steel stakes if that's what you have on hand. Otherwise (and this is especially true for you backpackers), consider investing in some aluminum stakes. The material is still very strong, and even better, it's a lot more lightweight than steel which makes it a great option for trekkers.
Ground Type
Obviously, you're not always going to be camping on nice, soft soil like you might find in your backyard. If that was the case, almost any type of tent spike would do the trick, and I'd tell you to ignore this review and pick whatever you like. However, it's not realistic to think you'll only ever encounter a certain ground type, even if all you do is car camp. Sand, dirt, rocks, gravel…you name it, you'll probably run into it at some point. Do a little research before your trip to see what kind of ground you'll be working with, and plan your stakes accordingly. To help you out, here are a few things to consider.
Sand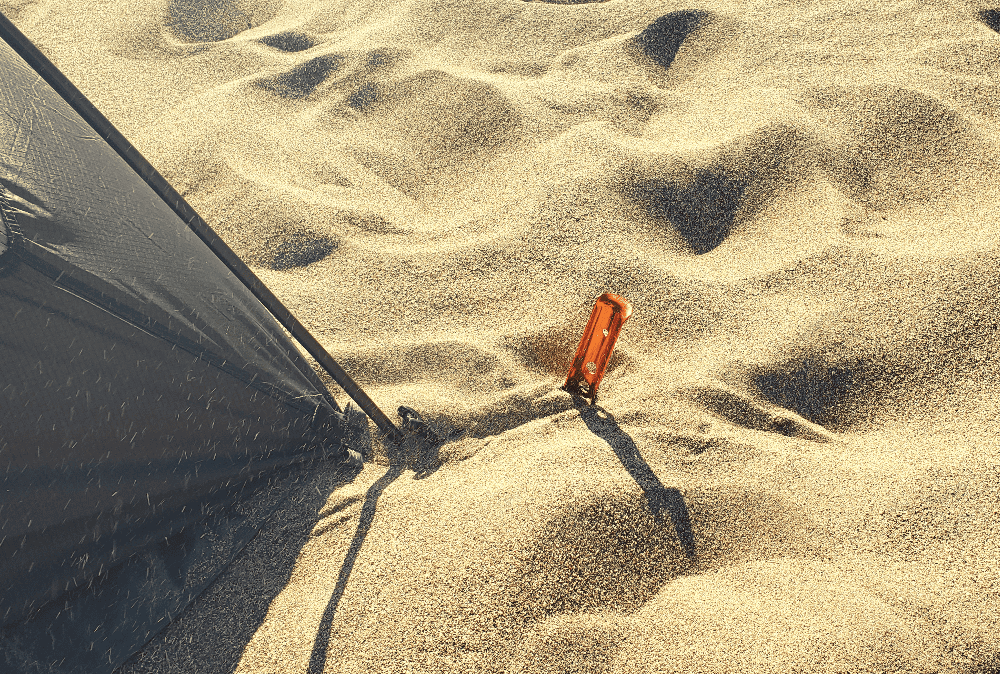 If you plan on camping in a place like Death Valley or another sandy location, you don't want just any kind of stake. Using any of the kinds listed above will leave you frustrated, since they aren't designed to stay in place when shoved in sandy ground. If it's easy to shove them in, it'll be easy for them to come right back out when you tent starts pulling on them after catching a gust of wind.

Spiral tent stakes, or tent screws, are going to be the best tent stakes for sand. When you twist the spiral tent stakes into place, it makes them a lot more secure than the tent nail that you normally just hammer into the ground. Trust me, I've tried – tent nails just slide right out of the sand when your shelter is hit with any amount of wind.
Snow
There's also snow to contend with, if you happen to be a winter camper. The stakes that work best for this element are different from everything we've talked about so far, though you could get away with using the spiral tent stakes. Instead, the best snow tent stakes have holes down the shaft which then fill with the snow, anchoring it in place.
Improvising
In case you forgot your stakes or broke them to the point where they aren't usable anymore, you can make your own out of wood. It's not an ideal setup, since wood isn't as durable as metal, but it's a good skill to have in case you need them.

The first thing you'll want to do is gather 4-6 branches to use as stakes (more is better, especially if bad weather is coming). Try to find some that are about a foot long, and 1-2 inches in diameter, making sure they don't sound hollow if you hit something with them. That means the wood is rotting, which is the last thing you want to use as a stake.

Once you've got your sticks, take your knife and cut a notch in each of them about 2 inches down from one end. This is where your guyline is going to attach, so the notch should be deep enough to go halfway through the stick. Make sure the notch is shaped like a V, with the two points facing toward the closer end of the stick, and the center point facing down to the other end. After you've completed this step, whittle down the opposite side to form a nice point – this is what you'll be driving into the ground. Take your mallet or the flat side of a rock and hammer it into place, and you should be secure enough to withstand most weather that you might encounter.
Tent Stake Reviews
A great all around tent stake, All One Tech's design is suitable for any situation the average camper might encounter. The 3 sides of the stake not only serve to grip the ground better, but also increase its ability to withstand bending and breaking. And if you happen to be a backpacker, you'll appreciate the fact that these stakes are made out of lightweight aluminum to keep your pack weight down without compromising on strength.

Coming with holes at the top for a cord to fit through, you'll have something more comfortable than the stake to hold onto when you're pulling it out. At 7 inches long, they're a little shorter than what I like to use, but are still more than sufficient to get the job done. And since 12 come in a package, you shouldn't find yourself running short on supplies.

Pros:

– Ultralight
– Three sided design offers more durability
– Cord to easily pull them out of the ground
– They don't budge, even it rough weather

Cons:

– Pulling them out at an angle can damage them

For those of you who need something more on the sturdy side, you'll like these tent stakes to drive into the hard ground. Made out of galvanized steel, they're exceptionally tough and resist corrosion, so you can feel confident using them over and over again. With a milled point that can more easily slide through tough soil, and a large head to aim for when hammering, it's the ideal item to use in hard and rocky ground.

They come in a pack of 10, so you shouldn't be in too much danger of running out. Not only that, but they also come with 4 pieces of 10 foot long tent rope, if you happen to be in need of it.

Pros:

– Very sturdy
– Resists corrosion
– Comes with tent rope
– Large head to aim for when hammering
– Milled point to glide through the earth

Cons:

– Heavy
– The point is almost too sharp, so be wary of your gear
Useful for more specialized ground types, the Orange Screw anchor is a great option for campers setting up in the sand or snow. Because of the screw design, they won't pull out of the soft ground as easily as a smooth stake would, which is why they're the best option for winter or desert camping. However, because of this, it makes them a bad option for hard and rocky ground. Considering they're made out of plastic, and aren't designed to be hammered, you'll end up breaking all of your stakes if you don't use them in the proper ground.

In spite of being made from plastic, these orange screw stakes are still quite sturdy (certainly much better than whatever came with your tent in the first place). Even better, they're all made out of recycled material, so they're eco friendly as well.

Pros:

– Perfect for sand and snow camping
– Made from recycled material
– Lifetime breakage guarantee
– Very secure

Cons:

– Not the best option for firm ground

Now for the heavy hitters in the tent stake world…RIY stakes. Crafted from forged steel, feel free to hammer these things as hard as you want without fear of putting even the smallest dent on them. They are a bit more expensive than some of the other options, but you definitely get what you pay for in this case.

Of course, you don't have to use these solely for camping either. If you have something you need to pin down at home or somewhere else, these are a great, durable option to make use of all year. The thick diameter of these stakes makes sure that they grip the soil well, though depending on what you're trying to secure, they may be too thick to fit through the hole.

Pros:

– Nearly unbreakable
– Resists corrosion
– Multipurpose
– 8 pegs in a set

Cons:

– Heavy

If the Orange Screw anchors didn't catch your eye, perhaps these HJH stakes will be more your style for sand and snow camping. With a variety of holes drilled through the length of the stake, these products are more than capable of gripping even the most powdery snow.

Ideal for backpackers, these stakes are made out of lightweight aluminum, so you'll barely notice them in your pack. It is important to remember, though, that these are really only suitable for snow and sand. If you tried to bury them in the ground, you would more than likely damage them in some way. But from a specialty point of view, there's nothing better to use than these guys. Whether in the snow packed mountains, or the sandy desert, these stakes will have your back.

Pros:

– Lightweight aluminum
– Holes down the shaft for snow and sand camping
– They hold firm even in strong weather conditions
– Very large design to make sure it stays firmly rooted

Cons:

– Not suitable for anything other than soft ground
At Untamed Space, we're passionate about helping you have the best camping experience possible. Our team of experts have experience camping and backpacking all over the world, allowing them to provide insightful and relevant content to guide you in your outdoor pursuits.

All of our reviews are based on a combination of firsthand experience, extensive research, and an analysis of customer feedback. We are an independent website and do not receive payments or incentives from manufacturers to promote their products, and we continuously update our content to provide new information based on product availability. Wherever you are in your journey, whatever gear you're searching for, you can be sure to find unbiased and up-to-date reviews for all of your needs.
Final Thoughts
Finding the right tent stake is a very personal journey. Individual needs and preferences can vary widely when it comes to these items, so it feels unfair to declare a clear winner. Each stake mentioned in this review does the job that it was made for very well, and each job is different in respect to the others. However, for a number of reasons, we believe that ABCCANOPYs tent stakes won this contest.

Made out of galvanized steel, these stakes will withstand the test of time without receiving too much noticeable damage. They're also long, and have a large head that's easy to aim for with your mallet, so that you can drive it into even the toughest ground. Even though they aren't ideal for sand and snow, "real" ground is what most of you will likely be camping on most of the time, so we believe these stakes are the better option.

Need a good tent to stake down? Check out our 6 person tent review if you're trying to house a lot of people, or our 2 person tent review if you're going solo!
---
Related Posts: