Home » Planning »

If you're in a rush and want to find out what the best hammock rain tarp is, we recommend the Wise Owl Outfitters Rain Tarp.

For camping and hammocking alike, bad weather is something that most outdoor enthusiasts dread. During the night, especially, no one likes waking up in a puddle of water!

With hammocking especially, the danger is in the open top – it's really easy for water and wind to enter into this gap and make you miserable. To help you keep your cocoon from turning into tiny swimming pool, a hammock rain fly should be the next item you add to your shopping list. We've laid out a few good options below to help you out in a pinch.
In this article, we'll be reviewing the following hammock rain tarps:
The Big 3
Admittedly, hammocking wasn't one of those things that I did very much of when I was growing up. My time in college introduced me to the pleasure of swinging between the trees, and you could often find me in a single hammock with several other classmates as we tried to plow through homework. It wasn't the most comfortable setup, but the thrill was enough to keep spirits high as we all worked on our individual projects.

And no, I honestly don't know how we all fit in one hammock together.

Over the years, I've had many friends get into hammocking through similar means. The relaxation felt from taking a nap suspended off the ground is hard to beat… That is, until a rain shower rolls in and startles you awake so suddenly that you fall to the ground. On a fateful day last year, this very scenario happened to a friend of mine, and I haven't let him forget it since then!

Now, typically you won't actually need rain protection for leisurely hammocking because you'll do you due diligence and check the weather forecast before you head out. Hammock camping, on the other hand, requires a bit more preparation, which is where my Big 3 list of accessories comes in: underquilt, bug net, and rain tarp. In this particular review, we'll be talking about a handy piece of gear tasked with keeping you dry.

The hammock rain tarp.
How Does it Work?
For tent camping, staying protected from the elements is pretty easy to understand. You toss the rainfly over the tent, make sure the fabric is taut, clip it into place, and you're good to go when storms make their entrance. When it comes to hammocking, though, what are you supposed to secure the tarp to? You certainly don't want to drape it over the hammock itself, otherwise you'll be feeling pretty claustrophobic, and you may start to cut off some of your oxygen supply. And how are you supposed to make sure it stays taut, so water rolls right off without pooling? It's not like a rainfly that you stretch tightly over the tent.

The answer to all of these problems can be solved with a fair amount of cordage. Once you've got your hammock set up, string a line around the same trees, making sure it's wrapped around roughly the same area that your hammock is attached to. Despite being connected to the trees at the same point, your hammock rainfly will hover a couple feet above your head, because of how far your hammock dips down in the middle.

Toss the tarp over the line so that it's even on each side, and then stake it down into the ground to keep it taut. When you're done, there should be at least 6 inches between your hammock and the rain tarp on either side, to help keep the rain far enough away from your sleeping area.
Important Features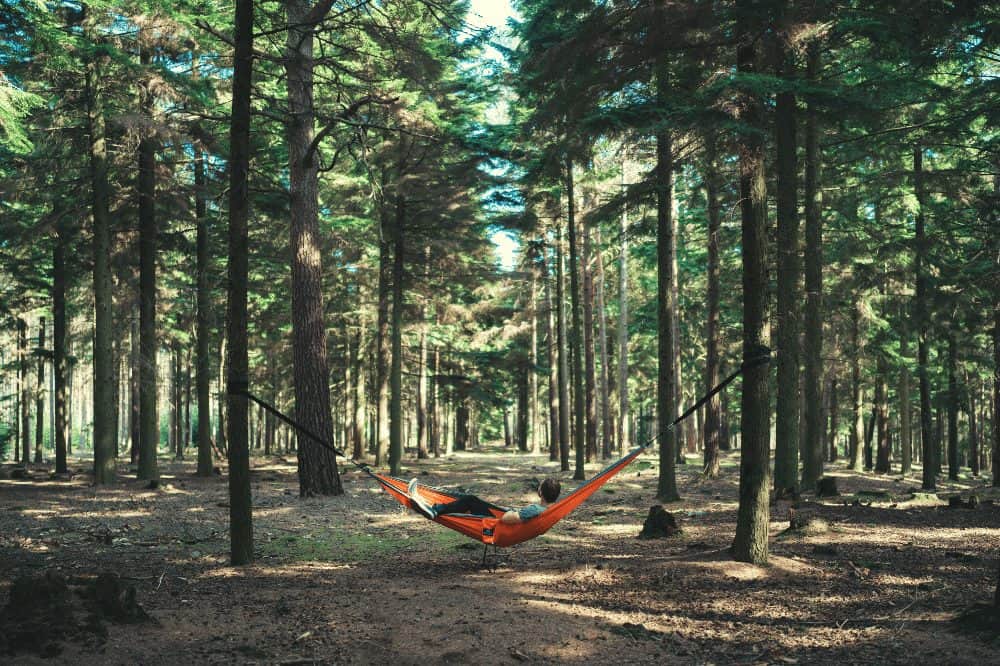 As always, you want to make sure that whatever tarp you get will be able to withstand the rain. A product that's waterproof is necessary in order to keep you and your gear dry – if it can't even do this much, then why even bother getting a hammock rainfly in the first place!

It's also worth noting that the stakes you use to secure your tarp are extremely important. As it tends to be with tents as well, the stakes that come with a tarp tend to be average (if not subpar) quality at best. Naturally, it's a problem if they pop out of the ground in the middle of a rainstorm, so investing in a good set is a must. If you already consider yourself a tent camper, the great thing is that you don't need to go out and buy more! Unless you want to, of course, in which I would strongly recommend you check these ones out.

Finally, as it is with all camping gear, keep a close eye on the durability and weight of the item in question. If you're going to spend money on something, you want it to be strong enough to last you for awhile, even after putting it through rough wilderness exposure. And weight goes without saying – if you're going to be backpacking with it, lighter is always better. Personally, I don't think you need to be "super" nitpicky about counting grams, but after hiking for a several hours, you'll definitely be feeling the weight of everything you shoved in your pack.
Hammock Rain Tarp Reviews
The ENO ProFly rain tarp has some of the best coverage I've seen, when compared with other, similar products. The rectangular shape fully shelters you from above, and the sides hug down to protect you on both sides as well. If you find yourself in a particularly rough storm, even rain that's being blown horizontally by the wind will have a hard time entering your hammock.

The tarp has 6 points of contact for added security, with 4 of them being each corner that are staked into the ground. ENO does a pretty good job of providing stakes that actually stay where they belong, but I still suggest going to the store to get some new, high quality ones.

In terms of weight, the ProFly tarp comes in at a little over a pound, which is certainly doable. Not necessarily "ultralight" by some standards, but light enough where most backpackers won't complain about the weight. With the combination of your hammock, tarp, and underquilt, it should be possible to keep your setup around 7 pounds without too much trouble.

Pros:

– Good coverage
– Fairly lightweight
– Secure design
– Easy to set up

Cons:

– The stakes that are provided aren't the highest quality

For those of you on a budget, the Pro Venture hammock rain fly might be worth considering. Its weight makes it something that I wouldn't necessarily recommend for backpackers, but if an extra pound doesn't bother you too much, it's hard to do better for the price.

The higher weight does seem to make this tarp a bit more durable though, as it's able to withstand a beating when tested in the pacific northwest. Whether you're being hammered with strong winds, heavy rain, or any other kind of unpleasant weather, you shouldn't have any problem staying dry inside your hammock. The stitching is solid, the material is rugged, and surprisingly, even the stakes seem to be pretty good.

For weekend warriors, or those of you just starting to test the waters with hammock camping, I'd recommend going with this product for the price point. There's no need to go with the ultralight (and ultra expensive) tarps when you're just starting out, or if you aren't planning on carrying it very far.

Pros:

– Very affordable
– Durable material
– Good weather coverage
– Great for beginners

Cons:

– On the heavy side

Though it's the often the dream, finding something you like that's both high quality and affordably priced can be a challenge. Considering most hammock rain tarps cost around 3 figures, especially the type that are ultralightweight, it can be hard to find a decent option that won't take a chunk out of your bank account.

Wise Owl Outfitters actually managed to get pretty close to this ideal setup, though. Their rain tarp might not be the lightest on the market (it's about 1.6 pounds), but it's still in a ballpark that I believe would be acceptable for most backpackers. If you can get past the point of counting ounces, I think you'll find that there's little else to complain about with this product.

The fabric will hug your hammock nicely, and it's big enough to protect you thoroughly. You'll even notice that much of the ground beneath you will stay dry in a heavy downpour as well, so if you like to keep your boots and gear exposed, they shouldn't get very wet either.

Pros:

– Wide coverage
– 6 guylines, 4 high quality stakes
– A decent weight
– Reasonably priced

Cons:

– Would be nice if it came with instructions
At Untamed Space, we're passionate about helping you have the best camping experience possible. Our team of experts have experience camping and backpacking all over the world, allowing them to provide insightful and relevant content to guide you in your outdoor pursuits.

All of our reviews are based on a combination of firsthand experience, extensive research, and an analysis of customer feedback. We are an independent website and do not receive payments or incentives from manufacturers to promote their products, and we continuously update our content to provide new information based on product availability. Wherever you are in your journey, whatever gear you're searching for, you can be sure to find unbiased and up-to-date reviews for all of your needs.
Final Thoughts
Hammocking is a freeing experience that I believe everyone should try at some point in their lives. And while the camping this way can be intimidating for those who have never done it before, it doesn't have to be unpleasant if you have the proper gear.

When rain storms come in, you need something that's going to be waterproof (and stay waterproof), but that's not going to do you any good if it doesn't fully enclose your cocoon. Your tarp should extend at least 6 inches past the edge of your hammock, hugging it comfortably so that when the wind and rain come from above or the side, you'll be protected. Of course, beyond the essentials of keeping you dry and cozy, it never hurts to have a product that's lightweight and affordable too. At the end of the day, the hammock rain tarp that we believe checks these boxes the best is the Wise Owl Outfitter rain tarp.
---
Related Posts: