The 10th largest state by land mass, Wyoming is well known for being an outdoorsman's paradise. Despite it's massive size, it has the smallest population out of any state, meaning it's possible to explore most areas without running into another soul. Unless, of course, you're counting all of the cattle or sheep.

Due to the vast amount of untamed landscape, it's a popular location for backpackers looking to escape from it all. Much of the state is fairly barren, but on either side, you'll discover famous hotspots such as Yellowstone, the Grand Tetons, or the Bighorns, known for their natural beauty. We'll take a look at some of the best backpacking trails you can find in Wyoming, and what you should expect to find when you get there.
Map of Wyoming Hiking Trails
Titcomb Lakes
In the western half of the state, within Bridger Wilderness, you'll find a crowd favorite backpacking trail. The hike out to Titcomb Basin is well worth the 30 miles of effort (and handful of nights in a tent) that it'll take to get there and back. It's a moderately rated trail with lots of elevation change along the way, but nothing too difficult if you've taken the time to acclimate prior to arrival.

Unless you're hiking in the dead of summer, it can get a little chilly at night. Starting in August, you can expect daytime temperatures to hit the 60s, which is about perfect, in my opinion. Night brings with it dramatically cooler air, hovering around the low 20s. Needless to say, you'll want a sleeping bag rated for cold temperatures, and a sleeping bag liner to go with it.

Much of the trail is easy to follow, but there is a section in Indian Basin that isn't very well marked. It'll be helpful if you have a map and compass on you (and know how to use them), or some other form of GPS to guide you on your way. If you can get past this little gripe, the trail is gorgeous, and a great way to escape and have fun for a few days.
Teton Crest Trail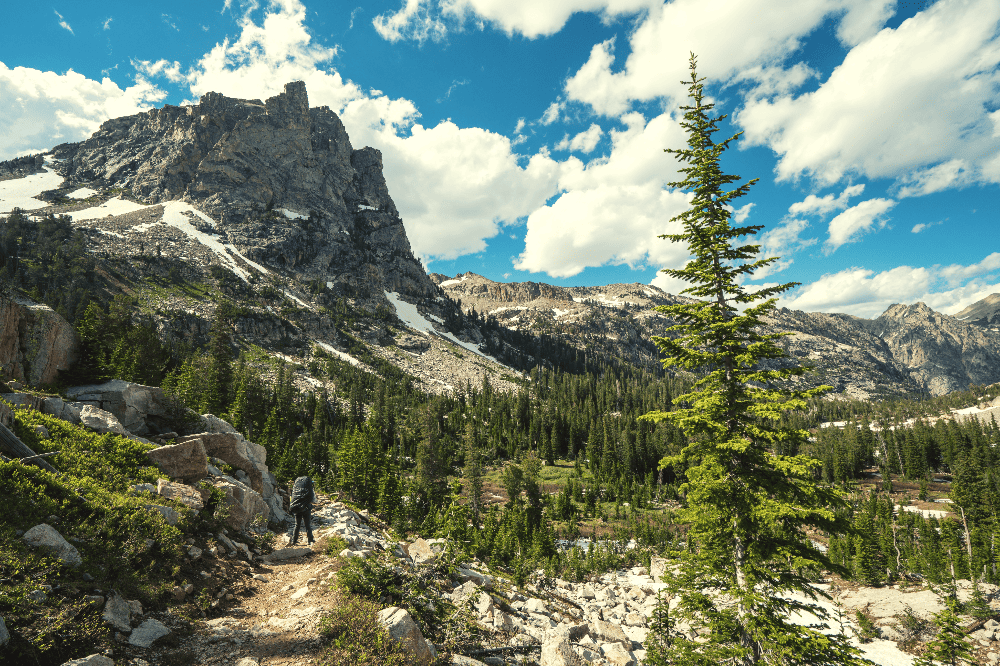 Arguably the prettiest hike on this list, the Teton Crest Trail is something that I believe should be on everyone's bucket list. Prepare to have your butt kicked though, as this hike isn't for the faint of heart.

The crest trail is sort of a combination of other, shorter hikes, usually starting around the Death Canyon area (a hike that also made this list further down the article), though you can also start at the Granite Canyon trailhead. From there, most trekkers will make their way to the Alaskin Basin for a night next to the gorgeous alpine lakes. This is a great chance to refill your water containers, and take a dip in the lake if you want to scrub off the grime accumulated by outdoor living.

You'll likely attempt to cross Hurricane Pass the next day, which is widely regarded as the prettiest section of the entire trail. Considering how stunning all 30ish miles of the hike is, this is some serious praise that I believe is completely accurate. After completing the pass, you'll end up in Cascade Canyon and the endless amount of waterfalls that flow in the area. Many folks opt to camp on this stretch of the trail.

Eventually you'll end up next to Lake Solitude, which ironically enough, tends to be anything but quiet. It's fairly close to the Jenny Lake park center, so plenty of day hikers enjoy making the pilgrimage to Lake Solitude. Then, it's practically all downhill to Holly Lake and String Lake.

Again, there are multiple different ways to tackle the Teton Crest trail – the route listed above is one of several that you can take. Along the way, you'll be able to take your time and explore different paths that shoot out from the main, for other scenic excursions along the way.
Dad's Lake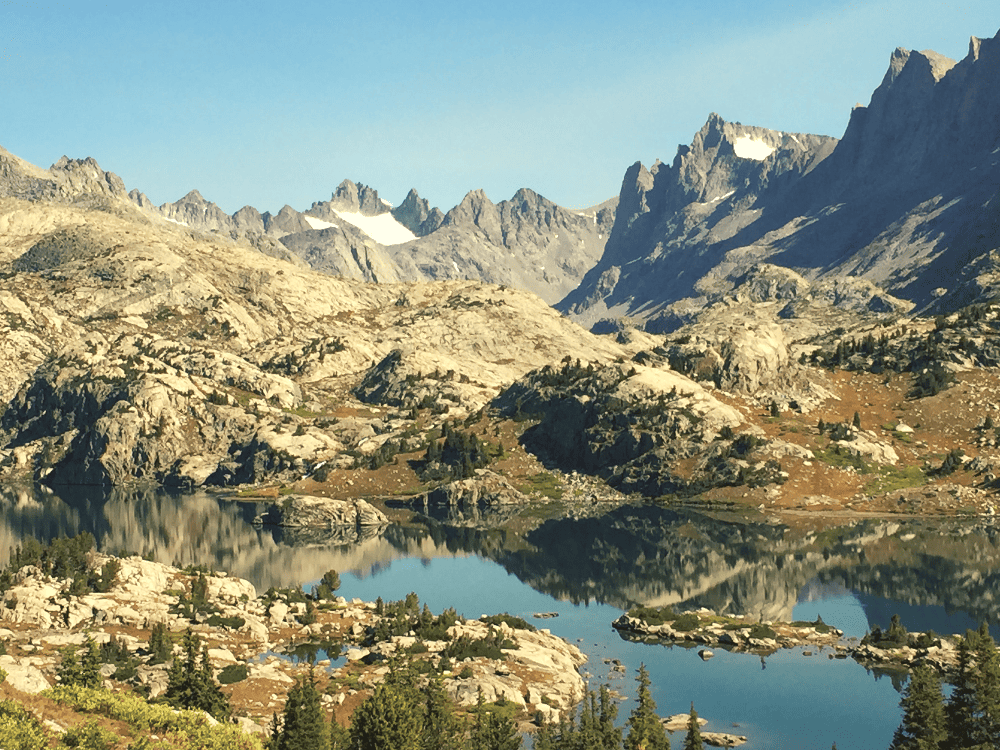 The first part of longer hikes out into Bridger Wilderness, Dad's Lake is a nice day trip if you're firing on all cylinders. Otherwise, bring a tent and set up for a night under the stars in this stunning part of Wyoming.

It's a relatively easy trail, with the first 3.5 miles traversing through a forest. Fallen trees can occasionally be obstructing the path, so make sure you allot enough time to work around these obstacles. Overall, though, the trail is very well maintained and easy to follow.

Once you reach the meadow and see the mountains in the distance, any boredom, fatigue, or frustration will melt away. Many hikers decide to stop here and turn around, so they can make the several mile journey back to their car and call it a day. However, I suggest you continue forward and make camp next to the lake, so you can take the time to thoroughly explore your surroundings. Of course, if you plan on tackling the hike out to Dream Lake, you'll probably want to stop here for the night anyway.

Keep in mind that the creeks easily get swollen after a hefty snow melt or rainfall, and you'll have to find places to cross them safely. Even in the warmer months, it can get cold and windy, sometimes with temperatures hitting the 20s overnight. Plan accordingly so you can spend more time enjoying the trip, and less time freezing to death.
Death Canyon Loop
At about 26 miles long, you can try to do the Death Canyon trail in one day, but I certainly wouldn't recommend it. And why would you want to anyway? Spend a night in the Alaskin Basin, well known for its beauty. If you don't feel like huffing it, a second night camping in the Grand Teton National Park wouldn't hurt either.

There's no need to pack out a lot to drink, because as long as you have a way to purify the natural water sources, there's plenty to go around. There tend to be a lot of trout swimming around in the basin as well, if fishing is something that you enjoy doing. Keep in mind, though, that there's about a 2 mile stretch of trail next to Static Peak that is pretty dry. Make sure to fill up your bladder or other water containers before reaching this area.

The dirt road leading up to the trailhead is pretty bad, but manageable with an SUV. Once you start trekking, expect to see a lot of wildflowers during the summer months, and plenty of wildlife on top of that. Be wary of porcupines and other critters digging into your supplies, as they'll make quick work of it if you leave it accessible to them.

Outside of the official Death Canyon loop, there are a couple of detours that you can make. Consider checking out the Phelps Lake cliff jump for an exciting way to cool off and relax after hiking for so many miles. It's definitely worth the pit stop.
The Thorofare and South Boundary Trail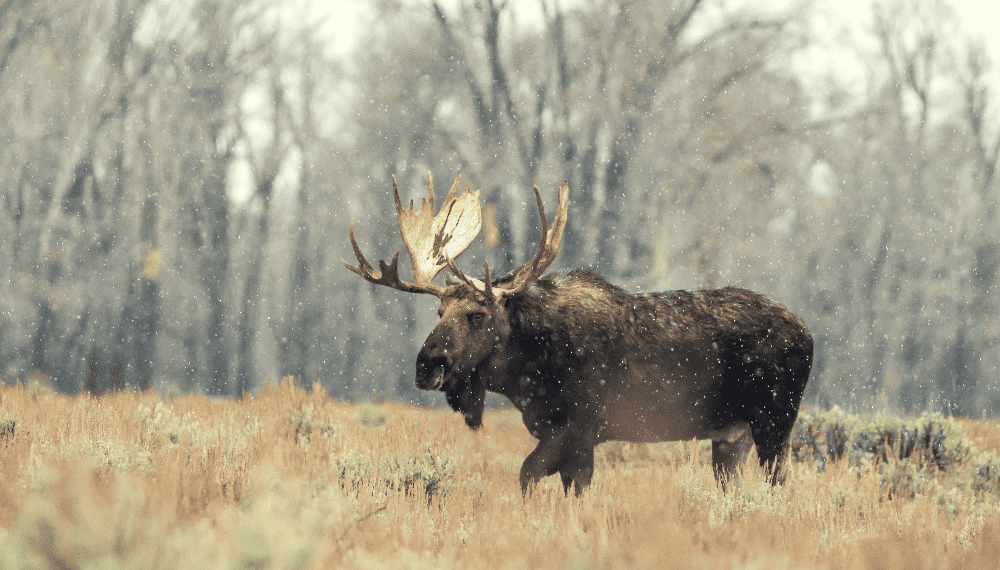 Located within the famous Yellowstone National Park, this trail starts next to Yellowstone Lake and brings you all the way to the edge of the park. It's a long trek, coming in at around 68 miles total, and will likely require you to put in some serious mileage on most days. Thankfully there isn't very much elevation gain or loss, so it shouldn't be as difficult to burn through such a long distance in a day.

This trail isn't as dramatic as many of the ones we've discussed above, but that doesn't mean the scenery is lacking in any way. It's a forested path with plenty of meadow sections that provide views of the mountains in the distance. Water sources aren't hard to come by, so a means for water purification and a bladder (or some other container) is all you'll really need to stay hydrated.

The real gem of this place, though, is the abundance of wildlife that you'll run into. It's possible to encounter any number of bison, moose, elk, deer, bears…basically, if it lives in Wyoming, you can probably find it here. The tracks of these animals and more (such as wolves) are also quite common. Unfortunately, mosquitoes and other bugs appear just as frequently, so make sure you remember to add bug spray to your camping checklist!
Cloud Peak
At 22.5 miles, Cloud Peak can be a doable day hike for some, but know your limits. This isn't exactly a walk in the park. In fact, I would only recommend this trail to very experienced trekkers who are comfortable working with rough terrain, no obvious trail in some portions, and a decent amount of exposure. Tack on the high altitude and general lack of resources (like water), and you've got yourself a disaster waiting to happen if you aren't prepared.

Be sure to thoroughly acclimate before attempting this hike, as it does traverse the 12-13,000 foot range. Given how steep some sections of the trail are, the last thing you want to do is add altitude sickness to the mix, especially since it can start to get dangerous for some people at this point. Take your time getting up that high, and spend a night at the Misty Moon campsite for good measure before attempting to summit. If you've taken proper precautions, though, the views are well worth the effort.

The alpine lake surrounded by mountains is stunning to say the least, and the evergreen forests only add to the effect. Snow drifts can be common, even into some of the summer months, and mosquitoes are bad enough where you won't want to stop for lunch. However, for a stellar views and a solid hike that will leave you feeling sore and satisfied, nothing beats Cloud Peak.
Frozen Lakes via Angeline Trail
Located in northern Wyoming near the town of Buffalo, you won't want to miss this incredibly scenic cluster of lakes. As you might expect, they're called the Frozen Lakes for a reason – even in early June, you'll find that they're still covered in ice. Of course, that means there will be plenty of snow drifts in the area as well, so pack accordingly.

Vast boulder fields line this hike, and that's especially true around both Upper and Lower Frozen Lake. As such, you won't really be able to find a suitable place to pitch your tent around the water, though there are some rocks big enough to accommodate your shelter.

From Upper Frozen Lake, your orienteering skills will be put to the test. Head southeast until you find yourself around 10,500 feet, and then turn south to climb the boulder field. This will put you in the direction of Lake Angeline, which is how you'll want to exit the hike.

Like some of the other hikes mentioned in this article, you can expect cold temperatures well into the summer. The alpine climate can be brutal for those who don't prepare for nighttime, so a highly rated mummy bag and sleeping bag liner are necessary additions to the contents of your backpack.
We know we're only scratching the surface of all the amazing trails open to backpackers in Wyoming. That's why, if you live in this great state or have visited before, we'd love to hear about your favorite multi-day backpacking trail! Just drop its name and a few sentences describing why you like it in the comments below. We look forward to hearing from you!