Tents are our lifeline out in the wilderness. They're what keep us protected against the elements, and prevent creepy crawlies from invading our personal space. But what if I asked you this – do you know what your tent is made of? Many of us don't, even though the answer is vitally important for helping us get the most out of our camping experience.

If you want to see if you're using your tent efficiently, check out our guide below to discover what climates and camping styles are best suited for you. And if you don't have a tent yet, it can't hurt to keep this article in mind while you're out searching for your next shelter.
What are Tents Made Of?
Over the years, tents have changed (and improved) dramatically. For example, canvas used to be a more popular tent material, but it was heavy and often let water in during a rain shower. Shelters used to be bulky and difficult to setup and take down, and ultralight backpacking was nothing more than a dream. If you wanted to do a multiday trek through the mountains, you needed to train hard in order to shoulder all of the weight.

Now, things are a lot different than they used to be. If you go to a local outfitter and take a look at their tents, you'll probably notice that the materials are different from how they were in the past. Which begs the question – what are tents made of? And even more importantly, what material is right for you?

In this article, we'll take a look at the variety of tent fabrics that you can choose from, as well as pole material. Each are important for you camp setup, and can make or break your outing depending on what you choose.
Tent Materials
When looking at tent materials, you really have 6 that you can choose from. Some of these aren't very common, however, so we won't spend too much time talking about these. In total, they are: canvas, polyester, nylon, PVC, and cuben fiber.
1. Canvas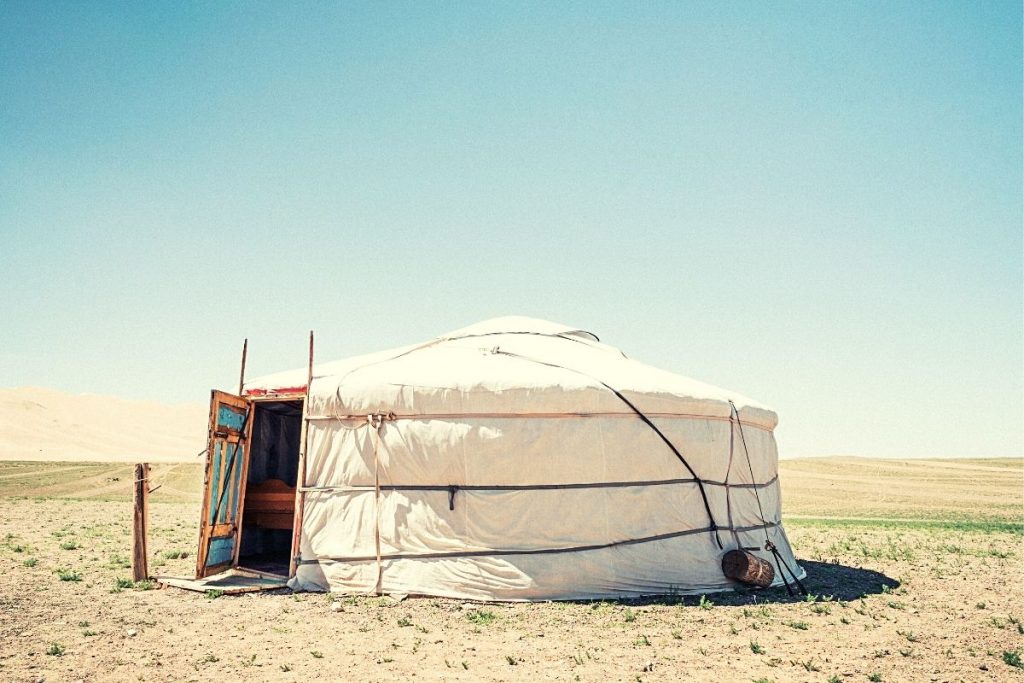 Cotton canvas is a material that you'll often find at glampsites, whether you're staying in a teepee, large cabin tent, or yurt. In the past, canvas was known to leak when exposed to heavy rain, which was one of its biggest downfalls along with its heavy weight. However, technology has come a long way in the last few decades.

Now, canvas is widely regarded as the most durable, long-lasting material that you can find in a tent. Thick and heavy, it can resist abrasions and tears better than anything else. Of course, this means that it's far too cumbersome to carry long distances, but it's perfect for those of you who want to stay in one location. Since canvas tents tend to be larger anyway, they're ideal for families who want to experience as much luxury as possible while living in the wild.

Because canvas is so thick, it has superior insulation qualities. In the summer, heat will have a hard time penetrating the durable walls, and in the winter, the warmth will stay trapped inside. Overall, you're in for a comfortable treat if you decide to purchase a tent made from this material.
Pros:

Durable and abrasion resistant
Easy to repair
Breathable
Waterproof
Insulative
Cons:

Heavy
Require a lot of maintenance
2. Polyester
Polyester is one of the newer tent materials, along with other synthetic fabrics like nylon. And along with nylon, it's one of the most commonly used fabrics because of how easy it is to manufacture, and how well it holds up in the front and backcountry.

Because it's so easy to make, polyester is one of the cheapest tent fabrics that you can get. This affordability has made camping easily accessible for folks from all walks of life, who might have different interests and competencies. And compared to canvas, polyester is ridiculously lightweight, opening up backpacking to people who might not want to lug around 40 pounds on their back.

Since we're comparing polyester with canvas, it's worth noting a few other benefits from synthetic materials versus natural materials. For starters, poly won't shrink when you leave it alone for a long period of time. It's also impervious to rot and the accumulation of mildew, if you leave it in a warm, damp environment. Unfortunately, the same can't be said about canvas, which is one of the primary reasons people avoid it.

Of course, polyester still has its cons as well. While it has superior water resistance, the material lacks breathability, which can create a stuffy and damp interior. Condensation will build up, and air will have no way to circulate, which is why it's so important to have a ventilation system in place for these types of tents.
Pros:

Lightweight
Affordable
Waterproof
Resists rot and mildew
Easy to fold back up and pack away
3. Nylon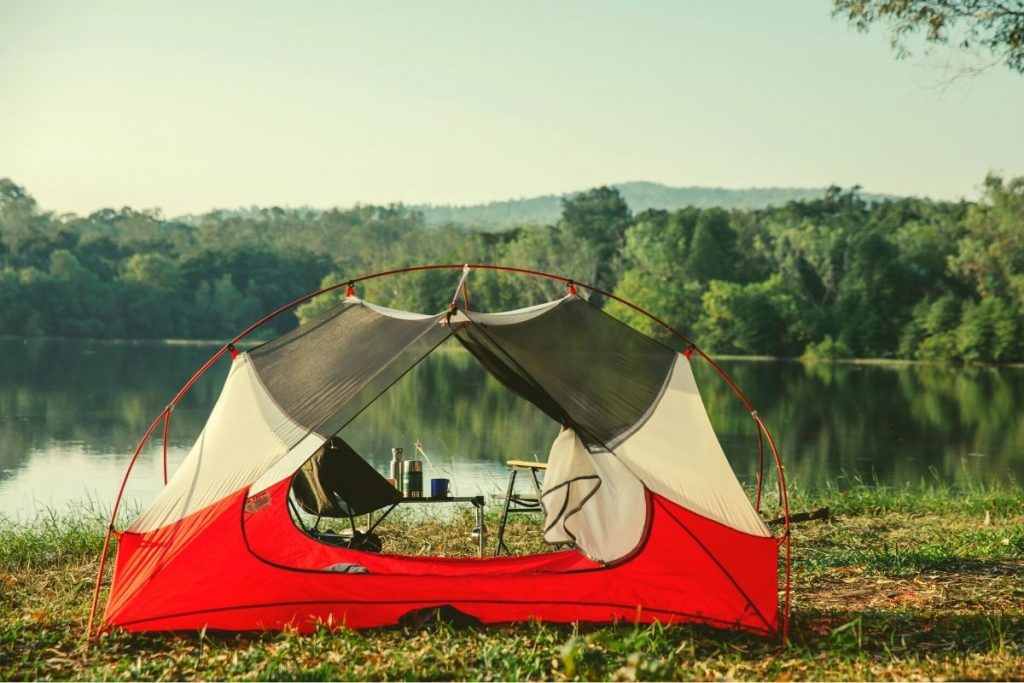 Along with polyester, nylon is one of the most commonly used materials in tent construction today. Understandably, synthetics like these have been gaining popularity because they're cheap and lightweight, while providing sufficient protection against the elements.

In many ways, I could just copy and paste the benefits of polyester and put them here. The two materials are so similar in the sense that they don't rot, are affordable, and won't shrink. They're even the same in the sense that they lack breathability – the biggest downside to synthetics in general.

However, nylon is different in the sense that a ripstop variety is commonly used as tent material. As you might gather from the name, ripstop nylon prevents any rips or tears from widening further. Getting a hole in your shelter is bad enough, but wouldn't it be even worse if the tear expanded every time you pitched the tent or it rubbed against something sharp? Ripstop nylon prevents this from happening, allowing you to keep damage to a minimum so you can withstand the rest of your trip with less discomfort.
Pros:

Lightweight
Waterproof
Ripstop variety prevents tears from widening
Packs down well
Durable
4. PVC
Yes, some tents are actually made from PVC (short for poly vinyl chloride). It's hardly the norm, however, and you may never come across a camping tent that's made from this material. Mostly, they can be found in the creation of various heavy-duty tarps and larger tents that one wouldn't necessarily use for camping purposes.

PVC is a valuable tent material simply because of how durable it is. Strong, tear resistant, waterproof, mildew proof, UV resistant…among all the things that tents are made of, this is one of the toughest you can find. However, as it is with all good things, there's always a downside. In the case of PVC, that would be the expensive price and excessive weight and bulk. As such, it's not very common in most commercially sold tents, though it is often woven into canvas tents to make them stronger and more weather resistant.
Pros:

Waterproof
Durable
Mildew proof
UV resistant
Resists fire
Cons:

Expensive
Heavy and bulky
5. Cuben Fiber (Dyneema)
Another fabric that's more unconventional, cuben fiber (or Dyneema, as it's now called) is a high strength, extremely light material. Very few shelters are actually made from this material, mostly because it's expensive and requires more effort for storing and maintaining. However, there are several tents produced by Big Agnes that make use of Dyneema.

On the whole, Dyneema is a fairly impressive material, though it does have some significant drawbacks. As one of the most lightweight materials you can find, it makes some excellent backpacking tents. And despite weighing a fraction of something like nylon and polyester, it's practically as strong as what you'd find in a canvas cotton tent.

The downside is that Dyneema is very expensive, and requires a lot of maintenance both on and off the trail. As such, it's not an ideal camping fabric for most people, unless they're hardcore backpackers with cash to spare. On top of that, it has low heat resistance, needs to be folded (instead of stuffed), and doesn't stretch.
Pros:

Ultralightweight
Strong
UV resistant
Waterproof
Perfect for backpacking
Cons:

Expensive
Low heat resistance
Doesn't stretch
Tent Poles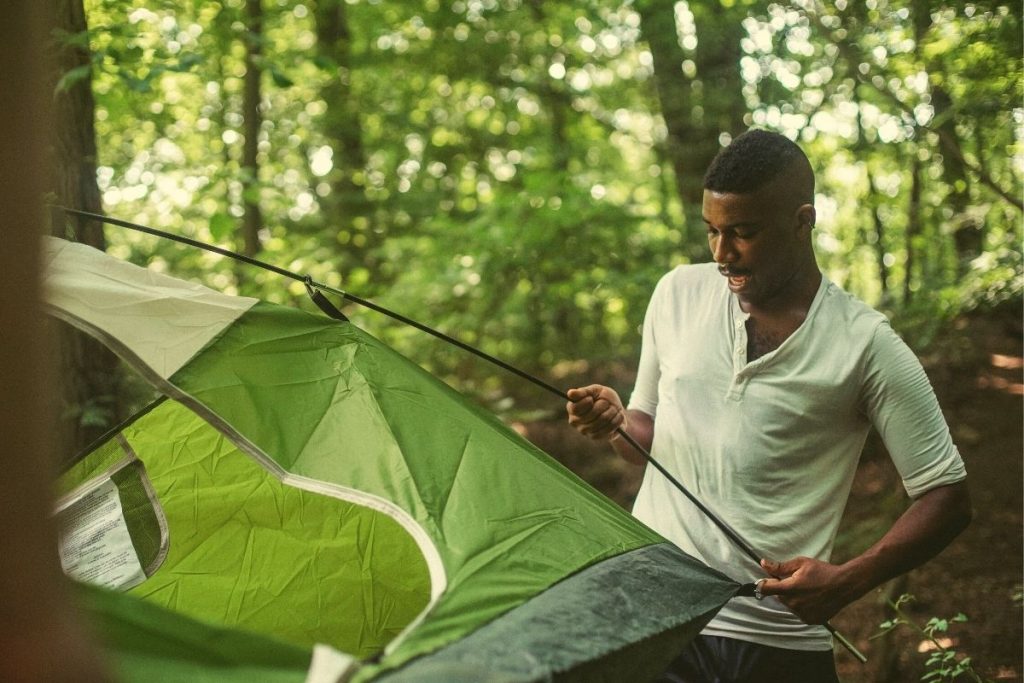 We can't talk about tent materials without touching on poles as well. After all, they are what give your shelter its shape, and having the right poles can make or break your camping trip. While there are a couple other options, aluminum, fiberglass, steel, and carbon fiber are going to be the most common pole materials that you'll find. Composites also exist, but it's a lot harder to find a shelter that makes use of these.
1. Aluminum
Aluminum is my favorite pole type, and it's what I almost exclusively use. It makes sense though – as someone who likes to backpack in alpine environments, aluminum is the "no brainer" option for me to pick. Lightweight and very durable, it's easy to cut back on ounces without compromising on durability. Strong winds will have a difficult time snapping these poles, partly because of how aluminum is able to strike a good balance between flexibility and rigidity.

Admittedly, it's still not as good as carbon fiber, but it's far more affordable for the average camper. At the end of the day, aluminum will always be the most versatile and most accessible pole material that can be found in tent construction.
Pros:

Lightweight
Strong yet flexible
Versatile
Repairable in the field
Can handle a variety of temperatures
Cons:

Can be more expensive
Will corrode when exposed to salt air, unless properly taken care of
2. Fiberglass
Lighter than steel but heavier than aluminum, fiberglass is the middle ground when it comes to pole weight. It's widely regarded as the cheapest material as well, which is why it's commonly found in lower tier shelters.

While I acknowledge the appeal of fiberglass for folks on a budget, I have to admit that this is my least favorite pole type. For starters, it's less durable than any of its rivals, and weak poles are the last thing you want in a tent. It doesn't matter if you're car camping or backpacking, a broken pole is a great way to ruin your entire trip. Manufactures have compensated for this by making them thicker, but that's also part of the reason why they're so heavy too.

Next, it doesn't hold up very well in colder temperatures. Fiberglass will splinter once it gets chilly enough, and splinters will easily get stuck in your skin when you're trying to pitch or tear down your tent. Not to mention, it'll be harder to slide through the sleeves of fabric without tearing something.
Pros:

Cheap
Don't corrode
Easily produced
Cons:

Less durable
Splinter with time
Might snap in the cold
Heavier material
3. Steel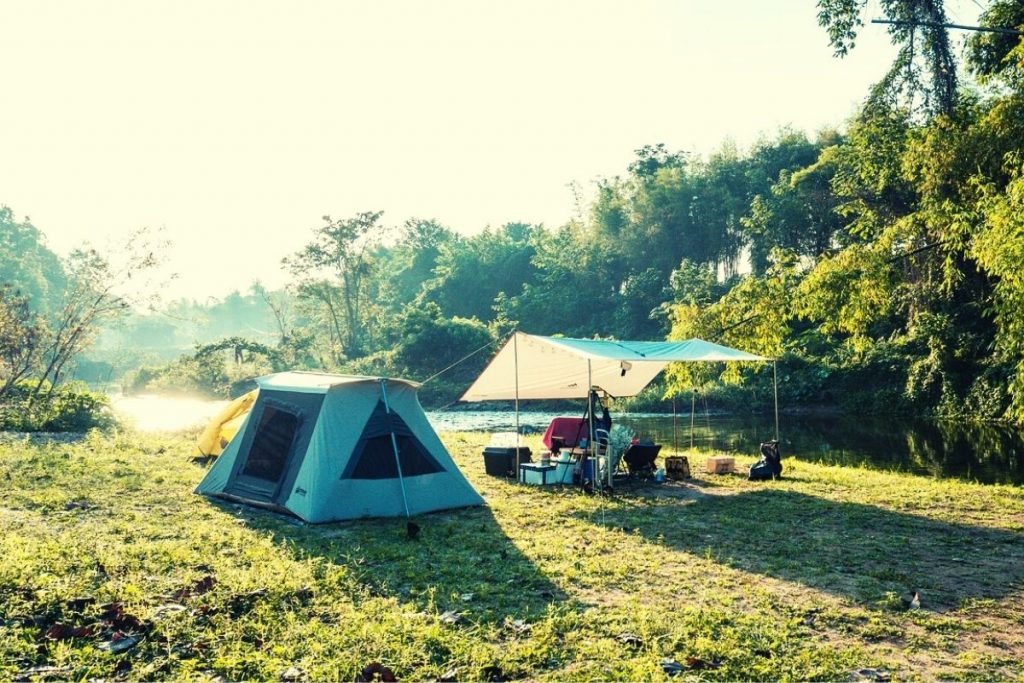 Almost exclusively found within larger shelters, steel is incredibly strong and useful for giving shape to cabin tents and other structures that have a high capacity. As you might expect, the downside with steel is its weight, but you don't buy massive tents because you want to carry them long distances. For the purpose that it was designed for, steel poles can't be beat.

Unfortunately, that's where most of the benefits end. They might be great when it comes to durability and strength, but the amount of weight they create is almost unbearable. In addition to that, steel is prone to rusting, which is why I'd suggest going with stainless steel when possible. However, stainless steel is quite expensive, so it's not really a viable option if you're on a budget. But if you plan on living in your tent, or if you'd like to go car camping regularly, stainless steel poles can be a worthy investment.
Pros:

Sturdy
Great for bad weather
Almost unbreakable
Not too expensive
Cons:

Very heavy
Prone to rusting
4. Carbon Fiber
In almost every regard, carbon fiber is the superior pole material. It's the lightest, strongest, most durable type that you can get, making it perfect for ultralightweight backpackers who want a strong tent. Even if you find yourself in the midst of extreme temperatures, carbon fiber will stand up to the challenge and come out on top.

But here's the kicker – carbon fiber is roughly 50% more expensive than any other pole material. Most tents that utilize this component land in the several hundred dollar range, if not more. They're strong, and won't corrode, but they also lack the flexibility that aluminum provides. Because of these things, carbon fiber is often found in smaller shelters for use in areas that aren't prone to strong wind gusts.
Pros:

Very strong
Very lightweight
Very durable
Handles extreme temperatures well
Doesn't corrode
Final Thoughts
Any combination of pole and tent material that we've listed above will serve as an adequate shelter. However, whether or not it will give you the experience you're looking for is entirely up to you. Steel poles with canvas are not going to work for a backpacking trip, and fiberglass poles with Dyneema are not going to work for winter camping. Here's a quick rundown of what camping materials go well with certain activities:

Canvas/PVC/Steel: Great for cabin tents, glamping structures, and other high-capacity shelters. Very durable and weather resistant, but not good for mobility because of the high weight.

Polyester/Nylon/Aluminum: A polyester and aluminum, or nylon and aluminum, combination is going to be the most common pairing among camping tents. Either of these can be used on both backpacking and car camping trips. Known for being lightweight and durable, and middle of the line in terms of cost.

Polyester/Nylon/Fiberglass: A cheaper version of its aluminum counterpart. The higher weight makes it less ideal for backpacking, but can still be a good option for car camping. Perfect for folks on a budget who only hit the campgrounds in the summer.

Dyneema/Carbon Fiber: Mostly used by ultralightweight backpackers. A Dyneema and aluminum combination could also work well for this setup. Well known for being light and durable, the downside is that neither material is very flexible, and they're both quite expensive.
---
Related Posts: