If you're shopping for a camping shelter or simply overhearing chatter about desirable tent features, you may have wondered: What is a tent vestibule?

Tent vestibules are essentially a covered portion of your tent separate from the sleeping area. They provide convenience and campsite functionality as a sheltered area for stashing gear, (carefully) cooking food, and changing out of wet or muddy shoes and clothing. Rain can strike at any time, and space is of the essence no matter the size of your group. If you want to save yourself some hassle and some dry sleeping space, a tent vestibule is not a feature you want to skip over.
Tent Vestibules by Type
Tent vestibules can be as luxurious as a full-closure, zippered area, and as simple as a triangular flap staked down at one corner of the structure. Some tents are made with a vestibule attached, while others may need an add-on vestibule. In a pinch, a camper might venture to make one out of a tarp or other waterproof material. The two most common types of tent vestibules are at the sides or front of the structure.
Front Vestibules – Pros and Cons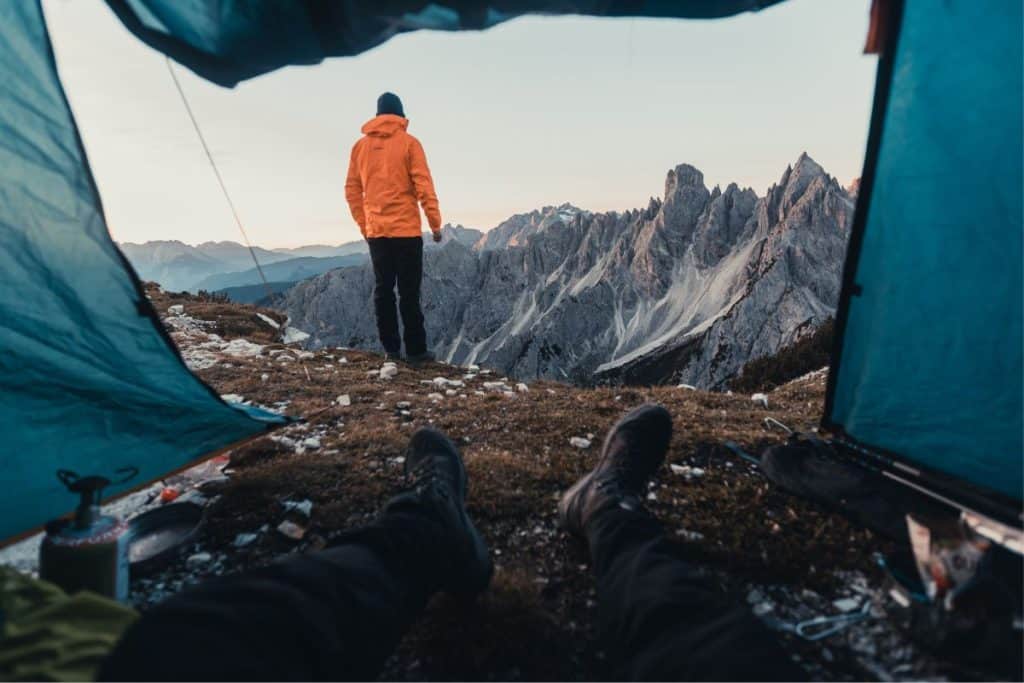 A front vestibule is just what it sounds like: a covered area at the front entrance of the tent. Whether it's pouring or just downright mucky outside, this is a helpful arrangement for removing wet or muddy shoes and clothing in a sheltered space immediately before entering the sleeping area. In the warmer seasons, another benefit is the extra layer of protection against mosquitos and other insects as you enter and exit the tent. Particularly for front vestibules with zipper or tie closure, this handy first wall of defense can mean the difference between a sleepless night of bug-slapping and a peaceful outdoor slumber.

If you're looking for maximum space in this mud-room like area, the front vestibule is probably your best bet, as it tends to be larger than a side vestibule. For the 6-person tent my family used to take camping, the attached front vestibule was large enough to accommodate our shoes, a few bags, and a small cooler. However, keep in mind that too much gear stored here can hinder your walkway into the sleeping area.

The main drawback to a front vestibule may be the fact that the extra material and poles will add a bit of bulk and weight to your pack. However, the backpacker will obviously note this before the recreational family camper, or the "glamper." The group camping party hauling their gear in the car may be delighted to find tents such as the Nemo Aurora Highrise 6-person tent. The Nemo Aurora includes two vestibules, one for the front entry and one for the back for maximal storage space and entry/exit functionality.
Side Vestibules – Pros and Cons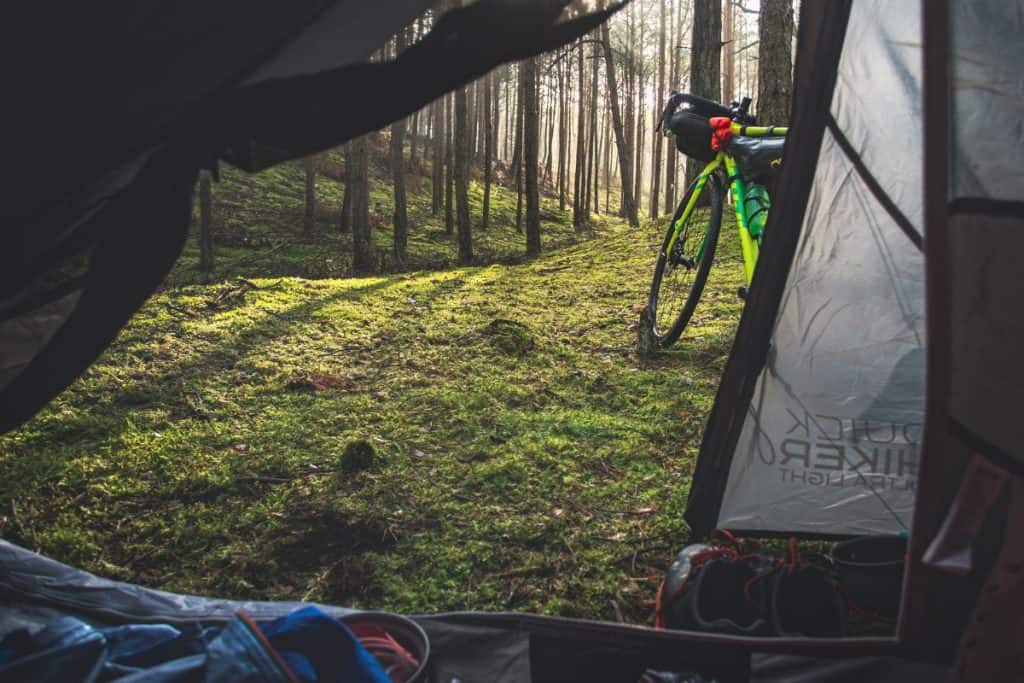 The ability to enter and exit unhindered by gear may be one of the biggest perks to having a side vestibule. If you prefer to pack your gear into more of a covered "side pocket" of your tent, the side vestibule is the way to go. It also may be the more minimalistic option, as fewer poles and less fabric will inevitably lighten your load. In fact, the entire shelter may be lighter, as you're far more likely to see a 2 or 3 person tent with a side vestibule than the larger tent sizes, although they do exist.

Some tents feature an entrance on either side of the shelter with a side vestibule on each. Some campers find this convenient, as they can designate one side vestibule for gear storage, and keep the other one clear for an easy entrance and exit. The main con when considering the side vestibule is simply that it may offer less space, but for the minimalist or solo camper, this may not pose a problem at all. The highly rated Big Agnes Copper Spur HV UL3 tent is a fantastic example of a tent with side vestibules. This tent sleeps three, and boasts the addition of 9 square feet per side vestibule, for a total of 18 square feet of storage space.
Add-On Vestibules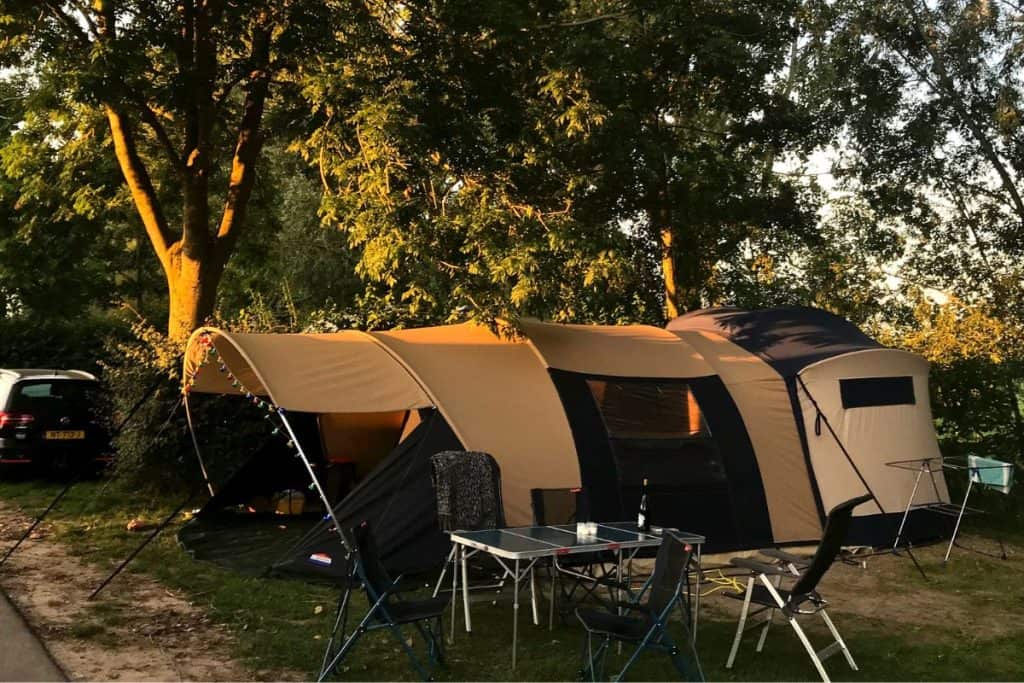 If you already have a tried-and-true shelter, but are in need of some extra space and convenience, an add-on vestibule could be the solution. Add-on vestibules are typically made for a specific brand's particular shelter. I would definitely recommend checking to see if your specific tent has a matching vestibule that can be purchased before checking out other brands.

That being said, I have found the REI Co-op Wonderland Mud Room (made for the Wonderland 4 or Wonderland 6 tent) to be the best add-on for space and convenience. Made of durable polyester taffeta, this add-on vestibule measures 56 square feet, and is quite versatile, rain or shine. It features zippered doors on either side, which can be rolled back and fastened for a well-ventilated transition space.
Tent Vestibule Tips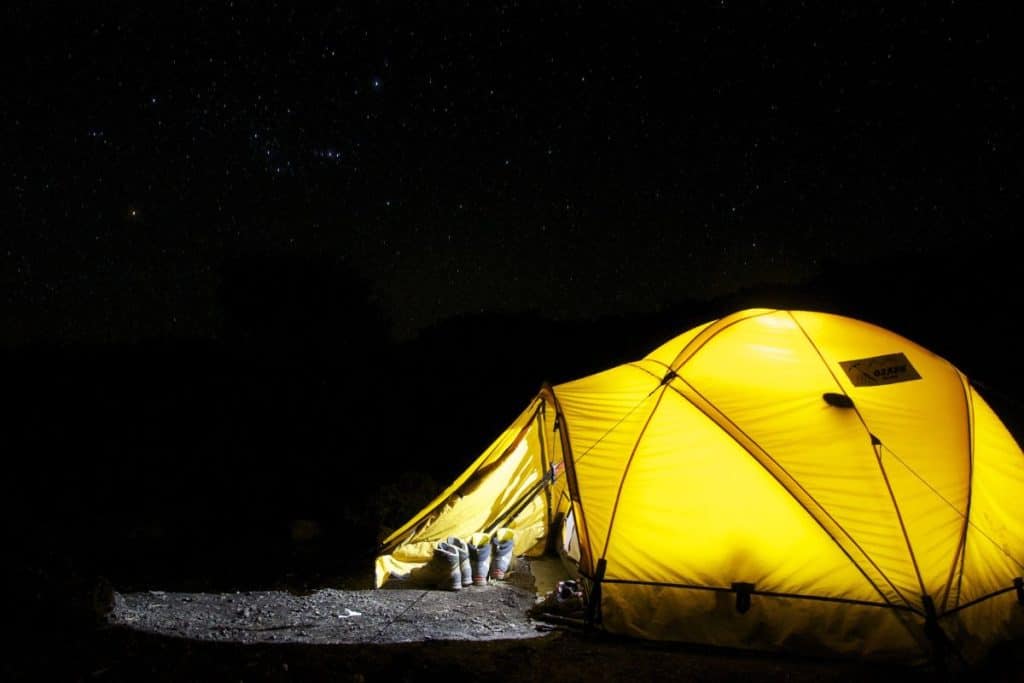 The more adventurous camper may look beyond storage and mere entry functionality to the possibility of cooking inside a tent vestibule. This can be a great option for food prep in inclement weather, but only with a healthy amount of caution. Depending on the type of cooking you're attempting, you could be face to face with a tent going up in flames if you aren't strategic. Another main concern here is the ventilation in your space, as you don't want carbon monoxide (a common byproduct of fuel burning) to build up to dangerous levels. While you don't want to let too much rain in, a proper amount of airflow is absolutely necessary. I recommend researching beyond the scope of this article to learn the best methods for cooking inside a tent vestibule.

For vestibules that may not be included in the tent footprint, we find it handy to add a tarp beneath to keep shoes, bags, and gear up off the ground. There's nothing worse than realizing (too late) that you've put your pack directly on top of an anthill, or waking up to find that a giant spider is repurposing your shoe. Of course, these are the natural chances you take as a camper, but a tarp to line the floor of your vestibule can certainly minimize the risk.
The Bottom Line
Whether you're camping solo, or taking the whole family for an outdoor experience, maximum sleeping space is attainable with a tent vestibule (or two) to store gear out of the way. Beyond this, having a dry place to change out of wet clothes and muddy boots outside the main area is invaluable, especially in areas and seasons prone to rain. Thankfully, there are a few different vestibule types to fit your needs. Whether the front, side, or add-on option is the best fit for you, we believe a tent vestibule enhances your camping experience no matter how you slice it.
---
Related Posts: