Home » Planning » Camp »

Traditional camping trips can be a hassle, by time you've made reservations, packed all your gear, and driven yourself there. And if you've got kids, it might be too much of a commitment to make before you know how they'll handle it.

Backyard camping is a great way to ease yourself into outdoor living. Whether you have a large family and want to mix things up, or you're looking for a new idea for date night, here are some suggestions to make your night special.
Why Camp in Your Backyard?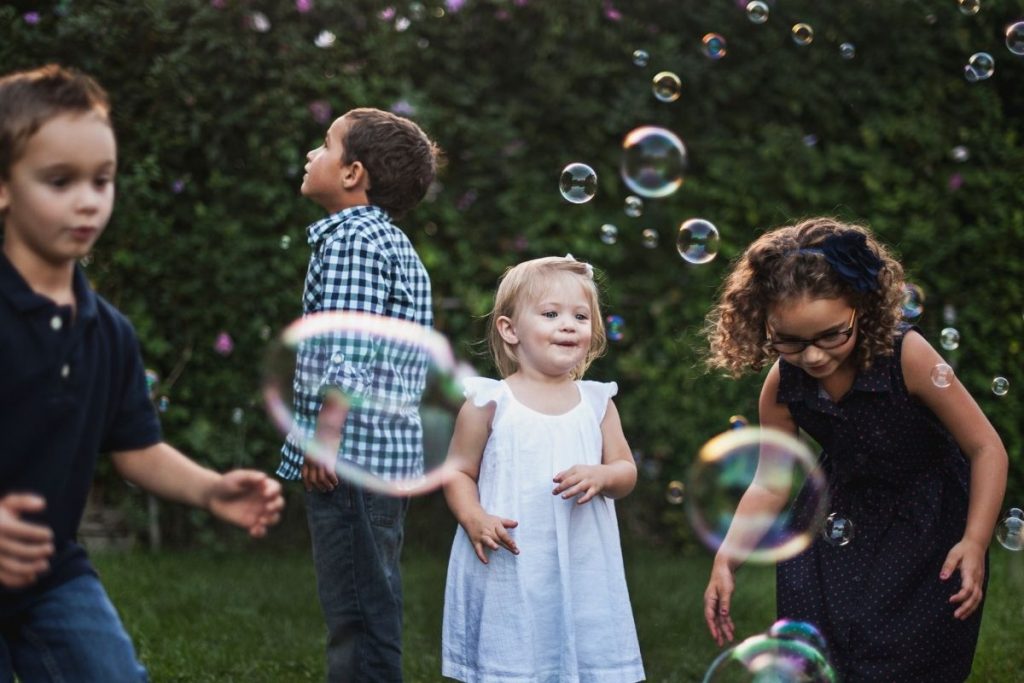 Though you might initially view backyard camping as boring and anti-climactic, there are actually a lot of benefits to doing things this way. Especially if you're new to this hobby, or you want to introduce it to kids.

Testing the waters will save you a lot of pain and discomfort later on, as you figure out what works well and what needs improvement. I've mentioned it before in a few other articles, but my first time camping was actually in another country halfway around the world, 15,000 feet above sea level. While it makes for a great story, and was the most incredible experience of my entire life, I can't say I would recommend this method to other beginners. Take it easy when you're first learning the ropes – it will help you figure out if you even want to tackle more extreme camping in the future.

Backyard camping is also going to be a lot less hassle. There are no reservations to consider, you don't have to worry about forgetting supplies, and you can be spontaneous about it. Not to mention, you always have a decent bathroom close at hand!

And if you want to start getting your children outside more often, this is a great way to expose them to the wonders of nature. They'll have all the benefits that come from breathing fresh air, as you test them to see if they can handle more traditional camping later on.
Setting Up
The great thing about backyard camping is that it doesn't have to be super fancy. If you have a tent that you want to use, go for it! If not, it's pretty easy to make a temporary shelter by tying a rope between two trees and hanging a tarp over it.

String up some lights around your shelter to make it more cozy and magical, and don't forget to bring lots of pillows and blankets. You might as well pull out all the stops when it comes to making your sleep system comfortable for the night, too, unless you're intentionally trying to get used to the hard ground.

Grab some cushions from your couch to lie on, or use a camping cot or mattress to provide some extra comfort and support. A sleeping bag is nice to have, but might not be necessary, if it's warm enough outside.
Making it Fun
Backyard camping can be a fun way to spice things up, but let's be honest…it's still more boring than "real" camping. There aren't any new sights to see, no trails to explore, and wildlife might be minimal depending on where you live. So how can you liven things up a bit? Here are a few tips that we recommend:
1. Pull Out the Grill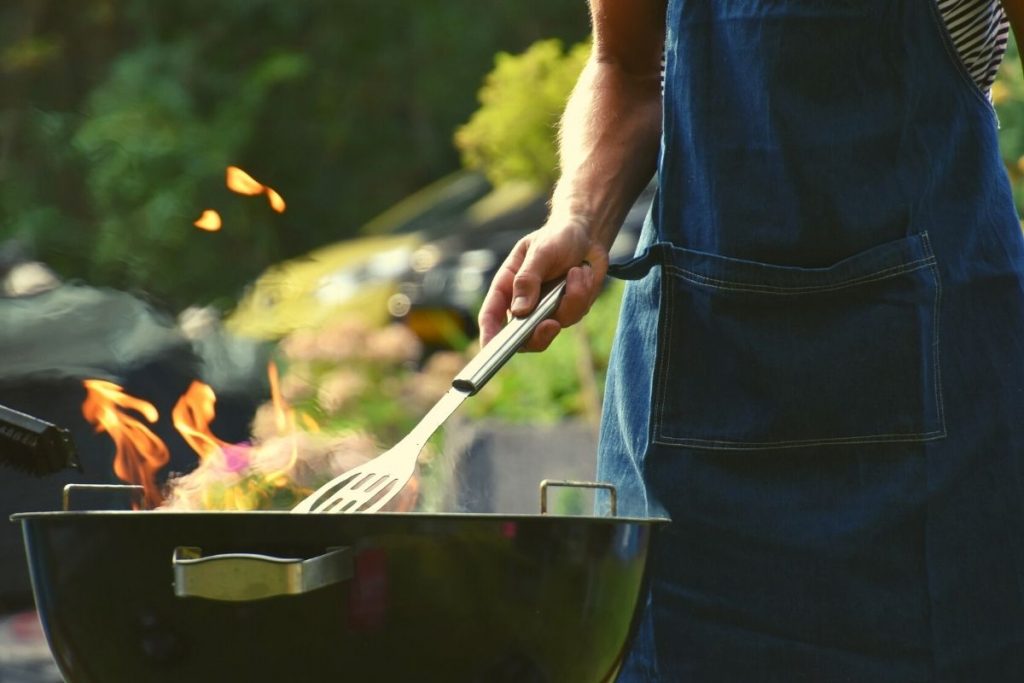 If you have a grill, backyard camping is the perfect time to use it. Or better yet, try cooking over an open firepit to make your experience more authentic, if your city allows it. You'll have to plan your meals accordingly, picking foods that can be cooked either on skewers, or on a grate that you place over the fire. For cookware that's safe to use over an open flame, check out our review here.
2. Make a Rule to Stay Outside
As easy as it can be to make a pit stop inside the house, try making things more exciting by forcing yourself to stay outside the whole time. It will help prepare you for a real camping trip in the future, and add a little risk to your backyard escapade in the process. After all, even if you forget about this camping experience someday, your kids will always remember how you had to sneak into the house for a late night snack.

It's also a good opportunity for you to hone your camping checklist. If you agreed that you wouldn't go back inside the house, that means you need to have everything outside with you already. From food to shelter and everything in between, this is a good chance to see how well you would have done if this was a real camping trip. Did you forget any essentials? Were there things you thought you'd need, but didn't? This is the time for you to customize your camping checklist to your particular family.
3. Stargazing
Is anyone else obsessed with staring at the stars on a cloudless night, or is it just me? Weather permitting, I'd highly recommend spreading a blanket out on the ground, so you can take a few minutes to look at them twinkling in the night sky. Otherwise, find yourself a good stargazing tent that you can use in the yard and out at a "real" campsite. If you happen to have a book or app that shows you where all the constellations are, now is a great time to pull it out too!
4. Stay Active
It's no fun just twiddling your thumbs, waiting for night to come. Why not grab a frisbee or soccer ball to stay active, have fun, and pass the time more quickly?

On hotter days, playing in the water is always a crowd favorite too. Get the hose or sprinkler out, fill a pool, or have a water balloon fight – whatever you choose, you really can't go wrong. Once you're done, just head inside to take a shower or dry off and change your clothes. That is, unless you've made an agreement not to enter the house again until the next morning (excluding bathroom breaks and emergencies). In that case, hopefully you thought ahead and brought some towels outside with you!

If it's too hot to run around and play, but you also don't feel like getting wet, try playing games like croquet or do a bean bag toss. Even playing catch can be a good way to have fun in the sun, without getting too gross in the process.
5. Treasure Hunt
You'll have to plan ahead with this one, but it's a fun activity for children to enjoy. Take some time to leave clues around your yard, guiding your kids from one location to the next until they discover the final prize. You can make it as simple or complex as you want, and that goes for the clues you leave too (my dad used to write them in poetic verse).

If you don't know where to start, take a look around the yard for any distinguishing features, like a swing set, a particularly large tree, or a garden. You can write your clues with these places in mind, or you can sketch out a map complete with numbered paces and a giant "X" to mark the spot!
6. Build a Campfire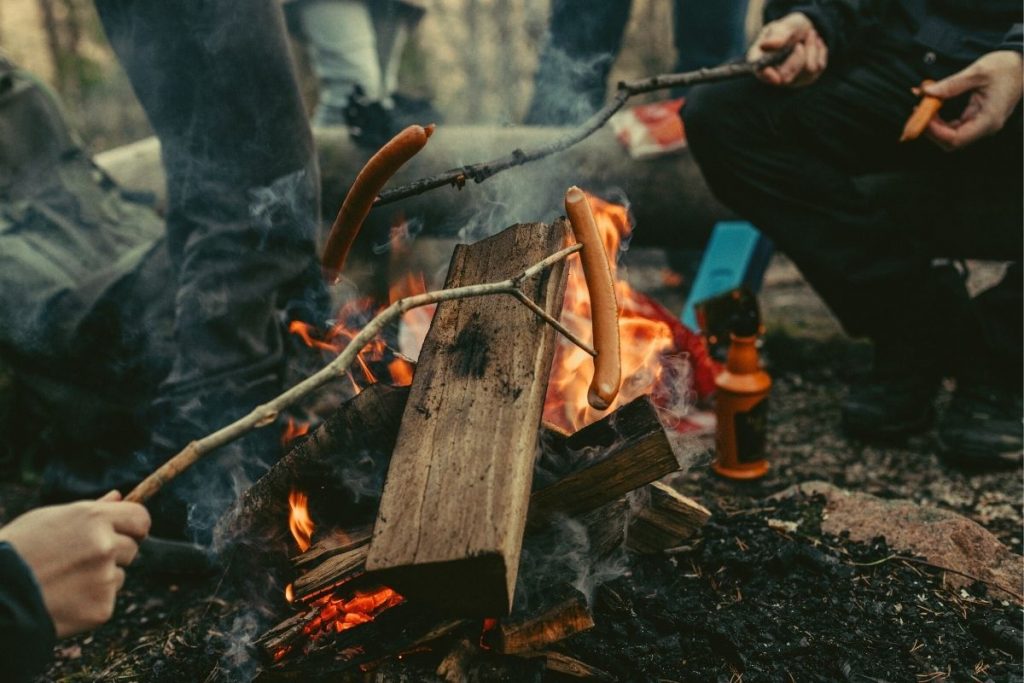 Nothing says "camping" quite like a campfire. Once the sun starts to set, have someone grab the graham crackers, chocolate, and marshmallows, while you stack the wood and light it up. If you're feeling really adventurous, you could even cook dinner over the open flame using sticks that you've whittled throughout the day.

Sitting around a campfire is also a great way to connect with each other by talking, telling stories, or singing campfire songs. If you're confident in your musical ability, grab a guitar, harmonica, or other portable instrument to liven the atmosphere. You can either sing songs that your kids will recognize, or you can have some fun by making up your own tunes.

Read More: How to Build a Campfire Step-By-Step
7. Make a Nature Collage
Take some time to explore your yard, picking out interesting leaves, flowers, feathers, and other items. If you have a book on botany or ornithology, this is a great chance to dust it off and turn your backyard camping trip into a learning experience.

Once you've gathered a few items from the yard, try using some glue and a sheet of cardboard to make a collage. You could even toss in some other items, like pipe cleaner and googly eyes, to make fun shapes and faces with the things you found outside.
Romantic Backyard Camping
Backyard camping isn't just for families with kids. It can also be a great opportunity for couples to make date night a little more interesting than usual. Of course, it works best when both of you are a little more adventurous, so you'll have to determine if this is something your significant other will love or hate you for. But if you think it's a winner of an idea, here are a few steps you can take to make it extra special:
1. Give Your Partner a Heads Up
Does your significant other like surprises? If not, maybe you should let them know about your plans before they come home to see the backyard transformed into a camper's paradise. Talk about it, get ideas from each other on what you want to get out of the experience, and plan out the date together.

For a romantic way to broach the topic, consider making a handwritten note, and leaving it in their dresser, their car, the bathroom, or some other place where they're sure to find it. Get them excited about the idea – who knows, maybe they'll want to do it again!
2. Don't Hold Back on Comfort
You're not in the backcountry with minimal resources just trying to hike over that next mountain. You're in your backyard with all the luxuries of home close at hand, so you might as well make use of them. Inflatable air mattresses work great for this sort of activity, but if you're already an outdoorsy person, you might already have a camping pad that you'd like to use. Don't forget to bring plenty of pillows and blankets as well. Do everything you can to make it a relaxing experience, so you can spend more time focused on each other, instead of how uncomfortable the ground might be.
3. Light it Up!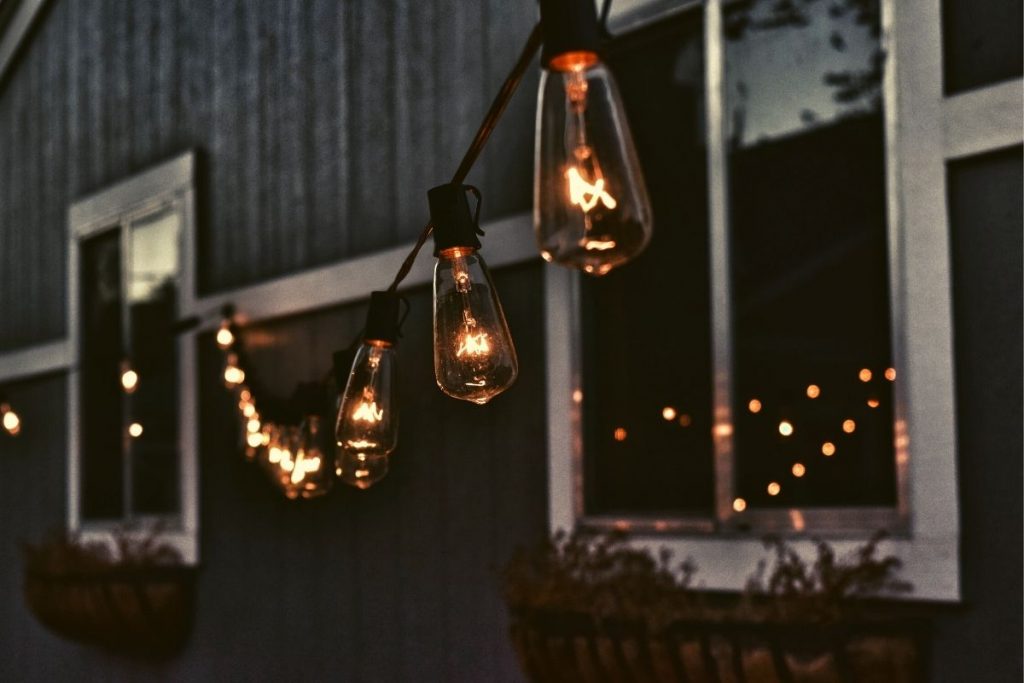 You can't have a romantic night out if you don't have some mood lighting. Candles are what people typically think of, but I wouldn't recommend using them outside or in a tent. They're easy to knock over, quickly burning a hole in your shelter or starting your lawn on fire if you aren't careful.

Campfires are a classic, but I know some people don't like to have the smoke scent cling to them. Smelling like ash can be a mood killer, so it's best to stick with electric lighting. Just run an extension cord from the house and plug in some fairy lights that you've strung around the tent to create a soft glow. Depending on the lights that you get, you may even be able to set them to flicker like a real candle – or you may decide to turn them off altogether to better appreciate the moon and stars.
4. Play Some Music
If you don't have a sound system in your backyard, see if you can get yourself a portable bluetooth speaker to play some music. I'd suggest checking with your significant other to find out what sort of music they'd like to listen to, since they might not like the traditional, romantic genre. I know my wife would much prefer some Nordic folk music, as opposed to the classical, slower paced instrumental music that's often played at candlelight dinners. So do your research, and create a playlist that's sure to get both of you in the mood for some romantic backyard camping.
5. Leave the Tech Inside
There's nothing romantic about staring at your phone instead of your partner. Leave all your electronics inside the house, so you can give them your full attention – it is date night after all! They'll feel more cherished, and you'll probably have a better night because of it.
---
Related Posts: