You can hardly call yourself a hiker or backpacker if you've never heard of merino wool clothing before. This famed material is a trademark of high-end outdoor clothes, especially when you start to look at socks. Not only are they breathable and warm, but they also have special characteristics that include being moisture wicking and antimicrobial.

But finding the best merino wool socks can be a challenge. There are quite a few options out there that use a minimal amount of wool, lack durability, or just don't fit well. To save you the hassle of going through all that trial and error, here are our top picks when it comes to merino wool socks for men and women.
In this article, we'll be reviewing the following best merino wool socks:
Ankle Height
Merino wool socks come in a variety of heights, and the best size for you is usually dependent on the type of footwear you'll be wearing them with. Tennis shoes and low-rise boots can accommodate no-show and ankle socks nicely, while taller boots will require something more crew cut or knee height. In particular, knee height socks are best suited for something as tall and rigid as a pair of mountaineering boots.

As a general rule of thumb, you should be wearing socks that cover all parts of your feet and legs that are prone to rubbing and chafing against your footwear. Anything less than that will give you blisters, especially if you spend a lot of time on your feet.
Cushion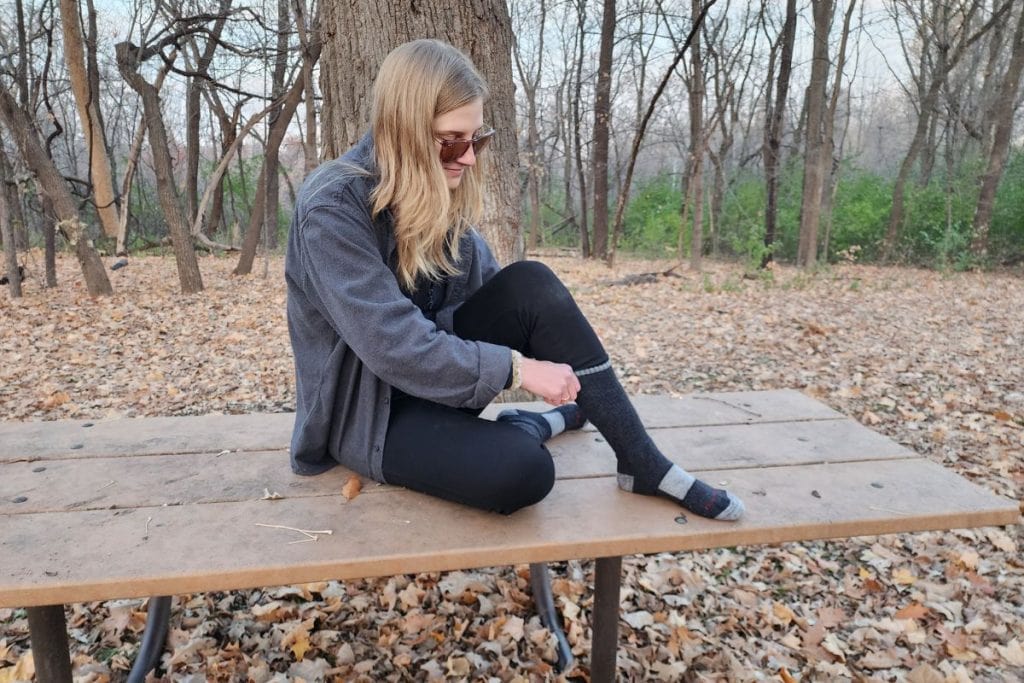 As high performing socks, merino wool tends to provide more cushion than your average pair of socks. However, thickness does vary, and don't think that a more cushioned sock is a better sock.

Thinner socks allow you to feel the ground more, providing better body awareness that athletes will find valuable. However, for long hikes and backpacking trips, this sort of foot-to-ground contact is less important. Instead, you'll want a thicker sock to help absorb some of the stress receiving by the high impact areas on your feet. It will keep you from getting fatigued as quickly, allowing you to put more miles on the trail in a day.
Merino Wool Composition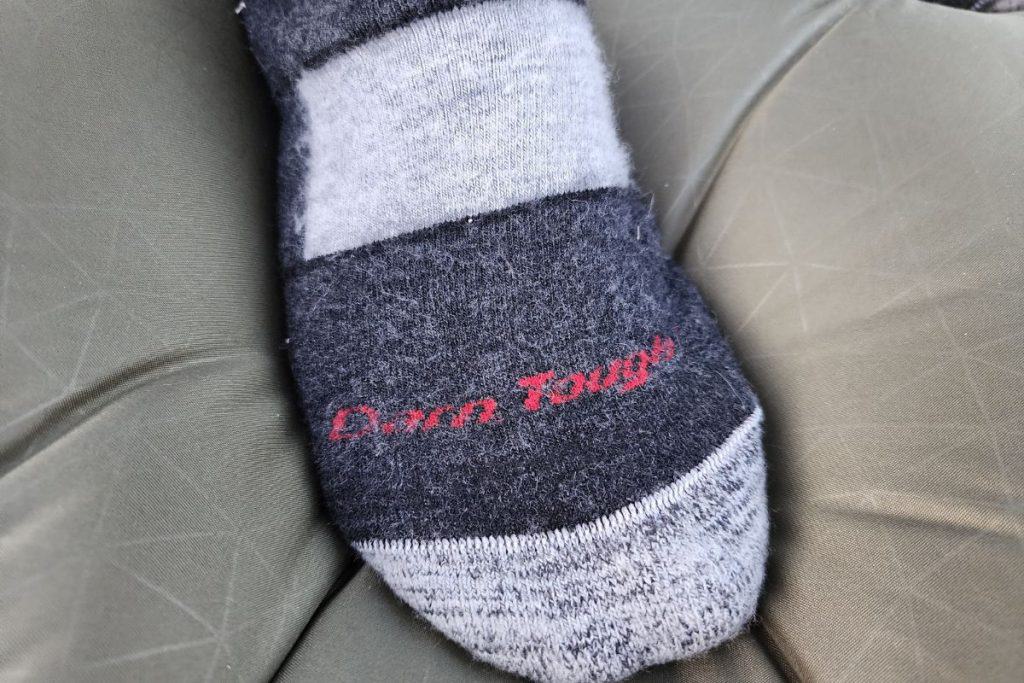 Not all merino wool socks are created equal. The biggest difference among them is often the wool composition – or rather, the percentage of sock material that's actually made up of wool.

You see, merino wool socks are made using a combination of wool and synthetics. The more wool you have in the sock, the better it will be at resisting odors and the more comfortable it will be as well. Though it hasn't entirely been proven yet, high concentrations of wool seem to create a warmer sock too.

The downside is that wool isn't very durable, which is why socks that have higher amounts of synthetics in them tend to last longer. As it is with everything, you have to take the good with the bad.
Thickness
Wool is well known for being a thick material. For what it's used for, this is a good thing, since thickness is correlated with warmth. However, merino wool is a little different than other types of wool, due to its smaller diameter fibers. As such, it's pretty common to find merino wool socks that come in a variety of thicknesses.

Remember, thicker does mean warmer, but it's yet another double-edged blade. Thick socks are a lot more prone to slipping and bunching up, which can lead to more foot discomfort than you bargained for. If you don't plan on walking through chilly environments too often, I'd recommend going with something a bit thinner.
Style Options
Merino wool socks come in all shapes, sizes, and colors. Ironically, it seems like it's only the merino wool socks that come with any amount of style. Other clothing items made from merino wool tend to be pretty drab, sticking to neutral colors like gray and black, sometimes with a hint of navy blue here and there. And if you want patterns? Good luck, because you probably won't find them.

Socks are the complete opposite. Whether you enjoy a more innocuous style of clothing, or want to make it a little more flashy, it's pretty easy to find a pair of socks that will match your taste.
Merino Wool Socks Comparison Table
Best Merino Wool Socks – Reviewed
Materials: 66% merino wool/25% recycled nylon/8% nylon/1% elastane
Sock Height: Crew
Sock Cushioning: Medium
Moisture Wicking: Yes
It's possible that your jaw will drop once you've looked at the price of the Smartwool classic hike socks. They're practically 10 times as expensive as a normal pair of socks that you would wear for your day-to-day activities. But let me ask you this… Will your everyday socks last you 20 years?

I'd be shocked if you said "yes," but it's not a surprising feat for these merino wool socks. Their durability is second to none, thanks to their superior construction and fabric composition. Made from two-thirds merino wool and one-third nylon, they're well cushioned, odor resistant, breathable, and warm.

The arch has elastic in it to properly hug your foot. Overall, the socks fit snugly, but they aren't tight enough to be uncomfortable. Conversely, they aren't loose enough to bunch up or slide around after you've been walking in them for awhile either. With full cushioning, you may find yourself wearing these socks for more occasions than hiking and long walks!

Pros:

– Very durable
– Comfortable
– Well padded
– Breathable
– True to size

Cons:

– Price
Why You'll Want It
Durable enough to last you more than a decade, the Smartwool Classic Hike socks fit like a glove with comfort to spare.
Materials: 52% merino wool/45% nylon/3% elastane
Sock Height: Crew
Sock Cushioning: Light
Moisture Wicking: Yes
Another pair by Smartwool, the Performance Hike crew socks are soft and light, though they lack the cushion found in the classic hike socks mentioned above. Having a composition of only 52% merino wool, it makes sense that the Performance Hikes wouldn't be quite as padded as other products.

However, the thinner material makes it much easier to feel the ground beneath your feet. While this can cause some pain on rocky terrain, it's helpful when you need to be more precise with your footwork. It's also less likely that your feet will overheat, and they'll have more wiggle room inside of your shoes.

There aren't any annoying seams in the toe area that can dig into your skin uncomfortably. They were also designed with durability in mind, sporting a reinforced design in that same toe area. Since thin socks are known to develop holes rather quickly, this is a useful feature that will let you get many years out of them.

Pros:

– Breathable
– Comfortable
– Durable
– Don't bunch up
– No seams in the toe area

Cons:

– Thin material
Why You'll Want It
Designed with precise footwork in mind, the Smartwool Performance Hike socks make it easy to feel the ground beneath you.
Materials: 61% wool/37% polyamide/2% elastane
Sock Height: Crew
Sock Cushioning: None
Moisture Wicking: Yes
Great for everyday use, the Icebreaker Lifestyle socks are crew cut and free of any cushioning. While it's a design that isn't ideal for long hikes, they're perfect for running errands, going on walks, or even use around the house. Given the color and style, you could possibly wear them to work as well. Since they're made with 61% merino wool, you'll find that they're a warm, soft, and comfortable option for day-to-day use.

But what's really great about the Icebreakers is their lifetime warranty. If the socks ever wear out, you'll get a brand-new pair, no questions asked. Considering the price of merino wool socks in general, it's a pretty good deal.

On top of that, they sport a seamless design to help minimize the occurrence of blisters. Add in the reinforced heels and toes, and you've got yourself a strong, durable pair of socks that can practically be worn anywhere.

Pros:

– Versatile
– Seamless
– Comfortable
– Durable
– Lifetime warranty

Cons:

– Thin with no cushion
Why You'll Want It
The Icebeaker Lifestyle socks stay true to their name – without any cushion, they're ideal for day-to-day activities.
Materials: 59% RWS merino wool/38% nylon/3% LYCRA spandex
Sock Height: Crew
Sock Cushioning: Light
Moisture Wicking: Yes
The REI Co-op Trailsmith socks are one of the few unisex options in our list. Like many of the socks we've already talked about, they're crew cut with a minimal amount of cushioning in them. They also have all the benefits we know and love about merino wool, such as odor resistance and moisture wicking.

Soft and comfortable, you could easily wear these for different activities and events throughout the day. Especially since they wick moisture away, they're perfect to wear during tasks that make you work up a sweat. The spandex gives them a little stretch, allowing them to fit your foot snugly without squeezing too tight. And since they are fairly thin, you won't really have to worry about them sliding around or bunching up either.

There is a seam in the toe area, like you might find on most regular socks. Generally speaking, you won't notice it, but it may become somewhat uncomfortable on longer hikes. However, for the price, it's a nice option that gives you plenty of different styles and colors to choose from.

Pros:

– Fairly inexpensive
– Stretchy
– Moisture wicking
– Odor resistant
– Unisex

Cons:

– Toe seams
Why You'll Want It
Looking for a pair of merino wool socks that you can share? The REI Co-Op Trailsmith socks are a fabulous unisex option.
Materials: 79% RWS merino wool/20% nylon/1% Lycra spandex
Sock Height: Crew
Sock Cushioning: Heavy
Moisture Wicking: Yes
Another unisex option by REI, the Expedition hiking socks are one of my top picks for people who spend a lot of time on their feet. Especially for backpacking trips and lengthy day hikes, the heavy cushioning in the Expedition socks keep your feet well protected and comfortable.

The seamless design keeps your toes from chafing uncomfortably after rubbing against your skin for hours at a time. And the extra support on the heels, toes, footbeds and Achilles allow you to hike for longer periods of time before you start to experience much discomfort.

Despite being so thick, the Expeditions don't have a tendency to slide around and bunch up inside your shoes. And contrary to what you might expect, they won't stifle your feet or make them too hot. The breathability and wicking nature of wool are great at regulating temperature inside your shoes, allowing you to stay comfortable in a variety of climates.

Incredibly durable, these socks do run a bit large, so bear that in mind when purchasing. However, aside from that, the only other complaint that I have is that they might be too thick. Depending on the type of shoes or boots you wear, it might be a little difficult to fit your foot inside them when you have these socks on.

Pros:

– Thick and well padded
– Warm
– Breathable
– Seamless
– Stay in one place

Cons:

– Run large
– Almost too thick
Why You'll Want It
Heavily cushioned, the REI Co-Op Expedition socks are ideal for backpackers and other outdoor enthusiasts who are heavy on their feet.
Materials: 100% merino wool
Sock Height: Crew
Sock Cushioning: Medium
Moisture Wicking: Yes
We enter the territory of unisex merino wool socks with the Farm to Feet Flagstaff crew socks. The first thing you'll notice about them after you put them on is how comfortable they are. Both in shoes and around the house, I've even heard of people who enjoy using them as slippers because of how cozy they are.

Not to mention, I'm a fan of the mountain design as you get higher up the leg of the sock. It's a nice addition that really makes them suit their "Flagstaff" name. They're also quite stretchy, able to comfortably fit around large and small ankles alike without sliding around.

With a light cushion rating, these are socks that are suitable for activities that are mildly demanding on your feet. Most of the cushion is on the sole, providing enough padding to soften the blow of your footsteps without preventing you from feeling the ground. It's worth noting that they do run a little big, which is great if you like having more room to spread your toes out. Otherwise, you can always order a size smaller than what you normally wear for a snugger fit.

Pros:

– Very comfortable
– Good amount of stretch
– Nice coloring
– Warm
– Thick padding

Cons:

– Run a little big
Why You'll Want It
The Farm to Feet Flagstaff socks are form fitting and comfortable, committed to creating wool socks by using an all-American process.
Materials: 54% nylon/43% merino wool/3% Lycra spandex
Sock Height: Crew
Sock Cushioning: Light
Moisture Wicking: Yes
Anyone who's familiar with merino wool products has almost certainly heard of Darn Tough before. They're a leader in the industry, and when you take a look at their Bear Town socks, it isn't hard to see why.

These socks, in particular, have a minimal amount of padding and a sleek design. They're incredibly durable, in part because there's a relatively small amount of wool mixed with other materials, like nylon and spandex. It keeps them lightweight and low profile, while still giving you the antimicrobial and wicking properties of the wool. Cool in the summer and warm in the winter, these are a great pair of year-round socks to wear, regardless of the activity.

They have the perfect amount of cushioning for day hikes, and the seamless design helps reduce the occurrence of blisters. The bear art is also cute and creates its own style, which I think is a fun addition to the socks. Just be careful with sizing – they run a bit small, so if you typically wear a small, you may consider going with a medium instead.

Pros:

– Fun design
– Seamless
– Good padding for day hikes
– Warm
– Dry quickly

Cons:

– Run a little small
Why You'll Want It
Good for all seasons of the year, the Darn Tough Bear Town socks are incredibly durable and share a pop of style.
Materials: 65% merino wool/33% nylon/2% Lycra spandex
Sock Height: Crew
Sock Cushioning: None
Moisture Wicking: Yes
More of a lifestyle sock, the Darn Tough Pixie socks probably won't be your go-to choice for hiking. They lack cushioning and the toe area is a little bulky, so they're prone to getting all bunched up on longer treks.

However, they're a comfortable option for everyday use, giving you some fun style designs and the softness you would expect to find in wool. They're breathable and moisture wicking, and for the most part, you'll forget that you even have them on.

Keep in mind that, despite being a thin sock, they are still warm during cooler seasons. This makes them a great option for women who don't like having cold feet, but don't want the thickness found in most winter socks. Wear them around the house, while you're shopping, hanging out with friends, or sleeping, and don't feel like you have to wash them every day if you don't want to. Trust me, even after several days of activity, they won't feel or smell dirty thanks to the antimicrobial properties of wool.

Pros:

– Thin
– Warm in winter
– Comfortable
– Everyday socks
– Odor resistant
– Good sizing

Cons:

– Not for hiking
Why You'll Want It
Though not great for hiking, the Darn Tough Pixie socks are perfect for women who want to keep their feet warm around the house.
At Untamed Space, we're passionate about helping you have the best camping experience possible. Our team of experts have experience camping and backpacking all over the world, allowing them to provide insightful and relevant content to guide you in your outdoor pursuits.

All of our reviews are based on a combination of firsthand experience, extensive research, and an analysis of customer feedback. We are an independent website and do not receive payments or incentives from manufacturers to promote their products, and we continuously update our content to provide new information based on product availability. Wherever you are in your journey, whatever gear you're searching for, you can be sure to find unbiased and up-to-date reviews for all of your needs.
FAQ
What Makes Merino Wool so Good?
There's a lot to like about anything made from merino wool. As a material, the wool is naturally moisture wicking, odor resistant, and self-regulates its own temperature. That means they stay cool in the summer and warm in the winter, all while keeping your feet comfortable and smelling good regardless of how many days you've been wearing the socks without break.
Is Merino Wool Worth the Price?
When you factor in everything that makes merino wool special, it's definitely worth the price. Not only does the wool have a lot of special features, products made from it tend to last for several decades when taken care of.
Is Cashmere the Same as Merino Wool?
The first thing to get straight is that merino wool comes from merino sheep, whereas cashmere comes from the cashmere goat. That being said, you can see how they are quite different, despite their many similarities.
Final Thoughts
Out of all the part of your body, your feet often experience the most wear and tear. They're what get you from point A to point B, all while carrying the entirety of your body weight. And when you're hiking on rough terrain, they're what get the most abuse every time you step onto another sharp rock or exposed root.

The best merino wool socks mitigate some of the damage received, keeping your feet cocooned in a soft, self-regulating environment. They should be durable, secure, moisture wicking, and comfortable, all while staying within a reasonable price range. With these things in mind, our favorite options are the Smartwool Classic Hike socks for men, and the Darn Tough Bear Town socks for women.
---
Related Posts: